Lake Oroville Community Update - March 26, 2021
Published: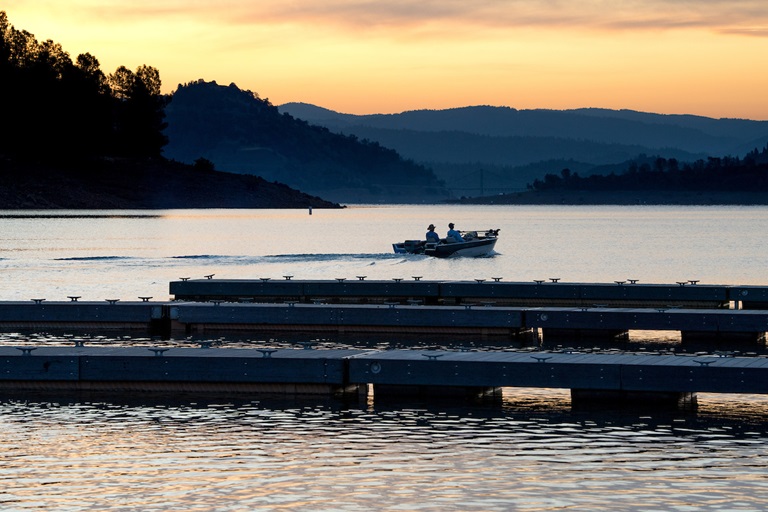 DWR Adjusts State Water Project Allocation
As California experiences a second consecutive dry year, the Department of Water Resources (DWR) has announced an adjustment to its initial State Water Project (SWP) allocation for the 2021 water year. The Department now expects the SWP to deliver 5 percent of requested supplies this year, down from the initial allocation of 10 percent announced in December.
Allocations represent the amount of SWP water that DWR will deliver to 27 million Californians and 750,000 acres of farmland for the year and are reviewed monthly based on several factors, such as water in storage, environmental requirements, and rain and snowmelt runoff projections.
Drought conditions have a significant impact on the state's water supply. Lake Oroville storage is only at 53 percent of its historical average. Beginning April 1, outflows to the Feather River will be further reduced to conserve storage while maintaining the Feather River flows necessary for fishery, environmental, and water delivery needs. More information is available in the March 23 DWR News Release.
Reducing Climate Change Impacts at Thermalito Powerplant
An old electricity-generating turbine at the Ronald B. Robie Thermalito Pumping-Generating Powerplant (Thermalito Powerplant) has been replaced with a new energy efficient model that will help DWR achieve its goal of using 100 percent zero-emission resources by 2045.
The new Kaplan turbine allows more clean hydropower to be generated from the same water releases and deliveries, an increase in efficiency from 86 percent to 93 percent, providing even more clean energy to California's electrical grid. It will also reduce greenhouse gas emissions by nearly 1,000 metric tons per year, helping DWR further reduce its carbon footprint.
The Thermalito turbine project is partially funded by California Climate Investments, a statewide initiative that puts billions of cap-and-trade dollars to work. Learn more about how the new turbine at the Thermalito Powerplant is helping California meet its clean energy goals by watching our new video and reading the latest DWR Update. For more information on DWR's renewable energy initiatives, visit our clean energy webpage.
Goats to Remove Vegetation Near Diversion Pool
Approximately five acres at Lakeland Boulevard will benefit from hazardous fuels reduction through DWR's partnership with the Butte County Fire Safe Council (BCFSC). Around 350 to 400 goats will graze an area southeast of the Thermalito Diversion Pool and the Thermalito Diversion Dam during the week of March 28.
The goats will graze on grasses, leaves, invasive and non-invasive plants including poison oak, and a variety of shrubs and trees. The grazing area will be cordoned off with an electric fence and monitored by herders and livestock guardian dogs to protect the animals. The public is urged to stay clear of the electric fence and keep pets away, so the goats are not disturbed.
This work is part of DWR's Fuel Load Management Program, which was started in 2012 to reduce hazardous fuels within the Federal Energy Regulatory Commission (FERC) project boundary. DWR, along with partners CAL FIRE, the California Conservation Corps, BCFSC, Butte County Sheriff's Office, and California Department of State Parks and Recreation (CA Parks), are all working together to accomplish the same common goal -- reduce wildfire risk, increase public safety, and enhance forest health in areas around Lake Oroville. To date, approximately 675 acres have been treated around the Lake Oroville area by DWR and its partners.
Trail Closure at Loafer Creek
A one-mile portion of the Roy Rogers Trail in the Loafer Creek Recreation Area will be closed Monday through Friday starting March 22 and extending to April 30, as work crews will be cutting vegetation in this area. The four-mile equestrian and hiking trail will be fully open Saturdays and Sundays only.
DWR and CA Parks are partnering with CAL FIRE's Vegetation Management Program to clear hazard trees and fire-prone underbrush from the North Complex Wildfire burn scar in the Loafer Creek Recreation Area. CAL FIRE work crews will hand cut and use heavy equipment in the northeastern portion of Loafer Creek; crews may be visible or audible to visitors in the Recreation Area.
This collaborative effort to aid in recovery from impacts caused by the 2020 North Complex wildfire will continue for the next several years.
Oroville Recreation
Many Lake Oroville State Recreation Area (LOSRA) campgrounds are open. Reservations for camp sites can be made online for dates after April 1 by selecting the Reservations tab on the Lake Oroville State Recreation Area webpage. Group camping, including floating campgrounds, and boat-in campgrounds remain closed.
The Lime Saddle, Bidwell Canyon, and Spillway boat ramps are open for use. Bidwell Canyon and Lime Saddle boat ramps are open 24-hours per day and the Spillway boat ramp is open from 6 a.m. to 8 p.m. daily. The Loafer Creek boat ramps remain out of the water. The Loafer Point Boat Ramp area is still closed for construction which is anticipated to be completed this spring. All day use facilities at Lake Oroville State Recreation Area (LOSRA) are open. The Lake Oroville Visitor Center remains closed due to COVID-19 restrictions.
Visit the California Parks LOSRA webpage for current information on facility status as well as current requirements to protect public health during the COVID-19 pandemic. Information about recreation facilities can be found in DWR's interactive map on the Lake Oroville Recreation webpage. For information about the Oroville Wildlife Area, including the Thermalito Afterbay, visit the California Department of Fish and Wildlife webpage.
Current Lake Operations
The elevation of Oroville's reservoir is about 720 feet elevation and storage is about 1.41 million acre-feet -- 40 percent full and 53 percent of historical average. Currently, in the Northern Sierra Basin, rainfall is below average, at 53 percent of normal for this time of year and snowpack is also below average at 71 percent of normal. Dry conditions with a warming trend are expected this weekend and into the week of March 29.
The total releases to the Feather River are 1,050 cubic feet per second (cfs). During the first week of April, DWR is planning to further decrease total flows to the Feather River to conserve water this spring until it is needed later in the season for downstream flow, supply, and water quality requirements. Currently, the Feather River flows consist of 800 cfs down the Low Flow Channel through the City of Oroville, and 250 cfs from the Thermalito Afterbay Outlet (Outlet) for a total of 1,050 cfs for the Feather River's high flow channel downstream of the Outlet.
The public can track precipitation, snow, reservoir levels, and more at the California Data Exchange Center at www.cdec.water.ca.gov. Lake Oroville is identified as "ORO".
All data as of midnight 3/25/2021