New DWR Powerplant Turbine Helps California Achieve Clean Energy Future
Published: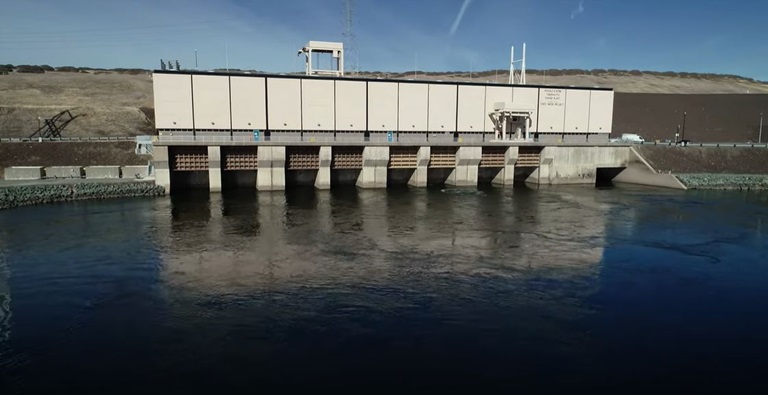 The Department of Water Resources (DWR) took another step in its ambitious efforts to reduce climate change impacts by replacing an old electricity-generating turbine with a new, energy efficient model at the Ronald B. Robie Thermalito Pumping-Generating Powerplant in Butte County that will help the Department achieve its goal of using 100 percent zero-emission resources by 2045.
The Thermalito power plant, one of three powerplants in California's State Water Project's (SWP) Oroville-Thermalito Complex, was badly damaged in a 2012 fire. The facility's reconstruction offered an opportunity to replace rather than repair an older electricity-generating Kaplan turbine.
"Thermalito Unit 1 is part of a portfolio of projects aimed at increasing the efficiency of our generating facilities," said Cameron Poya, DWR supervising mechanical engineer. "As we get more efficiency, we are able to produce more clean energy. This reduces our need to purchase power from non-clean energy sources and moves us closer to our goal of having the State Water Project be 100 percent emissions free by 2045."
The new Kaplan turbine allows more clean hydropower to be generated from the same water releases and deliveries, an increase in efficiency from 86 percent to 93 percent, providing even more clean energy to California's electrical grid. It will also reduce greenhouse gas emissions by nearly 1000 metric tons per year, helping DWR further reduce its carbon footprint.
The new Kaplan turbine project is an example of DWR implementing its Climate Action Plan goals. In 2020, 65 percent of the energy used by the SWP came from zero-emission sources. DWR is currently on track to meet its goal of using 75 percent zero-emission resources by 2030 and 100 percent by 2045.
"Climate change is already having an impact on California. At the Department, we are trying to do our part to reduce those impacts," said John Andrew, executive manager for climate change at DWR. "With the energy efficiency project at Thermalito, and increasing the efficiency of this turbine, we are contributing to California's clean energy future."
The Thermalito turbine project is partially funded by California Climate Investments, a statewide initiative that puts billions of cap-and-trade dollars to work.
"This type of project leverages climate investment dollars in a way that covers a variety of environmental, public health, and safety benefits," said California Air Resources Board Executive Officer Richard Corey. "It also reduces greenhouse gases, which goes directly to the state's goal of carbon neutrality by 2045."
Learn more about how the new turbine at the Thermalito Powerplant is helping California meet its clean energy goals by watching our new video. For more information on DWR' renewable energy initiatives, visit our clean energy webpage.
Contact:
Elizabeth Whitmore, Information Officer, Public Affairs, Department of Water Resources
916.213.5205 | Elizabeth.Whitmore@water.ca.gov