Multi-benefit Levee Improvement Project Reduces Flood Danger Across Sacramento Region
Published: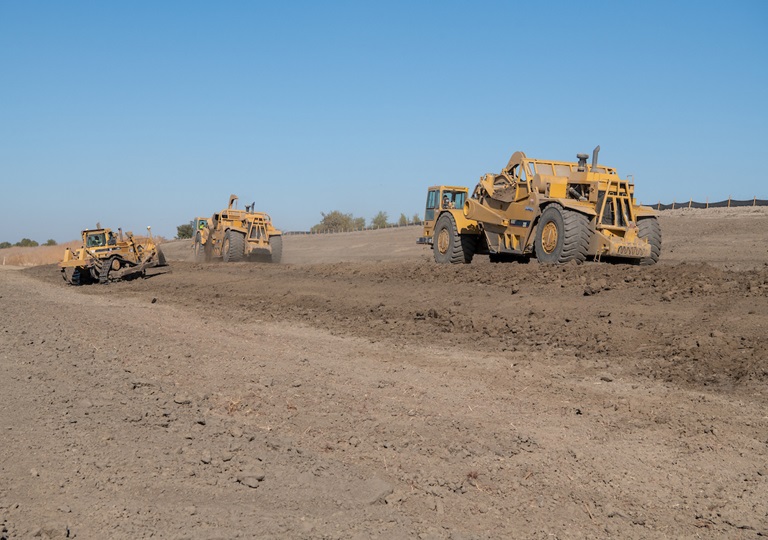 The Department of Water Resources (DWR) is working to reduce flood risks for more than a half million people in the Sacramento region as part of the first multi-benefit flood management and habitat project under the Central Valley Flood Protection Plan.
The Lower Elkhorn Basin Levee Setback Project, located just southeast of the Sacramento International Airport, will build floodway capacity for the Sacramento river system by adding seven miles of new setback levee.
"The Lower Elkhorn Basin Levee Setback project is a glimpse into the future of California's flood improvement investments. DWR is working with federal, state, and local partners toward the common goal of modernizing flood control infrastructure while creating habitat for fish and wildlife, safeguarding agriculture operations, and offsetting climate change impacts," said Kristopher Tjernell, DWR's deputy director of Integrated Watershed Management.
Although the region hasn't experienced widespread flooding in more than 20 years, the levees at Lower Elkhorn Basin bordering Sacramento and Yolo counties were constructed in the early 1900s and need to be replaced with levees built to modern engineering requirements. While levee failures are not common, large storms in California will likely become more frequent under climate change.
This new levee project represents the first major multi-benefit project being implemented under the Central Valley Flood Protection Plan, a strategic blueprint to improve flood risk management in the Central Valley. The project also supports the goals of the California EcoRestore Initiative, a multi-agency effort to restore ecosystems in the Sacramento-San Joaquin Delta region and Yolo Bypass.
"This project is really unique for DWR in that it is a comprehensive multi-benefit project. It is delivering flood benefits for the greater Sacramento area, protecting local agriculture, as well as benefiting the environment with additional habitat for fish and wildlife," said David Pesavento, senior water resource engineer and project manager.
The setback levee aligns with other projects in the Yolo Bypass that benefit salmon, sturgeon, and the endangered Delta smelt by opening fish access to a food-rich floodplain. It also enhances shelter and food sources for waterfowl migrating along the Pacific Flyway.
The Lower Elkhorn Basin Levee Setback Project is leading the way for other flood control projects. One involves widening the Sacramento Weir, a floodwater relief valve that when opened will increase the capacity of Sacramento's primary floodplain. The increased capacity allows excess flow from the Sacramento and American rivers. Multi-benefit flood protection projects such as these ensure California remains prepared to meet potential impacts from future storms.
The Lower Elkhorn Basin Levee Setback project is made possible by a partnership between DWR, the U.S. Army Corps of Engineers, California Central Valley Flood Protection Board, the Sacramento Area Flood Control Agency, and the local reclamation district. Construction is expected to conclude in 2023.
Visit DWR's website for more information about the Lower Elkhorn Basin Levee Setback Project.