Lower Elkhorn Basin Levee Setback Project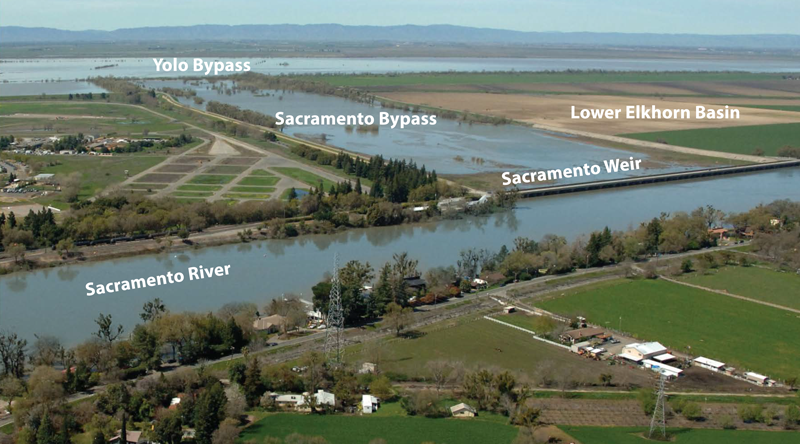 The Lower Elkhorn Basin Levee Setback (LEBLS) Project is the first phase of implementation of recommendations from the 2012 Central Valley Flood Protection Plan (CVFPP) and associated studies carried out by the Department of Water Resources. The project will contribute to the CVFPP goals of providing improved public safety for approximately 780,000 people by:
Reducing river levels (stages) in the Sacramento River
Increasing the capacity of the Yolo and Sacramento Bypasses near the urban communities of Sacramento and West Sacramento, as well as rural communities, Woodland, and Clarksburg
The improvements would also provide:
System resiliency
Opportunities to improve ecosystem functions, such as:

Increasing inundated floodplain habitat for fish rearing
Improving the connection to the Sacramento Bypass Wildlife Area
The project consists of approximately 7 miles of setback levees in the Lower Elkhorn Basin along the east side of the Yolo Bypass, and the north side of the Sacramento Bypass. The project will:
Remove all or portions of the existing levees that will be set back
Remove portions of local reclamation district cross levees
Improve or relocate related infrastructure
DWR is coordinating closely with the U.S. Army Corps of Engineers (USACE), the Central Valley Flood Protection Board (CVFPB), U.S. Fish and Wildlife Service (USFWS), and California Department of Fish and Wildlife (CDFW) to obtain the permits needed for this project. DWR is also coordinating with local reclamation districts and land use agencies on specific infrastructure relocation and improvements. Some of the infrastructure work will be carried out by local agencies.
Final EIR Certified
The final Lower Elkhorn Basin Levee Setback Project Environmental Impact Report (EIR) has been released and certified. The Draft EIR/EIS was released for public review and comment in May 2018 and a public meeting was held in West Sacramento in June 2018.
California Department of Fish and Wildlife
Central Valley Flood Protection Board
Reclamation District 537
Reclamation District 785
Reclamation District 827
Sacramento Area Flood Control Agency
United States Army Corps of Engineers
United States Fish and Wildlife Service
West Sacramento Area Flood Control Agency
Yolo County
Project Brochure
Project Notice of Preparation
Project Location
Proposed Alternatives
Final EIR Documents
Lower Elkhorn Basin Levee Setback Project Final EIR, March 2019 (PDF, 65 MB)
Lower Elkhorn Basin Levee Setback Project Final EIR, Appendices A-E, March 2019 (PDF, 56 MB)
Lower Elkhorn Basin Levee Setback Project Final EIR, Appendices F-L, March 2019 (PDF, 49 MB)
Addendum 1 to the Lower Elkhorn Basin Levee Setback Project Final EIR, April 2019 (PDF)
Draft EIR/EIS Documents and Meeting Materials
Notice of Intent from the Federal Register
EIR/EIS Public Scoping Meeting Exhibits, September 2016
Project Scoping Meeting Information Packet, September 15, 2016
Lower Elkhorn Basin Levee Setback Project Draft EIS-EIR, May 2018 (PDF, 48 MB)
Lower Elkhorn Basin Levee Setback Project Draft EIS-EIR Appendices, May 2018 (PDF, 47 MB)