Lake Oroville Community Update - December 23, 2021
Published: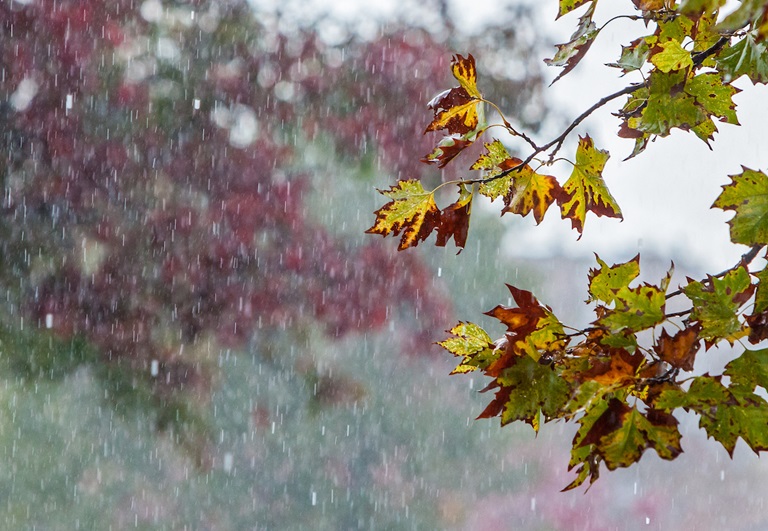 Atmospheric Rivers
California continues to benefit from winter storms, bringing much needed rain and snow to the state. On average, California receives 75 percent of its precipitation from November through March, half of which is typically received between December through February. December storms are providing a good start to the Sierra snowpack currently at around 30 percent of seasonal average and about 102 percent of average for this date.
California needs above average precipitation throughout the winter to offset the record-setting drought conditions. The outlook for the rest of the winter is for the weather to turn drier in the new year. While there may be more dry days than wet, large atmospheric rivers can still occur, depositing substantial precipitation in a short period as we saw in October, raising the risk of flood events, especially in burn scar areas. View this short video about how to prepare your family for flood events on the DWR YouTube Channel.
Loafer Creek Recreation Area
The Loafer Creek Recreation Area at Lake Oroville is temporarily closed due to damages and interruption of the park's main water supply system. Hikers, bicyclists, and equestrians can still access area trails from the Saddle Dam trailhead facility off Kelly Ridge Road. Trail users are advised to be aware of California Department of Parks and Recreation (State Parks) work trucks and utility vehicles in the area.
Boating at Lake Oroville
The Loafer Point Stage II boat ramp has neared completion with new concrete on three lanes extending down to 681 feet elevation. Continued concrete curing, and cleanup of construction equipment and materials will continue into January when the ramp is anticipated to open. The existing Stage II facility was completed this spring, providing six new boat launch lanes and 180 trailered parking spaces.
Bidwell Canyon's Stage III concrete boat ramp and the single-lane gravel boat ramp at Oroville Dam's Spillway Boat Ramp area are open. The Spillway ramp will continue to be open as conditions permit.
As lake elevations rise with winter storm precipitation, additional paved boat ramps at Lake Oroville will become available. Information on current boat ramp status can be found on the State Park's Lake Oroville State Recreation Area webpage. Scroll down to the link for "Current Boat Ramp Status".
Oroville Recreation
The Lake Oroville Visitor Center is open to the public on Tuesdays, Wednesdays, and Thursdays from 9 a.m. to 5 p.m. Pick up the Lake Oroville Trails Map, showing over 97 miles of trails available to equestrians, bicyclists, and hikers at Lake Oroville State Recreation Area (LOSRA) kiosks, the Oroville Area Chamber of Commerce, and Feather River Recreation and Parks District.
Visit the California Parks LOSRA webpage for current information on facility status and campground reservations. An interactive map of recreation facilities in DWR's Oroville-Thermalito Complex is available on DWR's Lake Oroville Recreation webpage. Information about the 11,000-acre Oroville Wildlife Area is available on the California Department of Fish and Wildlife webpage.
Year in Review
The year 2021 has been a unique and challenging year. Faced with continued COVID-19 public health restrictions, the Dixie Fire, and historic low lake levels, the Department of Water Resources' (DWR) Oroville Field Division (OFD) rose to the challenge of operating the Oroville-Thermalito Complex smoothly. Here are a few highlights here at the Oroville-Thermalito Complex:
Extreme drought conditions continued across the West and despite recent atmospheric river storms and snowfall, California remains in a state of climate water deficit. Accelerating climate change impacts also impacted Lake Oroville, the headwaters of California's State Water Project (SWP), which fell to 628.97 feet elevation – the lowest since the lake was filled in 1968.
Historic low lake levels also took the Hyatt Powerplant offline on Aug. 5, 2021. OFD staff were able to complete major maintenance activities while the powerplant was offline, ensuring the plant maintains its reliability and is available for water deliveries and clean hydropower generation.
An unexpected atmospheric river "Bomb Cyclone" rain event arrived in late October to increase Lake Oroville's elevation by 30 feet in one week. With additional precipitation events throughout December, Lake Oroville has gone from 37 percent of its historical average to 64 percent as of Dec. 22, with continued rain and snow forecasted for the remainder of the year. While not enough to end the current drought, recent storms are a welcome wet finish to a very dry year.
Drought conditions affect wildlife and fish as well. California Department of Fish and Wildlife (CDFW) staff at DWR's Feather River Fish Hatchery successfully harvested additional Chinook salmon eggs this fall to offset drought impacts to the Feather River fishery and plans to plant an extra 1.7 million fish in 2022. CDFW staff in the Oroville Wildlife Refuge successfully timed their dry-land planting of grasses, flowers, and grains this spring where late spring rain resulted in over 140 acres of forage for both local and migrating birds. Wildfowl are also benefiting this winter from a public-private partnership between DWR, local organizations, and rice farmers to selectively flood rice paddies for support of the millions of migrating birds who travel the Pacific Flyway.
Fire again burned in the Feather River watershed where the Dixie Fire consumed nearly a million acres, requiring DWR to join in repeating last year's North Complex Fire efforts to install erosion control measures to prevent toxic ash and burned materials from entering the waterways that supply Lake Oroville. DWR and OFD staff, as key members of the Feather River Watershed Working Group led by California Waterboards and Governor's Office of Emergency Services, expanded the Department's previous North Complex Fire work to address wildfire impacts on water quality. This included debris flow measurement, cleanup, and additional water sampling activities.
OFD also embarked on ambitious improvements including construction of a new boat ramp facility at Loafer Point with two stages reaching elevations of 800- and 681-feet elevation respectively to improve low water access, as well as added additional boat ramp lanes at Bidwell Canyon, including doubling the size of the Stage II boat ramp parking area.
Projects were also started to increase knowledge about the Feather River fishery and improve water control facilities such as the Thermalito Afterbay outlet and Palermo Tunnel intake in Lake Oroville. OFD staff also closely collaborated with CAL FIRE and local partners to address acres of burned and overgrown vegetation through DWR's Fuel Load Management Program and CAL FIRE's Vegetation Management Program.
DWR is looking forward to initiating and completing more projects in 2022 at the Oroville-Thermalito Complex. The Lake Oroville Community Update will continue to share news and information with the community. Your thoughts, comments, and questions to oroville@water.ca.gov are always welcome.
Current Lake Operations
The elevation of Oroville's reservoir is about 689 feet elevation and storage is about 1.17 million acre-feet, which is 33 percent of its total capacity and 64 percent of historical average. Wet and cold conditions are forecasted this weekend into the early part of next week with up to four inches in the Feather River Basin Saturday through Tuesday. The higher elevations are expected to see heavy snow accumulation on Sunday with continued snow accumulation in the early part of the week.
Inflows to Lake Oroville from the recent storm on Thursday and Friday have been upwards of around 20,000 cubic per second (cfs) and expected to be in the range of 7,000 cfs to 13,000 cfs during the weekend into next week . However, the storms are colder in the beginning of the week and inflows are subject to change based upon on actual weather conditions and snow elevations.
Total flows to the Feather River are at 950 cfs for meeting downstream water quality and flow requirements. Flow in the low-flow channel, through the City of Oroville, is 650 cfs and flow through the Thermalito Afterbay Outlet is 300 cfs. Releases are assessed daily.
The public can track precipitation, snow, reservoir levels, and more at the California Data Exchange Center at www.cdec.water.ca.gov. Lake Oroville is identified as "ORO".
All data as of midnight 12/22/2021