Lake Oroville Community Update - December 17, 2021
Published: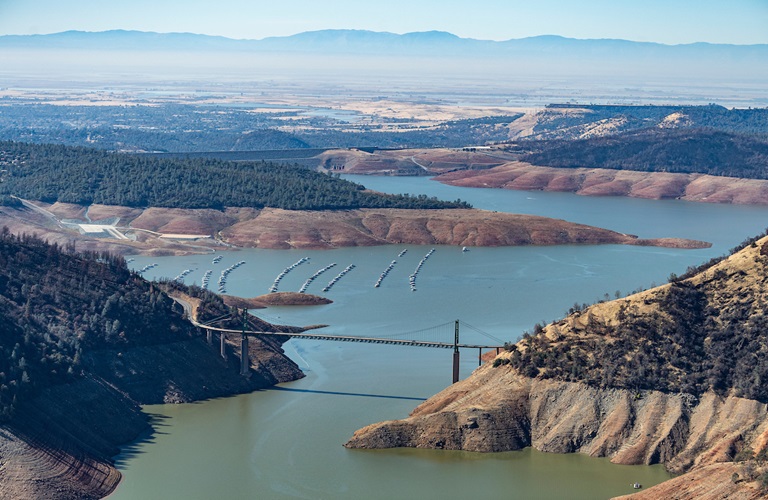 Steelhead Spawning and Planting
Like the salmon that populate the Feather River, Steelhead trout migrate from their river birthplace to the ocean and back to their native river to spawn. Unlike Chinook salmon, steelhead continue to migrate from river to ocean more than once and spawn multiple times in their life.
Feather River Fish Hatchery staff will begin spawning operations next week for steelhead entering the hatchery via the fish ladder leading up from the Feather River Fish Barrier Dam. These spawned fish eggs will be reared at the hatchery for a full year and then released next winter into the Feather River. Any excess fish beyond mitigation goals will be planted into the Thermalito Afterbay.
On Wednesday, hatchery staff planted approximately 90,000 yearling steelhead in the Thermalito Afterbay. Other remaining steelhead will be released in February into the Feather River to meet mitigation goals.
The Feather River Fish Hatchery is a California State Water Project (SWP) facility built to mitigate impacts on fish migration resulting from the construction of Oroville Dam, which prevented access to spawning grounds further upstream. DWR maintains and funds the facility operated by California Department of Fish and Wildlife.
Atmospheric Rivers
California benefited from another atmospheric river this week, bringing much needed rain and snow to the state. On average, California receives 75 percent of its precipitation from November through March, half of which is typically received between December through February. Atmospheric rivers carry moisture from the Pacific Ocean during these months and, if conditions are favorable, deposit that moisture as rain or snow if temperatures are cold enough at higher elevations.
After a record-setting atmospheric river in late October, storms in December are now better positioned to produce inflows into California's reservoirs and groundwater recharge basins instead of being absorbed into dry soils (which reduced snowmelt inflows to Lake Oroville over the past two dry years). The recent storms have also provided a good start to the Sierra snowpack currently at around 20 percent of seasonal average and about 80 percent of average for this date.
California needs above average precipitation throughout the winter to offset the record-setting drought conditions. The outlook for the rest of the winter is for the weather to turn drier in the New Year. While there may be more dry days than wet, large atmospheric rivers can still occur, depositing substantial precipitation in a short period as we saw in October, raising the risk of flood events, especially in burn scar areas. View this short video about how to prepare your family for flood events on the DWR YouTube Channel at https://www.youtube.com/watch?v=Fl2PytYb3Ds.
Fuels Management
Crews from CAL FIRE's Butte Fire Center, along with crews from California Conservation Corps and Butte County Sheriff's Office, continue performing various fuel reduction projects using heavy equipment, hand cutting, chipping, and pile burning of prioritized overgrown vegetative areas within the Federal Energy Regulatory Commission (FERC) project boundary of DWR's Oroville-Thermalito Complex.
While most of the work is occurring in the Loafer Creek recreation area, other area trails are also undergoing brush clearing and chipping activities. Trail users are encouraged to be alert and mindful of safety when near work zones.
Oroville Recreation
The Oroville Dam Spillway boat ramp will be closed for public safety due to heavy equipment operations planned for Dec. 21 to Dec. 23 and will otherwise be open as conditions permit. The Bidwell Canyon Stage III concrete boat ramp is also open.
The Lime Saddle Marina is open for customer access, but with very limited services due to damage caused by the October storm event. At this time, the boat ramp remains out of the water. Access to boats and houseboats at both Bidwell Canyon and Lime Saddle marinas should be coordinated through the marina prior to arrival by calling (530) 589-9175 or by utilizing the shuttle service at Bidwell Canyon Marina.
The Lake Oroville Visitor Center is open to the public on Tuesdays, Wednesdays, and Thursdays from 9 a.m. to 5 p.m. Visitors can tour the center's exhibits on the construction of Oroville Dam – the tallest dam in the country; the State Water Project which provides water to 27 million Californians and 750,000 acres of farmland; a new interactive water education exhibit, and much more. Please contact the VC Guides at (530) 538-2219 for more information.
Numerous Day Use Area (DUA) facilities with picnic tables and restrooms at Lake Oroville State Recreation Area (LOSRA) are open 8 a.m. to sunset. Bidwell, Lime Saddle, and Loafer Creek recreation areas are open 24 hours. The Oroville Dam Crest Road across Oroville Dam is available 5 a.m. to 11 p.m. daily with the spillway trailhead and boat launch open from 6 a.m. to 8 p.m. The top of the dam is open to pedestrians and bicyclists 24-hours a day.
DWR's new trail maps of over 97 miles of trails available to equestrians, bicyclists, and hikers wishing to explore Oroville's natural beauty in the cooler fall weather are available at many Oroville locations, including Lake Oroville State Recreation Area (LOSRA) kiosks, Oroville Wildlife Area office on Oro Dam Boulevard West, the Oroville Area Chamber of Commerce, and Feather River Recreation and Parks District.
Visit the California Parks LOSRA webpage for current information on facility status and campground reservations. An interactive map of recreation facilities in DWR's Oroville-Thermalito Complex is available on DWR's Lake Oroville Recreation webpage. Information about the 11,000-acre Oroville Wildlife Area is available on the California Department of Fish and Wildlife webpage.
Current Lake Operations
The elevation of Oroville's reservoir is about 684 feet elevation and storage is about 1.13 million acre-feet, which is 32 percent of its total capacity and 63 percent of historical average. Dry and cold conditions are forecasted this weekend with storms returning next week with potential heavy snow during the first part of the week in the lower elevations of the Feather River Basin. The Feather River basin may see up to 5 inches of precipitation next week. Temperatures will range in the 20s and 30s in the higher elevations and upper 40s and low 50s in the valley.
Inflows to Lake Oroville from the recent storms have been ranging around 7,000 cfs to 12,000 cubic feet per second (cfs). Current forecasts indicate potential inflow next week ranging between 5,000 cfs to 10,000 cfs, however the storms are colder and inflows are subject to change based upon on actual weather conditions and snow elevations. At 32 percent capacity, there is sufficient storage to manage these inflows.
Total flows to the Feather River are at 950 cfs for meeting downstream water quality and flow requirements. Flow in the low-flow channel, through the City of Oroville, is 650 cfs and flow through the Thermalito Afterbay Outlet is 300 cfs. Releases are assessed daily.
The public can track precipitation, snow, reservoir levels, and more at the California Data Exchange Center at www.cdec.water.ca.gov. Lake Oroville is identified as "ORO".
All data as of midnight 12/16/2021