DWR's Division of Engineering Receives International Award for Construction and Collaboration
Published: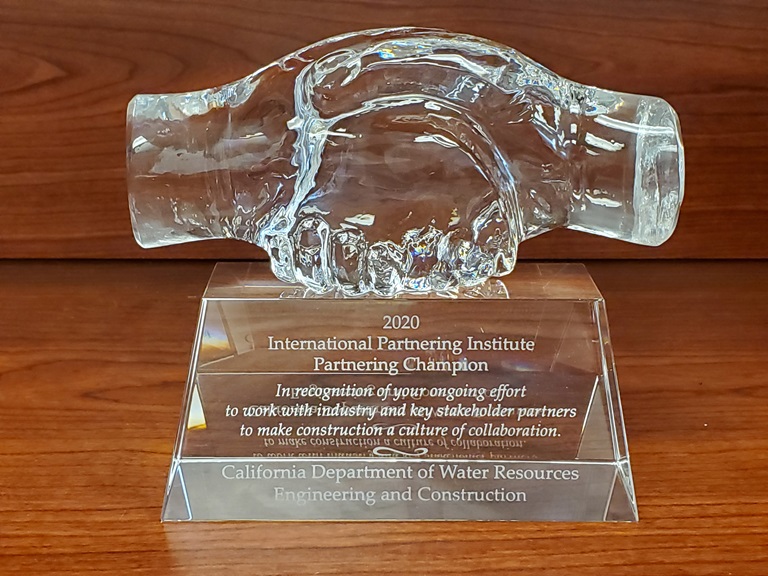 The Department of Water Resources' Division of Engineering (DOE) has been named the International Partnering Institute's (IPI) 11th annual Partnering Champion Award recipient for 2020.
The award honors projects and individuals that exemplify the importance of transforming the construction industry into a culture of collaboration -- a goal that has been a part of the Department of Water Resources' (DWR) mission for decades.
"We strive to utilize collaborative partnering principles on every construction project," said Jeanne Kuttel, chief of DWR's Division of Engineering. "Collaboration between all aspects of construction translates to successful projects, which is a benefit not only to DWR and its contractors, but also the citizens of the State of California."
Partnering is important to DWR. So much so, that in 2018 a formal Collaborative Partnering Program (CPP) was created to promote communication and coordination with DWR's construction contractors. The CPP includes monthly evaluation surveys, quarterly workshops, monitoring mutual goals, and using an established dispute resolution plan to resolve issues before they become concerns on the job site.
The CPP is widely used by DOE, which performs engineering and construction management on a wide variety of water infrastructure systems and elements. These include dams, reservoirs, bridges, buildings, canals, tunnels, pipelines, roads, pumping and powerplants, flood protection facilities, environmental enhancement projects, and facilities to improve water quality and supply.
"In 2019, we were recognized by IPI for our partnering effort related to the Oroville Spillway Recovery," Kuttel said. "We have also successfully completed at least another half-dozen projects where partnering was a crucial part of completing construction."
This latest IPI award, the 2020 Partnering Champion Award, is the organization's highest honor and recognizes DWR's engineering and construction divisions for their success, best practices, and extraordinary steps at making the construction industry more collaborative.
"This award recognizes DWR's work toward better establishing our partnering program," Kuttel said. "We created a partnering charter, policy, field guide, facilitator training and maintain a steering committee. All of those reflect best practices in partnering and can then be used as a model for a variety of distinct partnering projects now and in the future."
IPI is a nonprofit comprised of more than 150 member organizations, with a mission to transform the construction industry to achieve exceptional results through a culture of collaboration. DWR has been a member of the organization since 2014.