Beyond the Classroom: A Look at DWR's Paid Student Assistant Program
Published: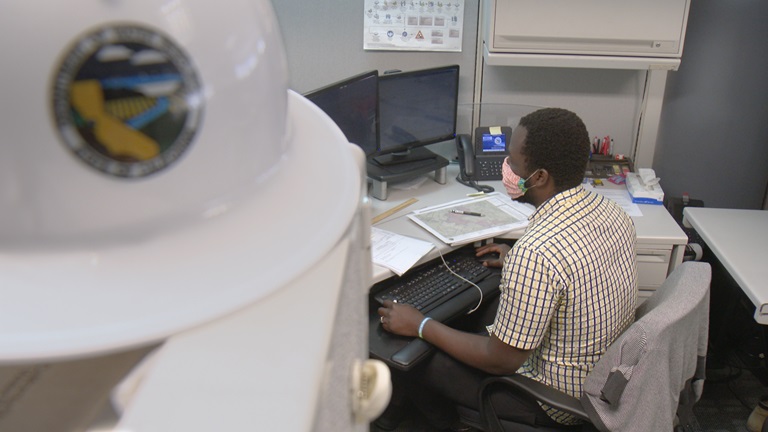 Do you wish you could find hands-on, paid work experience while in school? Do you long for an inclusive environment with teachers and mentors that provide a supportive pathway toward growth?
If the answer is yes, look no further.
The Department of Water Resources' (DWR) Student Assistant Program offers on-the-job training to individuals enrolled in high school, college, or any recognized school of learning. The program is designed to acquaint students with DWR's work and the employment opportunities within the department.
"We currently have approximately 75 student assistants in our program," said Claire Chung, DWR's Workforce Planning and Recruitment Program Specialist. "The hands-on-training provided during our program is a great tool for making each student a competitive candidate for future full-time state employment."
DWR's program offers student employment in four different categories: youth aid (under 18-years of age with an appropriate work permit), student assistant, graduate student assistant, and engineering and architectural science student assistant.
"The student assistant program is amazing," said Kamyl Asse, a DWR student assistant in the Flood System Sustainability Branch. "It's very flexible, and a great way for people to learn a lot about what they will be doing later after they graduate."
Born in the Benin Republic in West Africa, Asse is currently studying architectural engineering at CSU, Sacramento (CSUS). He says the DWR Student Assistant Program allows him to gain paid experience in a career he is passionate about.
"I come from a third world country where they have a lot of water issues," Asse said. "That's why I've always wanted to work in water resources."
Providing hands-on-experience to a wide-range of students with diverse backgrounds, DWR's Student Assistant Program is a beacon for women and minorities wishing to enter fields in science, technology, engineering, and mathematics (STEM).
"I'm really good at math and science so decided to do electrical engineering," said Alicia Villasenor, a student assistant with DWR's Geodetic Branch. "I'm hoping my time in the DWR program pushes my career to where I want to be."
Villasenor is also a CSUS student and has been a part of the DWR Student Assistant Program for nearly a year. She is the first in her family to attend college and hopes to inspire others to not only follow her path into a STEM related career, but also into the DWR Student Assistant Program.
"Whether you want to be an environmental scientist, an engineer, or working in biology or chemistry - all those jobs are there," she said.
DWR opportunities for student assistants exist in the following fields:
- accounting
- biology
- business administration
- civil engineering
- chemistry
- communications
- computer engineering
- computer science
- electrical engineering
- environmental science
- environmental studies
- geography
- graphic arts
- journalism
- law
- information technology
- mechanical engineering
- safety engineering
Program requirements include meeting minimum semester or quarter unit loads, along with maintaining a 2.0 GPA per academic term.
Visit the CalHR website for information on all student employment opportunities within the State of California.