Pyramid Dam Modernization Program Team Completes Spillways Investigations
Published: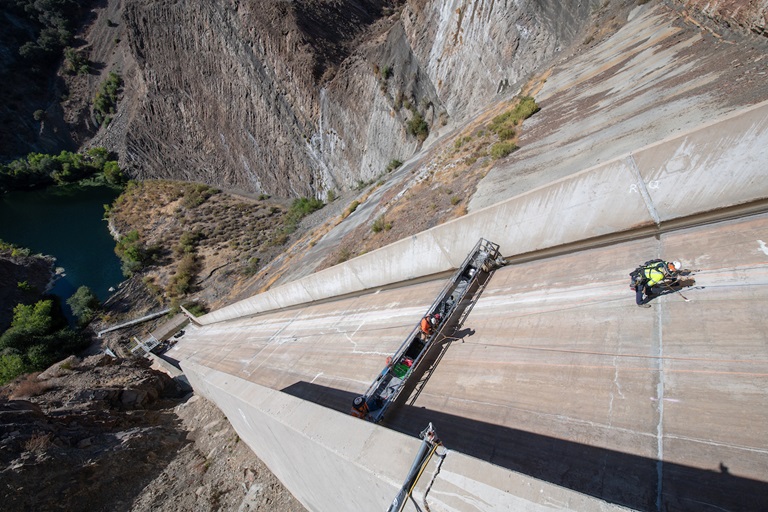 As part of an effort to modernize Pyramid Dam located in Los Angeles County, the Department of Water Resources (DWR) recently completed assessments for the dam's gated and emergency spillways. The Pyramid Dam Modernization Program is now entering the investigations phase, which includes structural and hydraulic analyses for the gated spillway and erodibility analysis for the emergency spillway.
A 10-year effort, the program aligns with DWR's Strategic Plan to ensure public safety and operational reliability of all State Water Project (SWP) facilities throughout California. The program's initial focus is to evaluate the expected performance of Pyramid Dam under an extreme weather event through geotechnical, structural, hydraulic, and hydrologic analyses. DWR will utilize risk-informed decision-making to identify improvements for the gated spillway, emergency spillway, and the outlet tower.
From September 2019 to March 2020, DWR completed helicopter-supported drilling investigations for the 860-foot-long gated and 900-foot-long emergency spillways at Pyramid Dam. Fifteen engineers and 22 geologists assessed the spillways, climbing a combined 530 miles and performing 450 helicopter flights in nearly 200 project days. The gated spillway investigation consisted of 25 drilled core holes to verify the slab thickness. The emergency spillway investigation consisted of 41 drilled core holes to obtain characterization of the rock composition for the emergency spillway and the left and right abutments of the dam.
"It's great to have an inter-disciplinary team come together to work toward a shared vision," said Olivia Virgadamo, DWR Supervising Engineer and project manager for the Pyramid Dam Modernization Program. "As we continue to work through this project, we're keeping public safety a top priority during every phase of the Program."
As with any infrastructure, continual investment is needed to ensure that the facilities operate effectively. Most SWP facilities were constructed in the 1960s and 1970s, without the modern design and engineering methods of today. While dams are designed to withstand extreme events, the definition and characterization of extreme events has changed, based on climate change effects and advancements in hydrological engineering methods.
State Water Project dam facilities throughout California provide flood risk management, water supply, recreation, and hydropower. DWR is committed to ensuring that dam safety risks at all of it SWP facilities are routinely monitored, managed, and communicated.
Visit DWR's website for more information about the Pyramid Dam Modernization Program.