DWR Wins Outstanding Project and Leader Awards from the American Society of Civil Engineers
Published: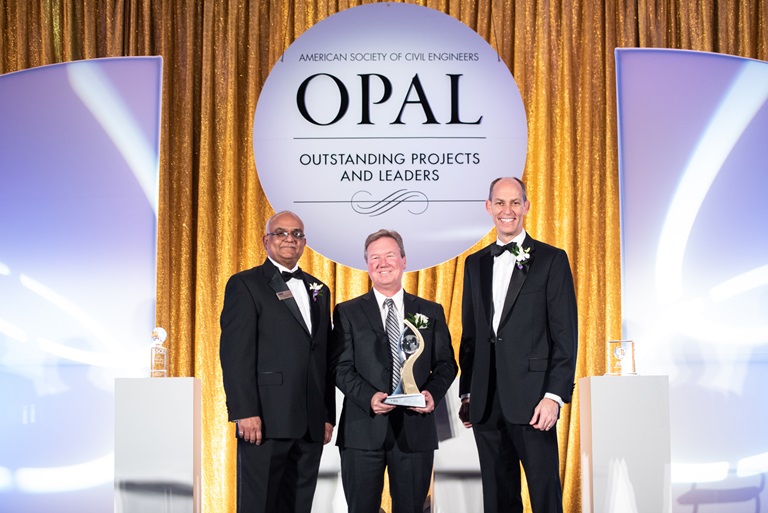 The Oroville Dam Spillways Reconstruction Project and Department of Water Resources State Water Project Deputy Director Ted Craddock, were recognized by the American Society of Civil Engineers (ASCE) with the Outstanding Projects and Leaders (OPAL) awards in Washington, D.C.
"I am honored to receive this award and thankful for the team effort on the Oroville Dam Spillways Reconstruction Project," said Ted Craddock. "Engineers, contractors, geologist, scientists, dam safety regulators, and other team members worked tirelessly and safely to find solutions to complex situations demonstrating what can be accomplished with successful partnerships among several agencies and industry partners."
The Oroville Dam Spillways Reconstruction Project, which included the main spillway's reconstruction in less than six months and full reconstruction to design in 18 months, was successful thanks to the team of more than 1,000 people working more than two million hours under challenging conditions.
More than 13 million pounds of reinforcing steel and over 1.2 million cubic yards of concrete was used in the main spillway including a modern method of combining a roller-compacted concrete foundation, leveling concrete, and erosion-resistant structural concrete for the spillway chute's 612 slabs and 204 wall placements. The main spillway is designed to handle water flows of up to 270,000 cubic feet per second (cfs).
The emergency spillway was constructed with an innovative 'stair-step' apron design consisting of 10-foot thick roller compacted concrete. A 1,450-foot-long wall was built 35 to 65 feet deep into bedrock at the base of the apron using concrete pillars embedded into bedrock.
The Oroville Dam Spillways Reconstruction Project was one of the 10 outstanding civil engineering projects around the world awarded and one of two projects receiving an award in California. The second project in California to be recognized is the Salesforce Tower in San Francisco.
Craddock, became one of five 2020 winners of the Leaders Award for his innovation and excellence in construction of civil engineering projects and programs.The award is a lifetime achievement award that reflects on Ted's leadership on complex projects throughout California.
Craddock's 25 years with DWR has included leading several State Water Project projects, including the $250 million East Branch Extension Phase II in Southern California, which includes two large-diameter pipelines, two reservoirs, and three pump stations. Ted also served as lead engineer for the design and construction of Dyer and Crafton Hills dams and reservoirs.
Craddock oversees more than 2,000 employees who work on the State Water Project, which is one of the world's largest water and power systems that provides water to more than 27 million Californians and 750,000 acres of farmland.
Congratulations to Ted Craddock and the Oroville Dam Spillway Reconstruction Project team for this outstanding achievement!