Planting day draws volunteers from across the Bay Area to benefit Delta habitat
Published: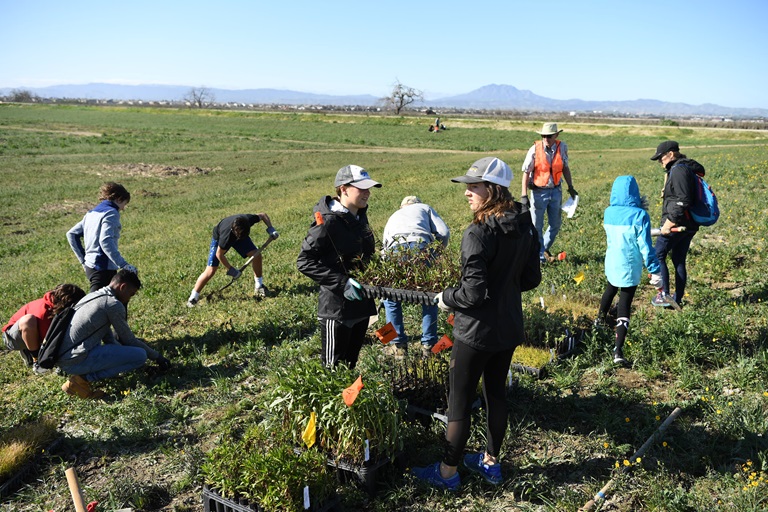 About 100 volunteers descended on the western edge of the Sacramento-San Joaquin Delta on February 29 to plant grasses and shrubs and help restore native riparian habitat in the marsh.
The Department of Water Resources (DWR) gathered with many partners and volunteers of all ages to plant 9,000 1-inch to 2-inch plugs covering over half a mile of high marsh lands in Contra Costa County. The new plants add to the productivity of the project team who are planting tules and other native plants daily as part of the re-vegetation effort.
The Dutch Slough Tidal Marsh Restoration Project, which broke ground in spring 2018, seeks to restore 1,187 acres of native tidal and upland habitats to provide benefits to fish and wildlife displaced by decades of land and levee development. The project also preserves the Delta shoreline while opening new hiking trails and fishing and boating access.
For the last two years, DWR has moved dirt between higher and lower elevations to create a more gradually sloping marsh plain, returning the area to its original tidal marsh.
Now that the grading is complete, volunteers were able to assist in the revegetation effort by helping plant thousands of plants to help hold the soil in place and to combat invasive weeds. The plants will provide benefits to birds and other upland wildlife species by providing structure for nesting, foraging, and protection from predation.
Depending on the rate of vegetation establishment, DWR plans to breach the levees in late fall of 2021, allowing Delta waters to circulate around the new marsh. The habitat will provide food and shelter for a new generation of native fish and wildlife.
The project, which will include a city park, is a great example of how restoration projects can work with local land use.
"The volunteer planting day marks a significant milestone in the Dutch Slough restoration effort after nearly 10 years of planning, permitting and design," said Kris Tjernell, DWR Deputy Director of Integrated Water Management. "We're thrilled that our partners and local community were able to come out, roll up their sleeves, and take part in restoring native plants that provide immediate and long-term benefits to the local ecosystem, while supporting conservation efforts in their own backyard."
Dutch Slough is part of the California EcoRestore Initiative, a multi-agency effort to restore more than 30,000 acres of wildlife habitat. The Dutch Slough Tidal Marsh Restoration Project, the Delta's largest-ever restoration program to date, will help prepare against sea level rise while providing habitat for fish and wildlife, and open space and recreation for the community.
The volunteer planting event was hosted by DWR, the Contra Costa Resource Conservation District, River Partners, Friends of the Marsh Creek Watershed, Reclamation District 2137, and City of Oakley.