DWR Awards $7 Million in Grants for Urban Streams Restoration
Published: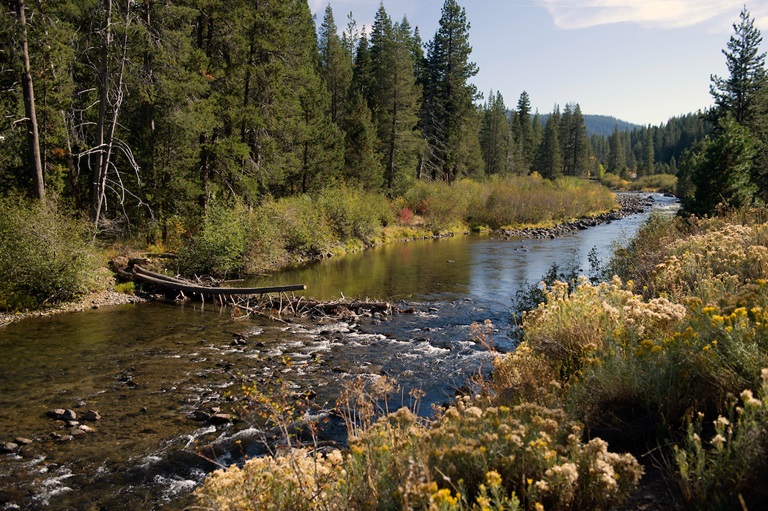 The Department of Water Resources (DWR) announced $7 million in grants to restore streams, creeks, and rivers to more natural environmental conditions and reduce flood damage risks across multiple communities in California.
These grants are part of DWR's Urban Streams Restoration Program (USRP) and are funded by Proposition 84 and Proposition 68.
By enhancing the aquatic riverine and riparian floodplain environment for fish, wildlife, and people, these projects will address multiple issues at each site, improve public access and engagement, and offer science and outdoor educational opportunities.
The projects are designed to encourage community participation in the planning process, ensure public support for long-term management, and increase public awareness of the project's benefits to the community, the environment, and the sustainability of California's water resources.
Projects receiving grant funds include:
The Town of Truckee in partnership with the Truckee River Watershed Council received $1 million in funding for the Church Street Extension/Trout Creek Restoration Project. The project will restore 2 thousand linear feet of creek by replacing an undersized culvert – a tunnel used for carrying water under roads - that is a major hydraulic obstruction in order to improve watershed functionality. Restoration will encourage the formation of pools and create the hydraulic variability necessary to sort fine sediments from trout spawning bed material. Students from local schools will participate in pre- and post-construction monitoring, and the annual Truckee River Day celebration set for October 20, 2020 will help facilitate community involvement in project planning and continued support for the restoration site.

The City of El Cajon in partnership with the San Diego River Park Foundation received $1 million in funding for the Broadway Creek Restoration Project to transform an eroding channel into a naturalized urban waterway to reduce flood risk to property and local communities. The project will restore the eroded creek corridor and incorporate native plants to help naturally filter storm water and increase habitat connectivity.

The City of Sacramento in partnership with Sacramento Community Land Trust received $697,000 in funding for the Morrison Creek Revitalization Planning Project to fully plan and permit restoration of the fenced-off channel into a recontoured natural riparian parkway. This will provide the community access to a safe transportation route between neighborhoods divided by high speed roads. The eventual restoration project will restore the natural environment along Morrison Creek with native trees and vegetation, while providing the adjacent schools with outdoor classroom space. The recontouring of the channel will provide an increase in flood protection that is much needed due to the expansion of housing developments in the upper watershed.
A full list of grant awards can be found on the Riverine Stewardship Program page.
The USRP provides financial, bioengineering, and environmental technical assistance for projects that protect, enhance, and restore the natural, ecological value of streams; prevent future property damage caused by flooding and bank erosion; and promote community involvement, education, and riverine stewardship.
The USRP is one of three sub-programs managed by DWR's Riverine Stewardship Program. Other sub-programs include the Fish Passage Improvement Program and the San Joaquin Fish Population Enhancement Program.
DWR anticipates that grant awards for San Joaquin Fish Population Enhancement Program will be announced later this spring.