Lake Oroville Operations Update: May 31
Published: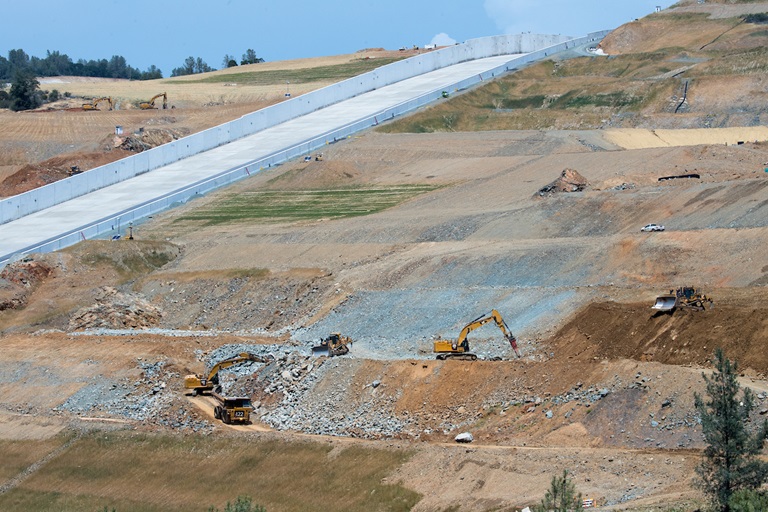 Due to forecasted inflows into Lake Oroville, DWR is preparing for the potential use of Oroville's main spillway next week.
DWR increased water releases from Hyatt Powerplant to approximately 10,000 cubic feet per second (CFS) on Friday in anticipation of higher inflows into the reservoir next week. The current elevation of Oroville reservoir is 895 feet.
In early April, DWR utilized the reconstructed main spillway to make additional releases from the Oroville reservoir. The spillway operated as designed and is ready to be used again to manage lake levels. Since April, DWR has been managing the reservoir with releases from Hyatt Powerplant.
Because of the above-normal precipitation in May, and continued elevated inflows in current forecasts with the onset of warm weather, DWR is taking steps to prepare for potential use of the spillway. Construction crews will remove all equipment from the main spillway over the weekend, including scaffolding and materials used to divert water seeping from the spillway's radial gates.
DWR is contacting its state and federal regulatory agencies, local law enforcement, local elected officials and downstream levee districts to prepare for the potential use. Once the decision is made on whether to use the spillway or not, DWR will provide regular updates to the public and the media.
A full reservoir is a welcome sight after years of drought and low levels to accommodate reconstruction. A full reservoir provides optimal recreation opportunities and serves as a vital water bank account to help California cope with future drought conditions. It is common for the reservoir to stay relatively full during the summer months in an above average water year. In 2010-2011, another very wet year, the reservoir sat an elevation between 898 and 899 feet for the entire month of July.
###
Know someone who would like to receive Community Updates? They can email their request to oroville@water.ca.gov.