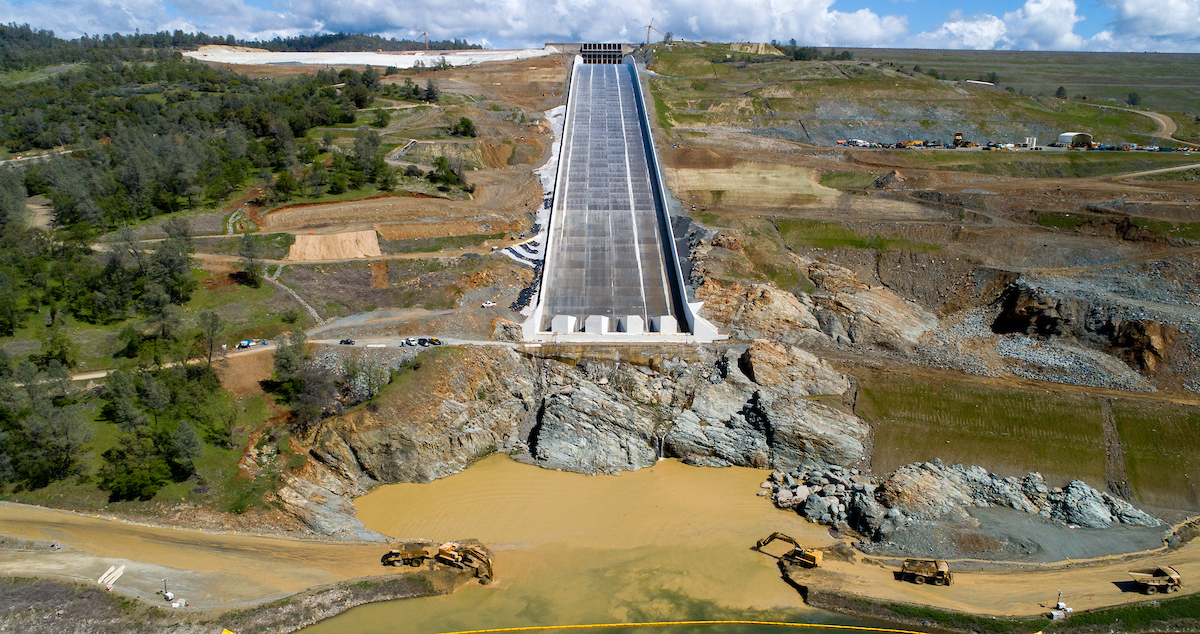 SACRAMENTO, Calif. – Due to forecasted storms and growing snowpack, the California Department of Water Resources (DWR) will begin to release flows at 11 a.m. Tuesday from the Oroville main spillway. By early afternoon, releases from the main spillway will be about 8,300 cubic feet per second (cfs). This will be the first time the spillway is used since it has been reconstructed and its use will provide room for flood storage within the reservoir.
"Protecting communities from flooding is a vital part of the Department's mission," said DWR Director Karla Nemeth. "Today we inaugurate the reconstructed spillway to serve that essential purpose and to prepare us for the future."
"The Oroville main spillway was rebuilt using modern engineering practices with the oversight of state and federal regulators on site and a team of experts assisting the Department," said Joel Ledesma, Deputy Director, State Water Project for DWR. "With an average concrete thickness of seven and a half feet, 12.4 million pounds of reinforcing steel, and approximately 7,000 anchors, the main spillway is ready to handle flows."
Read: Update on Oroville Operations - April 3
The information below reflects current reservoir level estimates. Forecasts can change quickly and may affect the estimates provided.
Current Oroville Reservoir level: 854 feet elevation
Planned Main Spillway Releases: approximately 8,300 cfs by early afternoon on April 2
Planned Total Releases to the Feather River: up to 20,000 cfs from Oroville facilities and other natural inflows
DWR may increase flows to the Feather River again later this week to between 40,000 and 60,000 cfs to prepare for forecasted inflows. DWR also anticipates potential further releases to manage snowmelt and lake elevations later this spring.
Oro Dam Blvd. East will be open to pedestrian and vehicle traffic unless flows exceed 30,000 cfs. If spillway flows exceed 30,000 cfs, the road will be closed to ensure public safety. Credentialed media will be provided access past the roadblocks located at Glen Drive and Canyon Drive and can use turnouts along Oro Dam Blvd. East.
DWR has followed its standard process of notifying regulatory agencies, local law enforcement and local elected officials regarding the anticipated use. The Department will continue to update the public, media and local partners through emails, news releases and social media.
To sign up for community notifications, contact oroville@water.ca.gov. Media should contact media@water.ca.gov to be added to DWR's media list.
View construction time-lapse video, additional construction videos and photos.
California State Parks offers a live camera feed of the spillway. Feed availability may be disrupted at times due to network connection.
Contact:
Erin Mellon, Assistant Director, Public Affairs Office, Department of Water Resources
916-704-5529 | erin.mellon@water.ca.gov

###
For more information, follow us on Twitter or Facebook and read our news releases and DWR updates.