DWR-Funded Project in Victorville Improves Flood Safety, Groundwater Recharge
Published: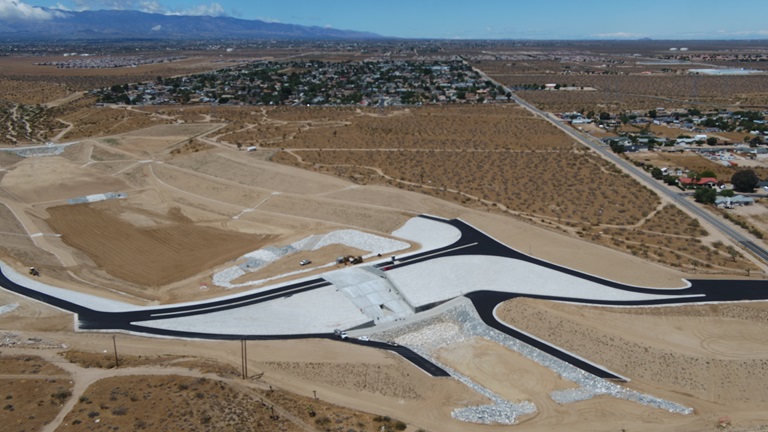 State representatives and local San Bernardino County agencies recently celebrated the completion of the Stormwater Flood Reduction Project – a DWR-funded effort that will improve flood control and water supply reliability for the City of Victorville.
The newly constructed Amethyst Basin will help capture stormwater and decrease downstream flows, protecting public infrastructure and Interstate 15, which is located near the basin.
The San Bernardino County Flood Control District, in partnership with Mojave Water Agency and the City of Victorville, received $5.2 million in grant funding from DWR's Integrated Regional Water Management (IRWM) Grant Program in 2014.
Ten years in the making, the 27.4-acre project is designed to provide additional protections to handle a 100-year storm – a flood event that has a one percent chance of exceeding anticipated flood hazards within a given year.
The Amethyst Basin, in addition to capturing stormwater, will also help meet the water needs of the growing Victorville community by delivering water from the State Water Project's California Aqueduct through a pipeline to groundwater recharge basins and ponds in the Oro Grande Wash.
State officials, community leaders, local agencies, and other stakeholders convened on June 13 in Victorville to mark the project's completion.
"The project is an example of successful collaboration among agencies to work on multi-benefit projects to improve water supply reliability while reducing flood risks and protecting public safety," said Vic Nguyen, DWR Southern Region Office Chief.
Leveraging every resource and benefit provided by this project, the San Bernardino County Flood Control District was able to use 200,000 cubic yards of excavated dirt from the basin for local road improvements, saving $2 million in taxpayer dollars.
In addition to basin excavation, the project required construction of basin embankments, inlet and outlet structures, and an emergency spillway.
The IRWM grant was funded by Proposition 1E, the Disaster Preparedness and Flood Prevention Bond Act of 2006, which provides financial assistance for projects that rebuild and repair California's most vulnerable flood control structures to minimize flood-related risks.
Learn more about DWR's grant programs and available funding opportunities.