South Sacramento Community Shapes Design of Morrison Creek Revitalization Project
Published: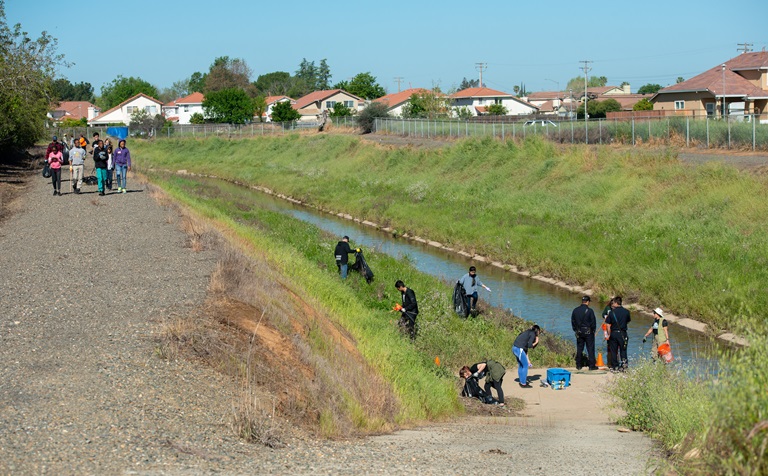 Local community groups and residents are playing a key role in the design of the Morrison Creek Revitalization Project, a multi-benefit project in south Sacramento that seeks to improve the natural habitat around the creek while creating a safe, recreational environment for the community.
The Department of Water Resources (DWR) is assisting with project design and technical and environmental assistance; the project is funded by private foundations.
The community-led effort will establish a secure, walkable route linking Elder Creek Elementary School, Sim Park, and the George Sim Community Center along Morrison Creek near the intersections of Power Inn Road and Lemon Hill Avenue in Sacramento.
Morrison Creek is an important tributary of the Sacramento River and part of the Sacramento flood control system. At one time, it was also a fish migration route. By restoring some of the natural habitat, the project sets the stage for the possibility of native fish returning to Morrison Creek and reestablishing fish passage to the Sacramento River.
The project is currently in the planning phase and once project design and permitting is finalized, the construction project will go out to bid. Construction could start as early as fall of 2020. Potential project features include a bike path, walking paths, more trees, an amphitheater, benches, play areas, public art, and gardens. The project design is developed with the community's direct input to ensure it best fits the needs of those who live, work, and play in the area.
"By having a community-led project, we are empowering this community to take ownership of their vision, parks, and open spaces," said Esther Tracy, DWR environmental scientist. "By revitalizing this urban creek to what the community feels is best for them, we will be creating stewards for this land."
DWR has a long history of embracing multi-benefit projects like Morrison Creek, and as the department continues to advance integrated regional water management and urban stream restoration, it is poised to do more at the community level. As part of this effort, the DWR Riverine Stewardship Program and its Urban Streams Restoration Program are building partnerships with local entities throughout the state to support these kinds of community-based projects.
"Many communities have limited means of raising funds for stream restoration or habitat enhancement, or they have few experts with knowledge about creek restoration, flood prevention, and ecosystem preservation," said Marc Commandatore, DWR program manager for the project. "With the Riverine Stewardship Program's involvement, DWR is directly supporting public engagement, outreach, and the community."