Strengthening Partnerships: Tribal Water Summit Brings Together Tribes, State, and Federal Partners
Published: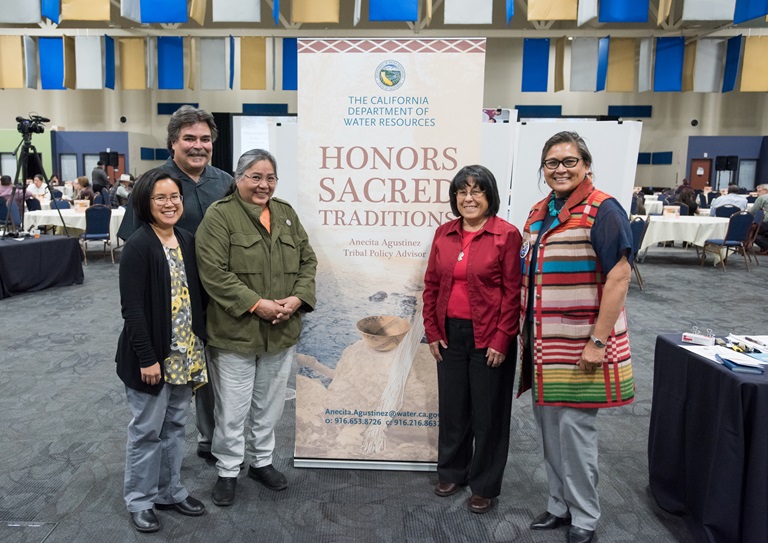 By Anecita Agustinez, Tribal Policy Advisor, DWR
The California Department of Water Resources sponsored the 2018 statewide Tribal Water Summit in Sacramento on April 4-5 as part of its ongoing efforts to ensure that California water planning incorporates the concerns, needs, and issues of California Native American Tribes.
The 2018 Tribal Water Summit (TWS) was the third statewide water summit held between California Native American Tribes and state agencies since 2009. The summit convenes California Native American Tribes, Native American organizations, and federal, state, and local agencies to work collaboratively to identify and understand tribal issues related to water. The summit helps inform issues to be identified in DWR's update to the California Water Plan.
The goals of the TWS were developed by a TWS planning team and included: defining indigenous water rights, building on previous summit accomplishments, furthering partnerships to address tribal policy needs, increasing partner capacity, and strengthening shared understanding of policy impacts to Tribes to continue addressing tribal interests into the next gubernatorial administration. The summit included important policy discussions around respect and understanding of tribal sovereignty, incorporation of traditional ecological knowledge in resource management decisions, and helping define the concepts of indigenous water rights. Discussion sessions and workshop topics ranged from legislative updates and case studies on tribal water rights, to GIS training and discussions on traditional water uses and food sovereignty.
While discussions focused on success, tribal presentations also emphasized the need for consistent systemic changes statewide in resource management including those involving state agencies and local agencies. Tribal recommendations focused on:
The ongoing need for state and local agencies to proactively identify effective methods to learn, understand, and communicate tribal perspectives on resource management.

A statewide approach and emphasis on actively integrating tribal perspectives into management decisions.

Respect of tribal sovereignty through early and continuous communication between state and local leaders with Tribal governments.

Crafting resource governance models that include tribal voices and perspectives with equal authority in decision-making.

Acknowledging traditional ecological knowledge as a scientific methodology equal to prevailing methods used by the state, and incorporating traditional ecological knowledge into management actions through partnership with Tribes and culture keepers.

Understanding and respecting tribal water rights.
The TWS emphasized and applauded work done to date to better understand tribal issues and the impacts that policy and resource management decisions have on tribal lives. Respectful partnerships between Tribes and state agencies and officials was identified as an overarching key to successfully understanding and integrating these messages into future actions.
Four new videos featuring members of California Tribes discussing the impacts of climate change also debuted at the TWS. The videos, called Climate Conversations, are part of ongoing engagement with California Tribes on environmental issues. The videos may be viewed on our YouTube Channel.
Attendees of the 2018 TWS represented over 80 California Indian Tribes throughout the state. Traditional Tribal protocol was followed by recognizing the ancestral lands of the Patwin, Nisenan, Maidu, and Wintun people. The following Tribal government leaders and representatives participated in programs at the TWS: Chairman Raymond C. Hitchcock, Wilton Rancheria; Chairman Ron W. Goode, North Fork Rancheria; Chairman Bo Mazzetti, Rincon Band of Luiseno Indians; Chairman (former) Chris Devers, Pauma Band of Mission Indians; Chairman Russell "Buster" Attebery, Karuk Tribe; Chairperson (former) La Vonne Peck, La Jolla Band of Luiseno Indians; Vice Chairman Kenneth McDarment, Tule River Tribe; Council Representative Gregory Wolfin, Illmawi Pit River Tribe; Chairwoman Glenda Nelson, Estom Yumeka Maidu Tribe of the Enterprise Rancheria; and Honored Elder Jene L.McCovey, Chetko, Tolowa Dee-nee' Nation, Yurok and Chilula.
Some 300 state, federal, Tribal, and non-governmental agency representatives participated in the two-day summit.
The Tribal Water Summit highlighted DWR's commitment to strengthening its tribal government relations. A special thank you is extended to DWR's team of regional tribal liaisons who contributed to the recruitment of a statewide Tribal Water Summit planning team and the development of the program topics and outreach to ensure strong attendance. The team included: Tito Cervantes, Northern Region Office; Tim Nelson, North Central Region Office; Siran Erysian, South Central Region Office; Barbara Cross, R.A.; and Emily Alejandrino, Tribal Liaison to the California Water Plan and Climate Change.
The 2018 Tribal Water Summit succeeded in its goals to strengthen shared understanding of policy impacts and build partner capacity with the state, federal, and Tribal Governments to continue addressing Tribal water policy impacts into the next administration.
To review the 2018 highlight of proceedings and video of the two day summit visit
DWR's Tribal Water Summit webpage.