Enjoy an adventure at California's lakes, reservoirs
Published: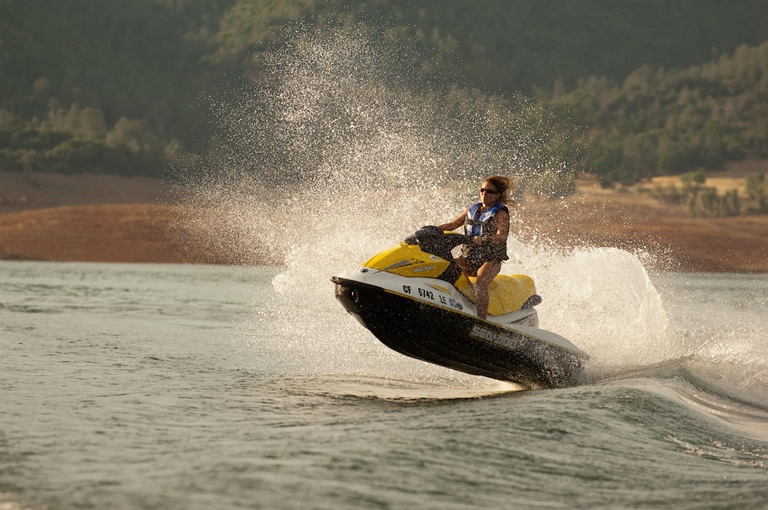 California's State Water Project (SWP) lakes and reservoirs offer a variety of recreation opportunities during the warm summer months, including camping, boating, and water skiing. From the upper Feather River lakes in the north to Lake Perris in the south, an adventure awaits you.
Here are some SWP recreation highlights to check out this summer and into the fall:
Lake Oroville
Lake Oroville is the largest reservoir on the SWP and second largest reservoir in California, which makes it a premier destination for fishing, boating, swimming, and water skiing. With 167 miles of shoreline, the lake also boasts excellent hiking, camping, biking, and horseback riding opportunities. Lake Oroville offers visitors the rare chance to spend the night on one of ten boat-in campsites complete with a grill, sleeping area, restroom, and more. Learn more about Lake Oroville recreation opportunities.
In the coming weeks, there are two recreation events of note at Lake Oroville:

The Thermalito Diversion Pool and Brad Freeman Trail will open for Labor Day Weekend (Wednesday August 29 through Tuesday September 4). Use Thompson Flat Cemetery Road to access the area, which is open to visitors from 8 a.m. to sunset.

On September 6 and 7,

California State Parks is offering

"free" day use and boat launching at Lake Oroville State Recreation Area.
Bethany Reservoir
Bethany Reservoir, in northeastern Alameda County, has opportunities for fishing, windsurfing, boating, picnicking, and biking. Located near rolling hillsides and windmill farms, this reservoir is an ideal site for sailing due to the strong westerly winds. If you enjoy bird watching, you might even spot pelicans and herons.
Lake Perris
Located in Riverside County, recreation options at Lake Perris include windsurfing, water skiing, swimming, horseback riding, picnicking, RV camping, and rock climbing. If you are an angler, Perris is known for its trophy largemouth bass. This year marked the reopening of "Big Rock" climbing area, power cove launch area, and Bernasconi Beach. A multi-use trail allows hikers, bikers, and equestrians to travel an entire 9-mile circumference of Lake Perris. Note: beginning Tuesday, September 5, three miles of the trail near the east end of the lake will be closed due to riparian restoration project.
Lake Del Valle
Lake Del Valle is located in Central Alameda County, about five miles south of the City of Livermore in the Arroya del Valle. Recreational opportunities include camping, boating, swimming, biking, hiking, horseback riding, fishing, windsurfing, and more. Check out the California State Parks website for more information.
Prepare for your visit
Before you pack up for an adventure along the State Water Project, remember to:
Check the weather.

Obey hazard signs and park rules.

Bring California Boater Card if you are a

boater under the age of 21. All boaters will eventually need to take the online course and possess a boater operator card. For more information, visit the

California Boating and Waterways website

For updates on possible algal bloom conditions, visit https://mywaterquality.ca.gov/habs/
View our map detailing recreation options at SWP lakes and reservoirs state-wide.