Five Ways to Stay Safe While Swimming in California's Lakes and Reservoirs
Published: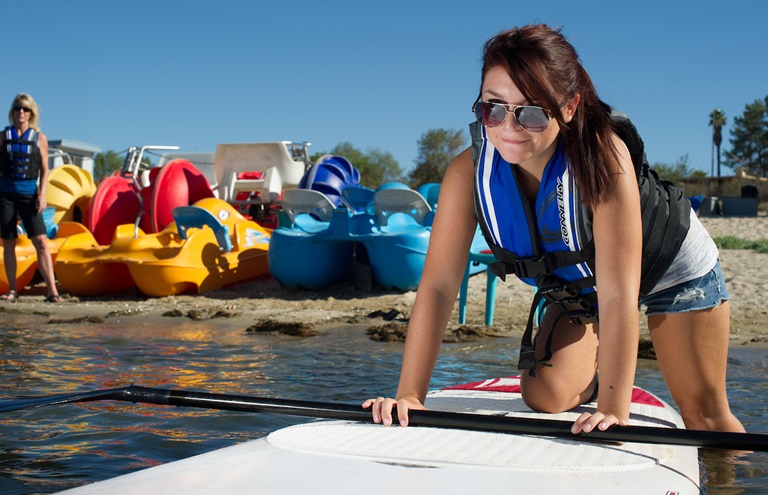 When the weather is hot in California there is nothing better than cooling off with a refreshing swim in one of the state's majestic lakes and reservoirs.
The State Water Project (SWP), operated by DWR, offers swimming, waterskiing, and boating opportunities at its lakes and reservoirs – from Lake Oroville in the north to Lake Perris in the south.
DWR wants to remind those looking to have a good time at SWP lakes and reservoirs to always be safe when in or around the water.
Here are five safety rules to remember when having fun in the water this summer:
1. Learn to swim: Want to be safe in the water? First, learn to swim from a certified instructor. Instructors will teach you how to stay safe in and around the water. If you are not a strong swimmer, it is advised not to go in deep water where you can't touch the bottom.
2. Wear a life jacket: Even those who know how to swim should wear a properly fitted life jacket when out on the lake. Life jackets can help keep even the best swimmers safe when in unfamiliar bodies of water.
3. Swim with a buddy: You are always safer when swimming with others who can go get help if needed. Plus, it is always more fun when you swim with a friend!
4. Know what's below: Always know the depth of the body of water before leaping in or diving. Only dive when you know it is deep enough and safe.
5. Swim in properly designated areas: The safest place to swim is in a designated swim area where lifeguards are on duty to keep people safe. Lifeguards also use float lines to show people where it is safe to swim. Unfamiliar waters can be dangerously cold or have strong currents that lead to trouble.