LandFlex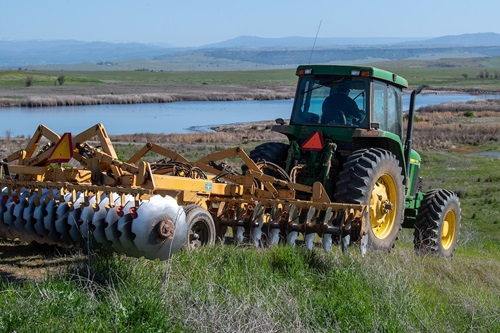 The Department of Water Resources (DWR) developed the LandFlex Grant Program (LandFlex) to provide immediate drought relief to drinking water wells in drought-stricken communities and limit unsustainable groundwater pumping in critically overdrafted (COD) basins. Limiting overdraft groundwater pumping means more water left in the ground and available for drinking water wells in California's most vulnerable communities.
LandFlex is a program that will provide $25 million ($23.3 available for grants after DWR administrative costs) in block grants to Groundwater Sustainability Agencies (GSAs) to grant to growers who limit agricultural water use. GSAs will work directly with growers to identify land that would reduce pumping impacts to nearby drinking water wells. LandFlex will provide financial incentives to growers for each enrolled acre. To ensure small and mid-sized farms have access to the program, eligibility is limited to growers with a 3-year average Adjusted Gross Income of $2.5 million or less. No individual grant award to a grower will be greater than $2.5 million. In order to reach vulnerable communities in need and provide growers the necessary resources, DWR is partnering with Community Alliance with Family Farmers, Self-Help Enterprises, Western United Dairies Foundation, and the Almond Alliance to assist GSAs with providing outreach and engagement to growers.
LandFlex was authorized by the Legislature pursuant to the Budget Act of 2021 (Stats. 2022, ch. 44, § 25) and its Trailer Bill, (Wat. Code, § 13198 et seq.).
Solicitation and Funding
Phase 2: LandFlex will hold a Phase 2 of the program with a portion of the grant funds remaining from Phase 1. The Phase 2 solicitation will be open to only the four remaining eligible GSAs who applied during the onset of the program:
- Lower Tule River Irrigation District
- Pixley Irrigation District
- Mid-Kaweah
- Westside Water District

The Phase 2 solicitation will be open for a period of 14-days (including weekends) beginning June 14, 2023 at 5pm through June 28, 2023 at 5pm. The LandFlex Grower Portal will be open for growers located within the basin boundaries of the four eligible GSAs to apply and submit applications.

Approximately $10 million will be available to a range of eligible growers in the four GSAs. The process for awards will be slightly different than Phase 1 because there will be no set grant funding allocated to any individual GSA at the start. GSAs will score their growers based on scoring criteria consistent with DWR minimum criteria and GSA specific criteria, if applicable. DWR, Technical Assistance Providers, and GSAs will then make final award determinations based on available funding.

Note: Considering the heavy rains in the first quarter of the year creating a substantial snowpack, and now the warmer weather creating snowmelt and flooding in the Central Valley, all growers enrolled in LandFlex have the opportunity to recharge their enrolled acreage in lieu of cover cropping.

All interested growers, located within the above four GSA boundaries, please visit www.landflex.org and work with your GSAs and LandFlex Technical Assistance Providers to submit applications and help answer any questions.
Phase 1: The initial LandFlex grant solicitation was open to eligible GSAs for a period of 14-business days, January 17 through February 3, 2023. There were three key eligibility requirements for the program; the GSA must be located within a critically overdrafted basin, the GSA adopted and is actively implementing an allocation plan that identifies a quantified volume of overdraft as of Water Year (WY) 2022, and the GSA must have a measurable accounting method (i.e., evapotranspiration or well metering) for WY 2022 and 2023.
DWR reviewed seven eligible GSA applications and selected the top three highest ranking GSAs, per LandFlex Guidelines. Commensurate with the scoring criteria, these GSAs demonstrated the greatest need and readiness to meet the goals and objectives of the LandFlex Program. The selected GSAs and recommended funding amounts are as follows:
Madera County GSA - $9.3 million
Greater Kaweah GSA - $7.0 million
Eastern Tule GSA - $7.0 million
DWR completed a public comment period from December 9 through December 29 for the Draft Guidelines for the LandFlex program.
| Milestone or Activity | Schedule |
| --- | --- |
| Draft Guidelines Posted & Public Comment Period Begins | December 9, 2022 |
| Public Comment Period Closes | December 29, 2022 |
| Grant Solicitation Begins | January 17, 2023 |
| Applicant Workshop (Eligible GSAs) | January 19, 2023 |
| Grant Solicitation Closes | February 3, 2023 |
| Final Awards Announced | February 23, 2023 |
| Phase 2 Solicitation Begins | June 14, 2023 |
| Phase 2 Solicitation Closes | June 28, 2023 |