LandFlex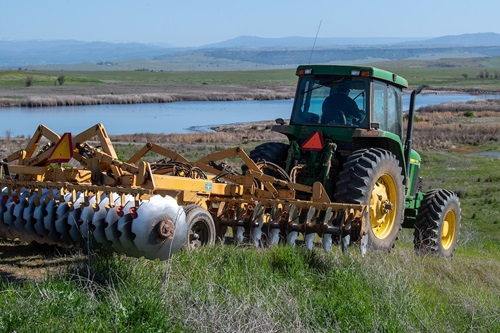 The Department of Water Resources (DWR) developed the LandFlex Program (LandFlex) to provide immediate drought relief to drinking water wells in drought-stricken communities and limit unsustainable groundwater pumping in critically overdrafted (COD) basins. Limiting overdraft groundwater pumping means more water left in the ground and available for drinking water wells in California's most vulnerable communities.
LandFlex is a program that will provide $25 million in block grants to Groundwater Sustainability Agencies (GSAs) to grant to farmers who limit agricultural water use. GSAs would work directly with farmers to identify land that would reduce pumping impacts to nearby drinking water wells. LandFlex will provide financial incentives to farmers for each enrolled acre. To ensure that small and mid-sized farms are the primary recipients of the program's financial incentives, eligibility is limited to farmers with a 3-year average Adjusted Gross Income of $2.5 million or less. No individual grant award to a grower will be greater than $2.5 million.
LandFlex was authorized by the Legislature pursuant to the Budget Act of 2021 (Stats. 2022, ch. 44, § 25) and its Trailer Bill, (Wat. Code, § 13198 et seq.).
Open Solicitation
The LandFlex Program grant solicitation is open from January 17, 2023 through February 3, 2023, 5pm, PST. Interested parties (limited to GSA eligibility) may submit an application using the application form link listed under Key Program Documents. For those interested in applying for a LandFlex grant, DWR hosted a GSA tailored Applicant Workshop on January 19, 2023. To watch a recording of that workshop, click this link: LandFlex Applicant Workshop 01-19-23 or to see a copy of the slide deck used during the Workshop, view the PDF: LandFlex Applicant Workshop PowerPoint.
If you are interested in a copy of the DWR LandFlex Dry Well Analysis information, please send a request to sgwp@water.ca.gov (e.g., Subject: LandFlex Dry Well Analysis).
DWR completed a public comment period from December 9 through December 29 for the Draft Guidelines for the LandFlex program.
| | |
| --- | --- |
| Milestone or Activity | Tentative Schedule |
| Draft Guidelines Posted & Public Comment Period Begins | December 9, 2022 |
| Public Comment Period Closes | December 29, 2022 |
| Grant Solicitation Begins | January 17, 2023 |
| Applicant Workshop (Eligible GSAs) | January 19, 2023 |
| Grant Solicitation Closes | February 3, 2023 |
| Final Awards Announced | Late February 2023 |