Drought Resilience Interagency & Partners Collaborative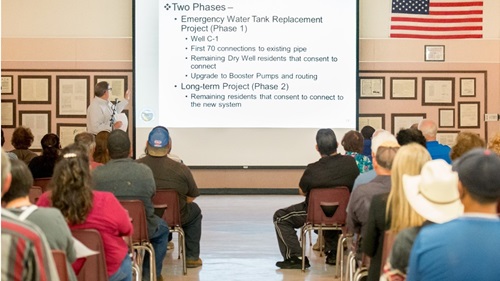 The Department of Water Resources (DWR) is establishing a standing drought and water shortage interagency task force in coordination with the State Water Board and other relevant state agencies to facilitate proactive state planning and coordination for pre-drought planning, emergency response, and post-drought management, consistent with Senate Bill 552 (Chaptered in 2021). The Task Force, called the Drought Resilience Interagency and Partners Collaborative (DRIP Collaborative), will serve as a public forum with state and non-state agency members to advance our drought strategies and continue building resilience to the increasingly arid conditions California faces.
Interested in becoming a DRIP Collaborative member? See this flyer for information on the DRIP Collaborative (available in Spanish) and complete the interest form by February 24, 2023 via this submission form. Invitation for tribal members to participate.
The task force membership will include representatives from a wide range of water-relevant interested parties. Two appointees from each of the following groups will be selected to participate: local governments, community-based organizations, Tribal representation, nonprofit technical assistance providers, the public, agriculture, environment, public water systems, and experts in land use planning, water resilience, and water infrastructure. One appointee from each of the following state agencies will also participate in the task force: California Natural Resources Agency, Department of Water Resources, California Department of Fish and Wildlife, California Environmental Protection Agency, State Water Resources Control Board, California Department of Food and Agriculture, California Office of Emergency Services, and Governor's Office of Planning and Research. The DRIP Collaborative will be 26 members in total.
The DRIP Collaborative will meet three times a year in Spring, Summer, and Fall in publicly accessible open meetings. Meeting location and times are subject to change.
Meeting #1: April 6, 2023
In person meeting located at the Headquarters for the California Natural Resources Agency at 714 P Street, Sacramento. Zoom option will be available.
The DRIP Collaborative meeting location(s) are accessible to people with disabilities. Any person who requires special assistance to participate in the meeting, or wishes to request this notice or other meeting materials in an alternative format, requires translation services, or needs any disability-related modification or accommodation, including auxiliary aids or services, which would enable that person to participate at the meeting must make that request at least 7 days prior to the meeting date by contacting DWR staff at drip@water.ca.gov or calling (916) 612-4371.
Bagley-Keene Open Meeting Act
As a State body, the task force is governed by the Bagley-Keene Open Meeting Act, which requires the Collaborative to:
Publish an agenda at least ten days in advance of any meeting,

Describe specifically in that agenda the items to be transacted or discussed,

And refuse to add an item subsequent to the published agenda. In addition to these general requirements the Bagley-Keene Act includes other specific provisions about how meetings are to be announced and conducted.
For More Information
For questions, please send an email to drip@water.ca.gov or call Julie Ekstrom at 916-612-4371.
To receive email notifications about DRIP Collaborative-related events and other news, sign up here and select "DWR DRIP Collaborative".