Proposition 50 Delta Water Quality Grants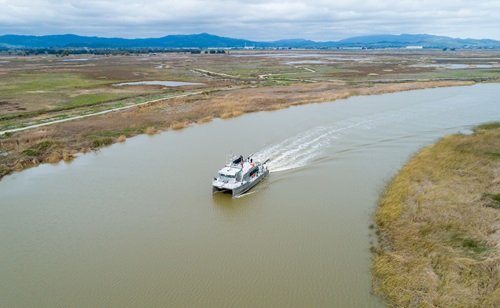 The Delta Water Quality and Fish Facilities Grant Program provides $14.25 million from Proposition 50 - The Water Security, Clean Drinking Water, Coastal and Beach Protection Act of 2002. Projects that fit the criteria of any of the following categories may be eligible for funding under this Program:
(i) Constructs treatment facilities or relocates discharge facilities for agricultural drainage generated within the Delta to improve water quality in the Delta or the quality of water that is transported from the Delta.
(ii) Constructs facilities to control waste discharges that contribute to low dissolved oxygen and other water quality problems in the lower San Joaquin River and the south Delta.
(iii) Constructs fish facilities for the State Water Project or the Central Valley Project intakes in the south Delta, such as facilities for fish screens, fish handling, and fish passage, or modifications to intake structures or other facilities, to reduce losses of any life stages of ffish to water diversions in the San Joaquin River and the Delta in accordance with paragraph (1) of Section (C) of Chapter IV of the board's 1995 water quality control plan.
(iv) Constructs a permanent barrier at the head of Old River to improve fish migration and other permanent barriers in the south delta channels to improve water quality and water level for local diversions.
(v) Constructs facilities to control drainage from abandoned mines that adversely affect water quality in the Bay-Delta.
(vi) Constructs a permanent barrier at Grantline Canal to improve water quality and water levels for local diversion.
To help ensure the advancement of projects with the greatest feasibility and public benefit value, funding will support only those projects that are at least generally consistent with local and state adopted plans for Delta water quality and ecosystem enhancement.
There will be no formal proposal solicitation for this Program. Applicants are encouraged to apply as soon as possible. Applications for funding will be accepted on a first come first served basis until all the funds are awarded, or until June 30, 2022, whichever comes first. Applications will only be accepted through June 30, 2022.
View the Delta Water Quality and Fish Facilities Grant Program Final Guidelines
Contact Us
Main content text goes here