Silverwood Lake Recreation

Silverwood Lake is a reservoir in the San Gabriel Mountains, 90 minutes from Los Angeles, that receives water from the East Branch of the California Aqueduct. Silverwood Lake generates energy through turbines at the south end, then the water moves to contracting agencies or flows on to Lake Perris. The lake, formed by the Cedar Springs Dam, is part of the Silverwood Lake State Recreation Area (SRA).
With four campgrounds, two swim beaches, several picnic areas, and a marina where visitors can either rent a boat or launch their own, Silverwood Lake SRA offers multiple recreational opportunities.
Park Hours
Open 7 days a week
Day Use: 7 a.m. - 7 p.m.
Boating: 7 a.m. - Sunset
Map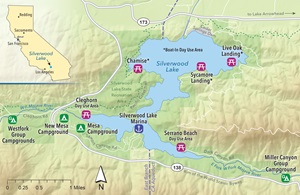 Click the image above to view an expanded version of the map.
Resources