Oroville Facilities (P-2100)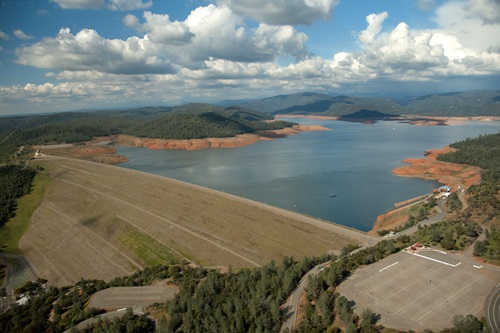 The Oroville facilities, also known as FERC Project No. 2100, or P-2100, are located on the Feather River in Butte County. The principal features of P-2100 include the Oroville Dam and Reservoir as well as Edward Hyatt Powerplant, Thermalito Facilities, Feather River Fish Hatchery, and associated recreational, fish and wildlife preservation and enhancement facilities. The hydroelectric facilities of P-2100 have a combined license capacity of approximately 762 megawatts, which produce an average of 2.2 billion kilowatt-hours of electricity each year.
About the Oroville Dam Safety Comprehensive Needs Assessment (CNA)
The Oroville Dam Safety Comprehensive Needs Assessment (CNA) has identified priorities and appropriate solutions to bolster the integrity and resiliency of the Oroville Dam complex to ensure public safety. The CNA considered changes to the Dam and its existing appurtenances, additional appurtenant structures, flood control operations, and other dam safety measures. Visit the Oroville Dam Safety CNA web page for information and to access the CNA Summary document .
Relicensing of P-2100
On February 11, 1957, the Department of Water Resources (DWR) was issued a 50-year license to construct and operate the Oroville facilities (P-2100). The original license expired on January 31, 2007, and P-2100 is currently operating under an annual license that automatically renews each year until a new license is issued. During relicensing, a diverse group of agencies and stakeholders scoped issues, designed a $27 million suite of studies, reviewed reports, proposed measures, and discussed potential solutions for project impacts. Using relevant information from this effort, DWR filed an Application for New License with supporting environmental documentation on January 26, 2005. On March 26, 2006, DWR and an overwhelming majority of stakeholders successfully concluded negotiations and signed a Settlement Agreement that has been estimated to provide approximately $1 billion in environmental, recreational, cultural, and other benefits over a proposed 50-year new license term.
In 2006, DWR and more than 50 other stakeholders signed a Settlement Agreement that resolves all relicensing issues that had been raised by the signatories or that may arise in the issuance of permits necessary for relicensing. The Settlement Agreement proposes license conditions, including Protection, Mitigation, and Enhancement Measures to be included in new license. DWR submitted the Settlement Agreement to FERC as DWR's preferred alternative for FERC's Environmental Impact Statement. DWR, as lead agency under California Environmental Quality Act, followed with an Environmental Impact Report (EIR) that evaluated the Settlement Agreement as DWR's proposed project. A summary of additional key activities and documents from relicensing are presented below.
February 1, 2007 – FERC issued notice authorizing continued project operations.

May 18, 2007 – FERC issued the

Final Environmental Impact Statement

with recommended alternatives accepting most of the

Settlement Agreement

proposals.

April 9, 2007 – U.S. Fish and Wildlife Service issued the

Terrestrial Biological Opinion.

November 20, 2007 – Effective date for DWR and PG&E

Habitat Expansion Agreement.

May 2007 – DWR issued

Final EIR

December 15, 2010 – State Water Resources Control Board (SWRCB) issued the

Water Quality Certification

pursuant to Section 401 of the Clean Water Act.

December 5, 2016 – National Marine Fisheries Service issued the aquatic

Biological Opinion

for anadromous fish.