Environmental Planning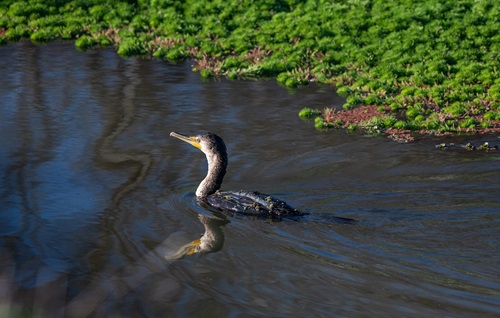 DWR is pursuing a new environmental planning process under the California Environmental Quality Act (CEQA) and will seek new permits for a single tunnel option to modernize Delta conveyance. There will be several opportunities for public participation throughout the course of the planning process. Modernizing Delta conveyance is part of the state's Water Resilience Portfolio, which describes the framework to address California's water challenges and support long-term water resilience and ecosystem health.





Planning Activities:
On January 15, 2020, DWR issued a Notice of Preparation (NOP). The NOP notified the public that an Environmental Impact Report (EIR) is being prepared for the proposed Delta Conveyance Project. The NOP also solicited responses from agencies, organizations, and members of the public regarding the scope and content of the environmental analysis in the EIR. To facilitate public input during this process, DWR also held scoping meetings throughout the state. The scoping period concluded on Friday, April 17.
Scoping Meetings
Eight scoping meetings were held in Sacramento, Los Angeles, Walnut Grove, San Jose, Stockton, Clarksburg, Brentwood and Redding.
Reference Materials
DWR's website as designed, developed and maintained to comply with applicable accessibility laws including California Government Code Sections 7405 and 11135, and the Web Content Accessibility Guidelines (WCAG). Previous related environmental review and compliance documentation listed below are in the process of being made accessible and are currently available upon request by emailing DeltaConveyanceScoping@water.ca.gov.

Draft Bay Delta Conservation Plan
Draft EIR/EIS
Recirculated Draft EIR/Supplemental Draft EIS
Final EIR/EIS and all associated items
Incidental Take Permit
Scoping Summary Report (July 2020)
The scoping report describes the scoping period and meetings conducted for the project as a part of CEQA's environmental review process. It includes all public comments received.
The above documents only include the primary comment letter submitted and do not include any supplemental supporting materials that may have been appended to some comment letters. The supplemental supporting materials are available upon request by emailing deltaconveyance@water.ca.gov.
The Final Initial Study/Mitigated Negative Declaration (IS/MND) and subsequent Addendum for soil investigations in the Delta have been adopted. This project includes data collection, soil samples and surveys in support of DWR's efforts to better understand the region's geology to support the future evaluation of potential activities, including the proposed Delta Conveyance Project. Google Earth (kmz) files of the proposed soil investigations locations may be requested by emailing Delta_Soil_ISMND@water.ca.gov.
Section 404 Permit
DWR has submitted a (revised) Department of the Army permit application pursuant to Section 404 of the Clean Water Act and Section 10 of the Rivers and Harbors Act (Section 404 permit application) to the U.S. Army Corps of Engineers (USACE) to request authorization for the proposed Delta Conveyance Project activities in waters of the United States.
Section 408 Permit
DWR has initiated the USACE Section 408 permit process and expects permission will be obtained concurrently with Section 404 and 10 permit authorizations. Early coordination with USACE regarding Section 408 permission has been initiated and is ongoing. The 408 application is expected to be submitted in mid-2022.
NEPA
USACE has informed DWR that it will conduct federal environmental review of the proposed Delta Conveyance Project. USACE, which has regulatory authority over certain actions within specifically defined waters in the United States, will prepare an Environmental Impact Statement (EIS) under the National Environmental Policy Act. The EIS scoping period is now open.