Water Quality Monitoring & Assessment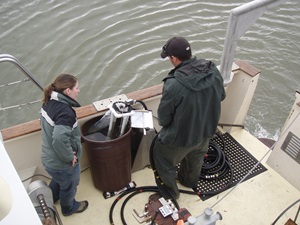 Water quality and assessment consists of 4 program components:
Environmental Monitoring Program (EMP)
Municipal Water Quality Program (MWQP)
Bryte Chemical Laboratory (Bryte Lab)
Quality Assurance/Quality Control (QA/QC) Program
Routine water quality monitoring efforts are conducted by EMP and MWQP, primarily in the Sacramento – San Joaquin River Delta (Delta). Bryte Lab analyzes water quality samples for routine monitoring, research, and special studies. The QA/QC Program works to ensure that all environmental data generated and utilized by the department are of known and verifiable quality, technically valid, and appropriate for their intended purpose.
With the exception of MWQP, these programs are funded by the State Water Project. MWQP is funded through a special funding agreement between the State Water Project Contractor's Authority, participating state water contractors, and us. Discrete and continuous water quality data is available on the Water Data Library and California Data Exchange Center (CDEC), respectively.
Real Time Data Forcasting
Tags