Snow Surveys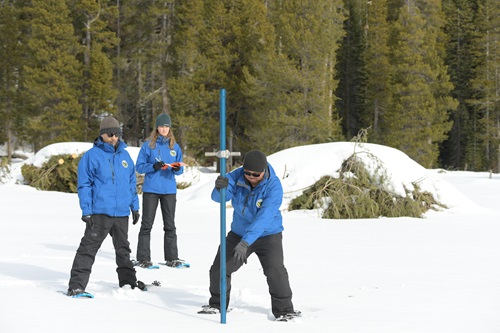 Established in 1929 by the California Legislature, the California Cooperative Snow Surveys (CCSS) program is a partnership of more than 50 state, federal, and private agencies. The cooperating agencies not only share a pool of expert staff but share in funding the program, which collects, analyzes and disseminates snow data from more than 265 snow courses and 130 snow sensors located throughout the Sierra Nevada and Shasta-Trinity mountains.
California is the only western state to perform this function on its own. In the other western states, snow surveys are done by the federally funded Natural Resources Conservation Service, which began its program in the mid-1930s. Both programs are similar, and there is a high degree of cooperation between the two entities.
DWR is the lead agency in coordinating the CCSS program, which includes:
Maintaining snow surveying and sampling equipment
Training for our partner agencies
Course measurement schedules and data collection
Fiscal and staff resource needs for the various partners within the program.
The CCSS program also forecasts seasonal and water year runoff for the major snow bearing watersheds in California. Water supply forecasts in the Bulletin 120: Water Conditions in California series are vital for planning and managing the state's water resource systems to benefit all Californians.
Highlights from this winter's media-oriented snow survey at Phillips Station are available below.
April 2020: (DWR staff only; no media due to the coronavirus pandemic)
March 2020:
February 2020:
January 2020:
Avalanche and Travel Resources:
Snow Analyses and Research:
Documents
Contact Information
Subscribe to the Water Supply Forecast Newsletter
Subscribe to our newsletter for forecasts of seasonal runoff and summaries of precipitation, snowpack, reservoir storage, and runoff throughout California. It is sent out from February through June each year. Past editions are available on CDEC.