Design-Build Projects

Design-Build is a method of project delivery that brings designers and contractors together early in the design phase of a project. The Department clearly defines the technical requirements and performance specifications they expect for a project, and the Design-Build Entity works together to satisfy those requirements. The Department uses the flexibility Design-Build offers to reduce project costs, expedite project completion, maximize the value received per dollar spent in a variety of situations, and design features not achievable through using traditional design-bid-build method.
---
Authorizing Legislation
In 2016, the Department obtained legislative authority in Public Contract Code (PCC)
§10187 et seq.
to use Design-Build method of project delivery, including a best value procurement method for the purpose of projects at the Salton Sea.
---
Design-Build Procurement Process
The Department will use a two-phase, best-value procurement process to select a Design-Build Entity to deliver the Project. In developing the Project using the Design-Build process, the Department hopes to benefit from the knowledge and experience of the Submitters in minimizing cost and maximizing performance.
The first phase of the Procurement process begins with the issuance of an RFQ and ends with the creation of a short-list of the most qualified Submitters. The purpose of the RFQ is to solicit information that demonstrates the qualifications of the Design-Build Entity for the proposed Project. The Department will evaluate all Statements of Qualifications received to identify Design-Build Entities most qualified to successfully deliver the Project. Up to five of the most qualified Design-Build Entities will be short-listed and invited to participate in the Request for Proposal phase.
Salton Sea Species Conservation Habitat Project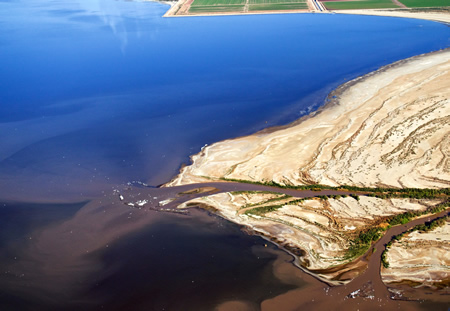 The Species Conservation Habitat (SCH) Project is part of the 10-year Plan for implementing projects around the Salton Sea to develop an environment with suitable habitat for maintaining aquatic and avian wildlife, and create areas to minimize fine particle duct emissions. The SCH Project area encompasses approximately 3,770 acres of exposed lake bed at the mouth of the New River, located at the southwest end of the Salton Sea. For more information, visit the Salton Sea page.
Contact
Department of Water Resources
Contract Development Section
Attn: Design-Build
Reference No. DB201801
1416 Ninth Street, Room 418
Sacramento, California 95814