Water Data Portfolios
The California Water Plan provides an accounting of water that enters and leaves the state and how it is used and exchanged between the regions. This is important to all water planning activities. Water portfolio data provides information for comparison about how water uses and sources of supply can vary between wet, average, and dry hydrologic conditions for each of the California hydrologic regions. The statewide information has been compiled from the 10 California hydrologic regions.
Water Use in California
California's water supplies vary from place to place, season to season, and year to year. The state's water users (generally environmental, agricultural, and urban sectors) have variable needs for the quantity, quality, timing, and place of use. The California Water Plan has developed water balances to show how water was used by agriculture and urban sectors or dedicated as environmental water and where water came from to provide that water for individual years from 1998-2020. A statewide average is shown below for years 1998-2020.
Water Plan Water Balance Data can be found on CNRA's Open Data Platform.
Data: Where Does California's Water Go?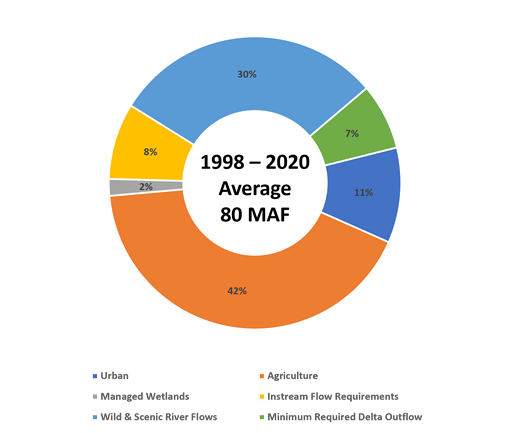 California's water supports three main sectors: cities and communities, agriculture, and environment.
On average, the proportion of water used by each sector is 11 percent cities and communities, 42 percent agriculture, and 47 percent environment.
This statewide ratio varies widely depending upon whether a year is wet or dry. In wet years, the proportion that serves environmental purposes can be 60 percent or more, while in dry years that proportion drops to roughly one-third.
Water often serves double duty; water allocated for one purpose is often reused for other purposes downstream.
Water often has multiple benefits across sectors.
Water Supply and Balance Data Interface
As part of DWR's ongoing efforts to document the assumptions, data, analytical tools, and methods used to prepare California Water Plan (CWP) content, DWR has developed an interactive data visualization tool for water balance results in Tableau. The tool provides water balance results at hydrologic regions and state levels for water years (WYs) 1998-2020.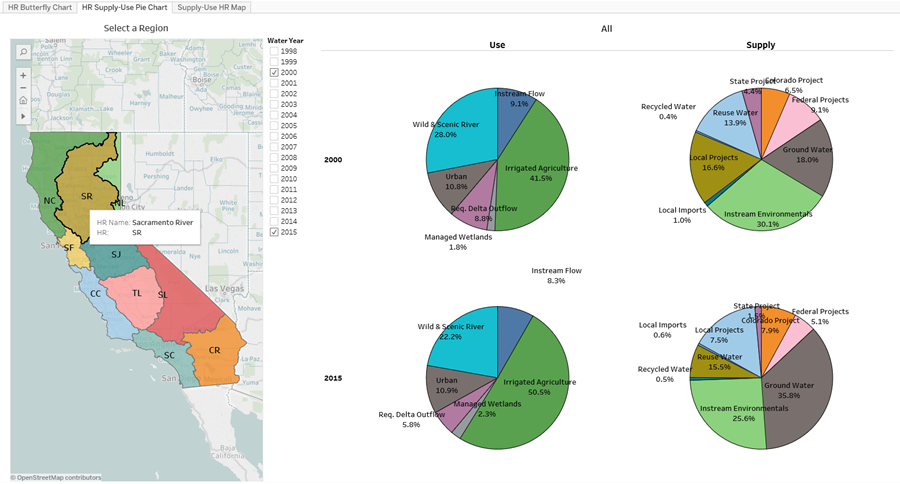 How to Contact Us
Contact us for more information or questions about the Water Plan Water Data Portfolios.