Searsville Watershed Restoration Project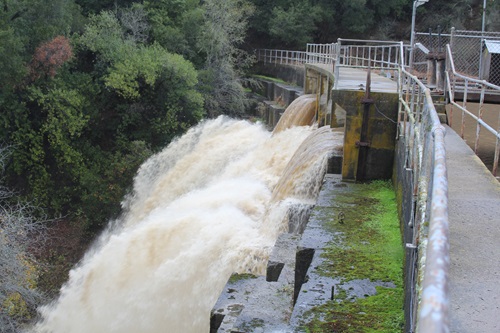 The Department of Water Resources (DWR), through its review authority of the proposed project under the Division of Safety of Dams (DSOD), is the California Environmental Quality Act (CEQA) lead agency for the Searsville Watershed Restoration Project which will be implemented by Stanford University. This project aims to restore natural sediment processes and creek flows as well as reestablish fish passage to historic spawning habitat in the watershed that has been impeded by Searsville Dam. The project also intends to reduce flood risk compared to existing conditions and protect important cultural resources.
When complete, the project will transform the current Searsville reservoir area into a confluence valley, complete with free-flowing streams and a natural riparian forest. This project will also reestablish sediment transport to south San Francisco Bay where it's expected to help restore natural tidal wetland functions and allow for sea level rise adaptation along the shoreline.
The project has several goals:
Flush a substantial amount of sediment currently trapped behind the dam. This will reestablish natural free-flowing creeks and sediment transport processes.

Construct a tunnel at the base of the Searsville Dam to allow sediment flushing while providing fish passage into the upper watershed for coastal steelhead.

Restore streams and riparian habitat in the reservoir basin upstream of Searsville dam.

Rebuild Felt Dam to meet seismic safety standards and to offset the loss of surface water storage related to modifying Searsville dam with a tunnel.

Make modifications to the downstream San Francisquito Creek Pump Station to replace surface water diversion and storage capacity.
Location:
The Searsville Watershed Restoration Project takes place in San Mateo and Santa Clara Counties, near the communities of Woodside, Palo Alto, and Portola Valley.
Status Update:
Preparing for release of public CEQA Notice of Preparation (NOP). (Early 2023)
How it works:
The project involves constructing a tunnel and gate at the base of the dam, allowing for much of the accumulated sediment in the reservoir basin to be flushed downstream to San Francisquito Creek and to San Francisco Bay. The tunnel opening will be sized to allow normal flows to pass, but constrict higher storm flows, to allow for flood management downstream. The reservoir basin of Searsville Dam will be restored and managed to create a highly functioning confluence valley with riparian areas, meandering creeks, floodplain terraces and wetland areas supporting new biodiversity of native habitats and vegetation that support native wildlife of concern for California.
The key project components include:
A new tunnel and operable gate structure at the base of the existing Searsville Dam

Downstream sediment traps consisting of natural log structures as habitat features

Pilot channels for re-establishing creeks through the existing reservoir basin

Natural streambank stabilization and re-vegetation

San Francisquito Creek Pump Station modifications to increase its diversion flow capacity and effective streamflow management for surface water supply and ecosystem benefits

Felt Dam and Reservoir modifications to increase storage capacity and address earthquake safety
Supporting Fish:
The project includes the construction of a tunnel at the base of Searsville Dam. The tunnel will allow natural sediments to be flushed from the reservoir basin, which will help redistribute coarse sediment in the creek downstream of the dam. This action restores important complexity to the bedload, which can improve aquatic organism and fish habitat conditions impacted by the dam.
The proposed tunnel design will allow fish passage past the dam, providing restored access to historic California Central Coast steelhead spawning areas that have been blocked by the dam for over 100 years.
History:
The Searsville Dam was constructed in 1892 by Spring Valley Water Company. Stanford University purchased the dam and associated water rights in 1919 to ensure adequate water supply for the university campus. For nearly 130 years, sediment has been accumulating behind Searsville Dam which has reduced the reservoir storage capacity and impacted the water supply function of the reservoir. Currently, the reservoir's water storage capacity is reduced by 90-95%.
In 2011, Stanford formed a Steering Committee consisting of University management, faculty, and staff to help evaluate options and ultimately recommend a course of action for the Searsville Dam and reservoir. To ensure that the study process had the benefit of a broad range of community perspectives and expertise, Stanford invited a group of public agency representatives, non-government organizations, and community members to be part of a Searsville Advisory Group. The Advisory Group provided input and recommendations for consideration to the Steering Committee and University leadership.
Stanford University partnership:
DWR is acting as the Lead CEQA agency to meet environmental review and compliance requirements for the project on behalf of Stanford University. Once CEQA is completed, Stanford University will move forward with executing the project.
For more information about Stanford's work on the Searsville Watershed Restoration Project please visit:
https://searsville.stanford.edu/