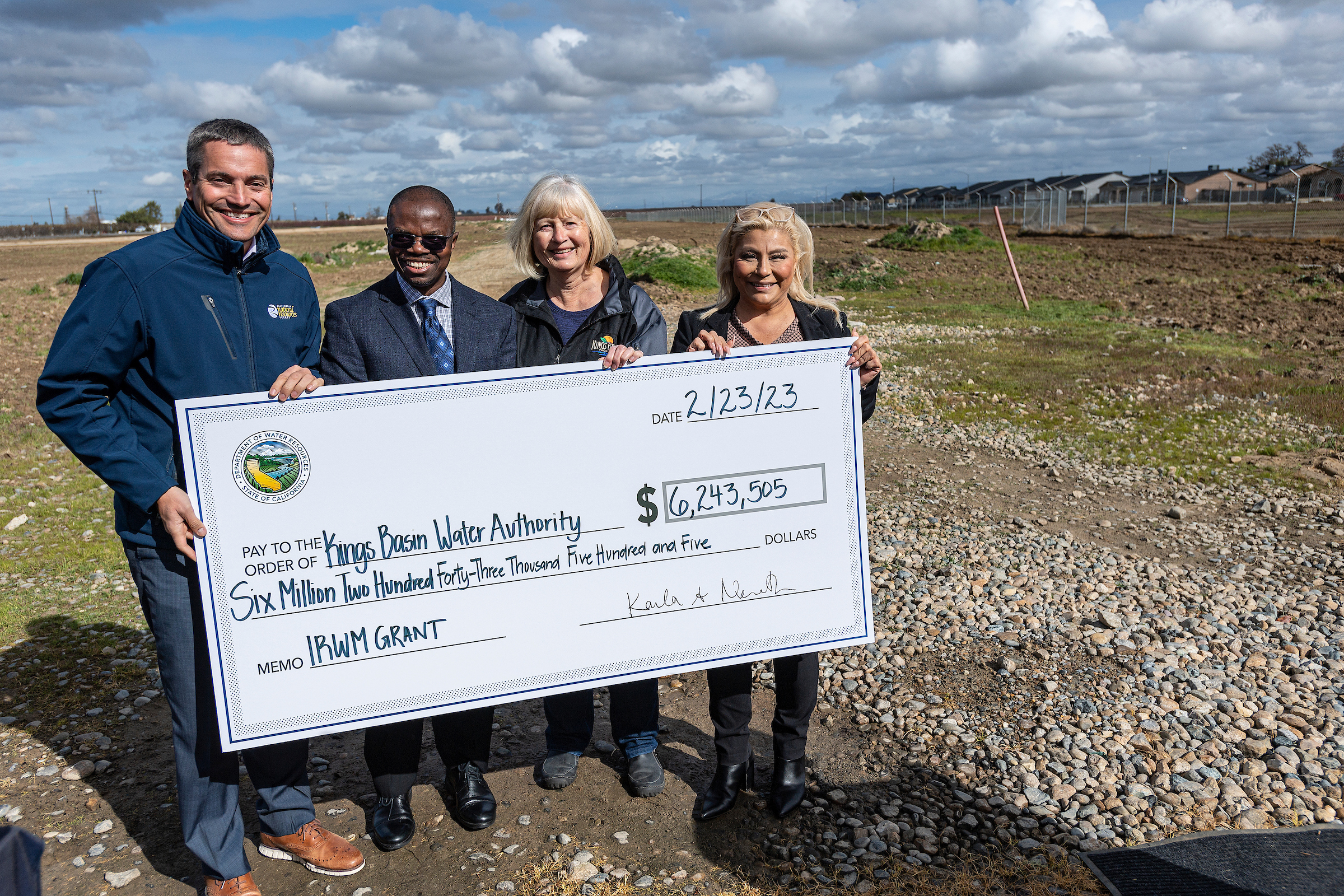 PARLIER, Calif. – On Thursday, the California Department of Water Resources (DWR) joined California Natural Resources Secretary Wade Crowfoot and local officials from across the Central Valley to highlight the $15 million in grant funding recently awarded to support local water projects. The funding was provided via DWR's Integrated Regional Water Management (IRWM) Program, which is one component of the state's emerging "Go Golden" initiative to invest funding towards projects designed to build California's long-term water resilience.
"Today is all about local solutions," said California Natural Resources Secretary Wade Crowfoot. "We are celebrating a milestone – securing funding for projects that will provide benefits for decades to come. We know that if we're going to continue to thrive and prosper in California, we have to strengthen our water infrastructure, and projects like these will do just that."
The event was held at the Foothill Basin Groundwater Recharge Project site in the underserved community of Parlier, one of the eight local projects that will benefit from the funding. The grants, which will provide critical funding support to implement innovative, multi-benefit projects for climate and water supply resilience throughout the state, were awarded to Kings Basin Water Authority, the City of Bakersfield and Pixley Irrigation District. Working with local project sponsors, the three awardees will distribute funds to a pre-selected list of projects in their region. Benefits for funded projects include groundwater recharge, stormwater capture and water conservation.
"The Kings Basin Water Authority is thankful for the Department of Water Resources for awarding the region over $6.2 million to support our key projects," said Kings Basin Water Authority Board Chair Mary Fast. "The IRWM program provides a way for organizations and communities within the Kings subbasin to set aside our differences and work in collaboration to sustain and protect the region's water sources."
"The City of Parlier is a very disadvantaged community that has dealt with a lot of contaminated water issues," said City of Parlier Mayor Amy Beltran. "It is very important for the city of Parlier to be able to work together and build relationships like these to help ensure that our kids and our communities have safe drinking water."
"This funding is critical to allow the City of Bakersfield and its partners to continue implementing vital projects throughout the region," said City of Bakersfield Assistant Water Resources Director Daniel Maldonado. "With the help of DWR and its IRWM program, the City of Bakersfield and its partner agencies are one step closer to achieving sustainability by becoming self-reliant and improving water supply reliability within the region."
"The grants from DWR provide a much-needed solution for a critically over-drafted basin, and will help mitigate longstanding water supply issues within our district," said Pixley Irrigation District Consulting Engineer Don Tucker.
Financed by voter-approved Proposition 1, the IRWM program has awarded more than $1.7 billion throughout California, which has been matched by $5.6 billion in local investments to help implement over 1,300 projects that foster climate resilience by mitigating drought impacts, improving water supply reliability, reducing flood and fire risk, increasing water storage and improving water quality.
The IRWM program is one component of DWR's emerging "Go Golden" program, which strives to help large organizations and water agencies implement projects that address water infrastructure repairs, water conservation programs such as yard transformation, well rehabilitation, and fish and wildlife protection. Interested parties can stay up to date with the latest "Go Golden" announcements and news through DWR's email subscription list.
A recording of the livestreamed event, along with B-roll photo and video footage, can be found at the links below. For more information about upcoming grant opportunities, visit DWR's Grants and Loans webpage.
Contact:
Allison Armstrong, Information Officer, Public Affairs, Department of Water Resources
916-820-7652