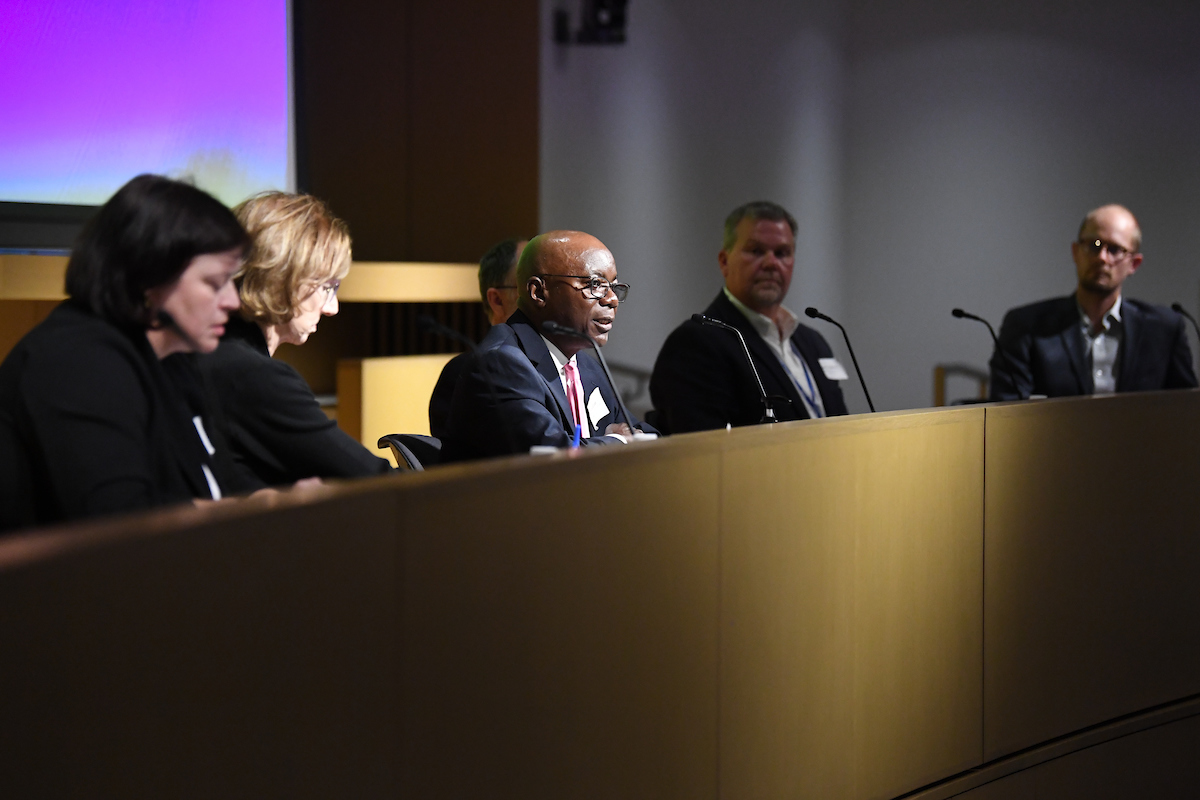 SACRAMENTO, Calif. – With California in extreme drought and facing ongoing extreme climate events, the Department of Water Resources (DWR) gathered scientists, water policy experts, and members of communities impacted by drought and floods for a conversation about building climate resiliency, including in the state's water and flood management systems.
More than 500 people from around the world attended the symposium, which was conducted virtually and in person. As highlighted in Governor Newsom's "Water Supply Strategy for a Hotter, Drier Future," California is experiencing large swings between drought and flood, and due to climate change those swings could become more severe, which will require new strategies and partnerships represented by today's panelists and speaker.
"Being prepared has always been a core goal of DWR, and our need to meet that goal has never been more important," said DWR Director Karla Nemeth. "We must take action to reduce both the risk and the consequences of flooding by using nature-based solutions, sophisticated weather forecasting and reservoir operations, and other innovative strategies."
After a keynote address and presentation from F. Martin Ralph, Ph.D., Director, Center for Western Weather and Water Extremes, and Daniel Swain, Ph.D., Climate Scientist, Institute of the Environment and Sustainability, University of California, Los Angeles, DWR led three panel discussions on the challenges of extreme climate events and how California is responding.
Bianca Sievers, DWR Deputy Director for Special Initiatives, moderated a panel on the impacts that climate extremes are having on California communities and was joined by:
Rey Leon, Mayor of the City of Huron;

Justine Massey, Policy Manager and Attorney, Community Water Center;

Ivan Senock, Tribal Historic Preservation Officer and Cultural Resources Director, Buena Vista Rancheria of Me-Wuk Indians;

Mark Strudley, Ph.D., Executive Director, Pajaro Regional Flood Management Agency.
Communities impacted by severe drought and flooding are key partners to make sure assistance for climate resilience reaches Californians who need it the most. DWR has recently awarded $50.4 million in flood risk protection funding for communities who are at high risk of severe flooding. DWR's Small Community Drought Relief Program has also awarded $190 million for small communities facing water supply challenges because of the current drought.
State Climatologist Dr. Mike Anderson also discussed current efforts to use the latest scientific tools and research to adapt water management tools to our hotter and drier climate using Forecast Informed Reservoir Operations (FIRO), and was joined by:
Michael Dettinger, Ph.D., Center for Western Weather and Water Extremes, Scripps Institution of Oceanography;

Joe Forbis, Chief, Water Management, Sacramento District, U.S. Army Corps of Engineers;

John James, Director of Natural Resource Planning, Yuba Water Agency;

Adam Hutchinson, Recharge Planning Manager, Orange County Water District.
As climate extremes continue to impact the state, DWR has prioritized projects and partnerships between public and private sector organizations that can simultaneously address water supply, habitat and ecosystem restoration and flood protection. DWR Deputy Director of Integrated Watershed Management Kris Tjernell discussed these efforts with:
Jane Dolan, President, Central Valley Flood Protection Board;

Chris Elias, Executive Director, San Joaquin Area Flood Control Agency;

Alicia Kirchner, Chief of the Sacramento District Planning Division, U.S. Army Corps of Engineers;

John Cain, Senior Director of Conservation, River Partners;

Gary Lippner, DWR Deputy Director of Flood Management and Dam Safety.
The Central Valley Flood Protection Board will soon adopt the 2022 Update to the Central Valley Flood Protection Plan (CVFPP), California's strategic blueprint to improve flood risk management in the Central Valley. This year's update to the plan, which is updated every 5 years, has utilized recent climate research discussed in today's event for its flood risk projections. California Flood Preparedness Week is October 22 through October 29, and it is crucial for all Californians to prepare for flooding, even during drought conditions, as extreme climate conditions mean flooding can happen at any time.
A full recording of the symposium, including presentations and panel conversations, will be available on DWR's YouTube page tomorrow afternoon.
Contact:
Jason Ince, Information Officer, Department of Water Resources
(916) 820-8138 | Jason.Ince@water.ca.gov