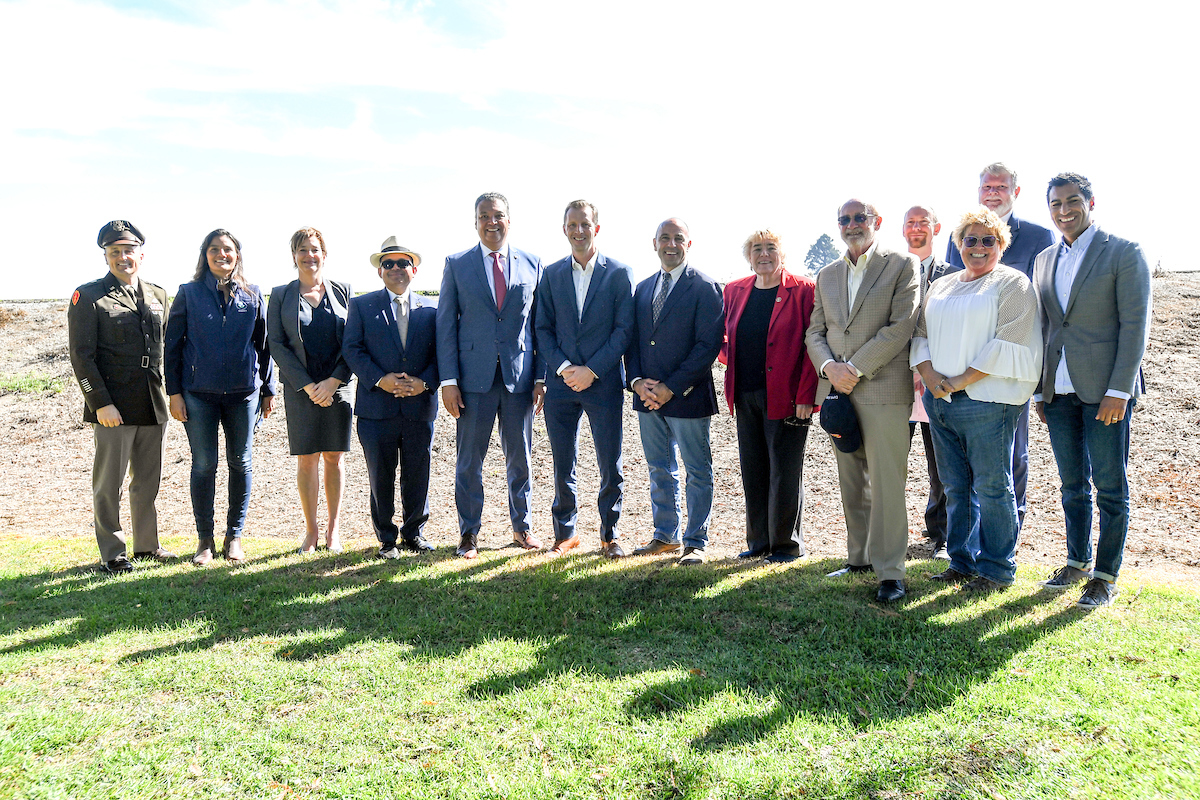 SACRAMENTO, Calif. – The California Department of Water Resources (DWR) today commemorated the start of Flood Preparedness Week, which runs October 22 through October 30, by encouraging residents to prepare for flood season.
"While we are preparing for a fourth year of extreme drought, we still need to plan for swings between severely dry conditions and large storms and flooding," said DWR Director Karla Nemeth. "Just last year, December brought record-breaking precipitation to some parts of the state and was followed by the driest January, February, and March on record. That was a wake-up call for all Californians that we must prepare for both drought and flood conditions at the same time."
More than 7 million California residents are at risk of flooding, and many don't realize it. Flooding happens throughout the state, from rural communities to urban areas, at the base of hills and along the coast. Every California county has received a flood-related emergency declaration in the past 20 years. Flooding can also happen at any time of year and can still occur during drought.
Communities that are downslope of recent wildfires are also especially prone to flash floods and debris slides, and landscapes impacted by wildfires can take up to five years to recover. To prepare for flooding, all Californians should follow three basic steps:
Be aware of your risk – know whether your home is downslope of a burn area; pay attention to weather forecasts; listen to local authorities.

Be prepared – always have an emergency evacuation kit ready; be prepared to evacuate early; have a plan for where you will go in an emergency and what to do with your pets.

Take action – subscribe to your local emergency providers to get updated information. Visit the National Weather Service webpage to get updated weather information for your community. If local authorities issue an evacuation order, do not delay, follow local guidelines for evacuation.
In response to the extreme climate conditions facing California, DWR awarded over $50.4 million to communities across the state for flood risk reduction projects and $26.5 million in funding from DWR's Coastal Watershed Flood Risk Reduction program. DWR Director Nemeth recently joined state and federal elected officials and local flood management officials to celebrate funding agreements for the Pajaro River Flood Risk Management Project, a $397 million project that will increase flood protection and provide ecosystem enhancements, groundwater recharge, economic benefits, and recreation opportunities. DWR will continue to work with local communities across the state to provide support for multi-benefit projects that reduce community flood risk.
Later this week, DWR will join representatives from the Central Valley Flood Protection Board (CVFPB), the San Joaquin Area Flood Control Agency (SJAFCA), and the U.S. Army Corps of Engineers to tour the Smith Canal Gate Project and highlight the local-state-federal partnership to reduce flood risk for the Stockton metropolitan region. The project, for which DWR has committed $56 million, will provide 100-year flood protection for more than 8,500 properties in an economically disadvantaged area within the City of Stockton and is a critical part of the Lower San Joaquin River Project, a $1.4 billion effort to improve levees along the Calaveras and San Joaquin Rivers and build resilience to climate change impacts.
In the coming weeks, the CVFPB will adopt the 2022 Update to the Central Valley Flood Protection Plan, California's strategic blueprint to improve flood risk management in the Central Valley. Updated every five years, the CVFPP has guided over $4.1 billion in state investments and funding commitments.
As highlighted in Governor Newsom's "Water Supply Strategy for a Hotter, Drier Future," California is experiencing large swings between drought and flood, and due to climate change those swings could become more severe. Last week, DWR hosted a symposium to highlight the need to prepare the state for flooding even during a drought, gathering scientists, water policy experts, and members of communities impacted by drought and floods for a conversation about building climate resiliency, including in the state's water and flood management systems.
For more information on finding your flood risk, visit https://myhazards.caloes.ca.gov/.
For information on obtaining flood insurance, visit https://www.floodsmart.gov/.
For information on how you can prepare your household for flood emergencies, visit https://www.ready.gov/kit.
Contact:
Jason Ince, Information Officer, Public Affairs, Department of Water Resources
(916) 820-8138 | Jason.Ince@water.ca.gov