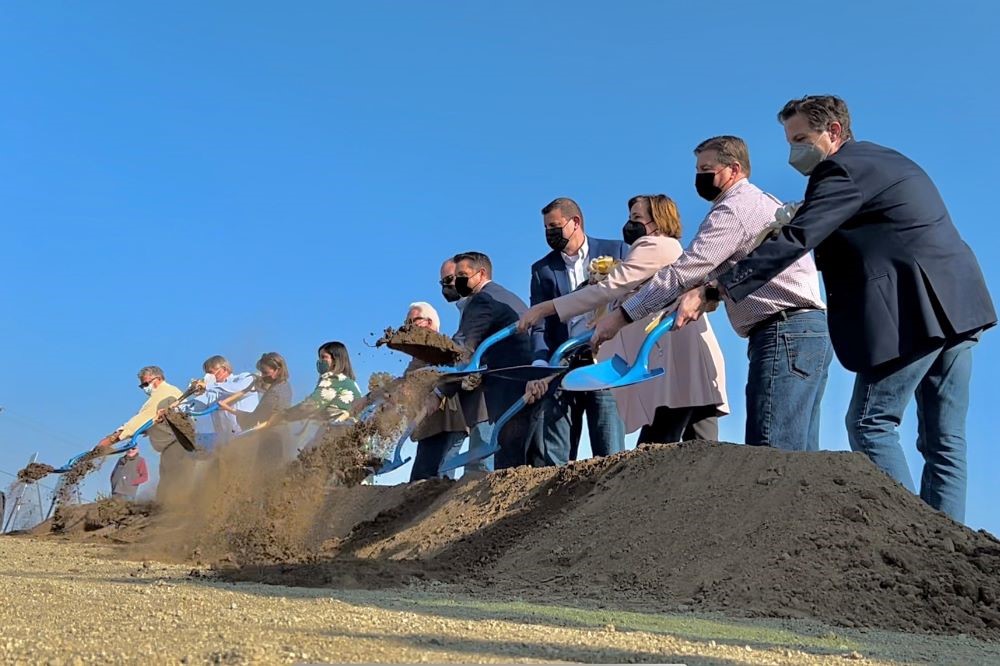 FRESNO, Calif. – The Bureau of Reclamation, Friant Water Authority, and California Department of Water Resources today celebrated the groundbreaking of a $187 million construction project to restore capacity in a 10-mile portion of the Friant-Kern Canal. The event marks the beginning of Phase 1 of a multi-phased construction project, known as the Friant-Kern Canal Middle Reach Capacity Correction, to restore capacity in a total of 33 miles of the existing Friant-Kern Canal damaged from subsidence—a sinking of the earth from groundwater removal.
The Department of the Interior's Assistant Secretary for Water and Science Tanya Trujillo joined today's groundbreaking event and highlighted the Department's ongoing investments in water management and drought resilience projects.
"Drought, climate change, and less certain precipitation events call for the need to develop innovative and sustainable water management solutions," said Assistant Secretary Trujillo. "This project will increase water supply reliability in the San Joaquin Valley and symbolizes the benefits of working together with partners to develop ways to utilize the significant investment opportunities to modernize infrastructure that the Bipartisan Infrastructure Law can provide."
President Biden's Bipartisan Infrastructure Law provides $8.3 billion to the Bureau of Reclamation over five years to fund water efficiency and recycling programs, rural water projects, and WaterSMART grants to ensure that irrigators, Tribes, and adjoining communities receive adequate assistance and support.
The 152-mile Friant-Kern Canal plays a critical role in delivering water to 1 million acres of highly productive farmland and more than 250,000 people from Fresno to Bakersfield in Central California. Since the canal's construction in 1951, more than 50% of its original conveyance capacity in the middle reach has been lost due to land subsidence.
"Today's celebration symbolizes what can happen when federal, state, and local agencies partner together to address water supply challenges, said Reclamation Regional Director Ernest Conant. "The groundbreaking marks a critical milestone in one of Reclamation's highest priorities to provide water supply reliability to one of the most productive agriculture regions in the nation. We are very pleased to get the project underway."
"This project symbolizes the importance of strong partnerships so that we can address critical repair needs on our state's aging water infrastructure," said DWR Director Karla Nemeth. "Restoring the capacity of our existing infrastructure is an important step toward diversifying water supplies by supporting groundwater replenishment throughout the Central Valley and water recycling projects in Southern California."
"Today's groundbreaking is the culmination of five years of dedicated work to design and fund a project to address the most severe subsidence on any major canal in the San Joaquin Valley. While many water projects throughout the West take decades to plan and implement, this project is turning dirt today and will in a few short years restore critical water deliveries that support the San Joaquin Valley's businesses, communities, and farms," said Friant Water Authority Chief Executive Officer Jason Phillips. "This effort wouldn't be possible without the support of our local, federal, and state partners, all of whom deserve credit for this major milestone."
Phase 1 of the project includes constructing 10 miles of new concrete-lined canal to replace one of the worst pinch points of the canal's subsiding middle reach. The project is funded by Reclamation, Friant Water Authority, and DWR. Phase 1 of the project is anticipated to be completed and fully operational by January 2024.
Background:
The Friant-Kern Canal delivers water to more than 1 million acres of highly productive farmland and 250,000 residents. The canal, part of the Central Valley Project's Friant Division, is owned by the federal government; Friant Water Authority operates and maintains it under contract with Reclamation. The canal's diminished capacity has resulted in up to 300,000 acre-feet of reduced water deliveries in certain water years with effects most prominent in the middle reach of the canal (milepost 88 to milepost 121). The Middle Reach Capacity Correction Project will restore conveyance capacity from the current estimated 1,600 cubic-feet-per-second to the original 4,000 cubic-feet-per-second in the most critical area near the Deer Creek check structure (milepost 103). Reclamation signed the Record of Decision for the project in November 2020.
# # #