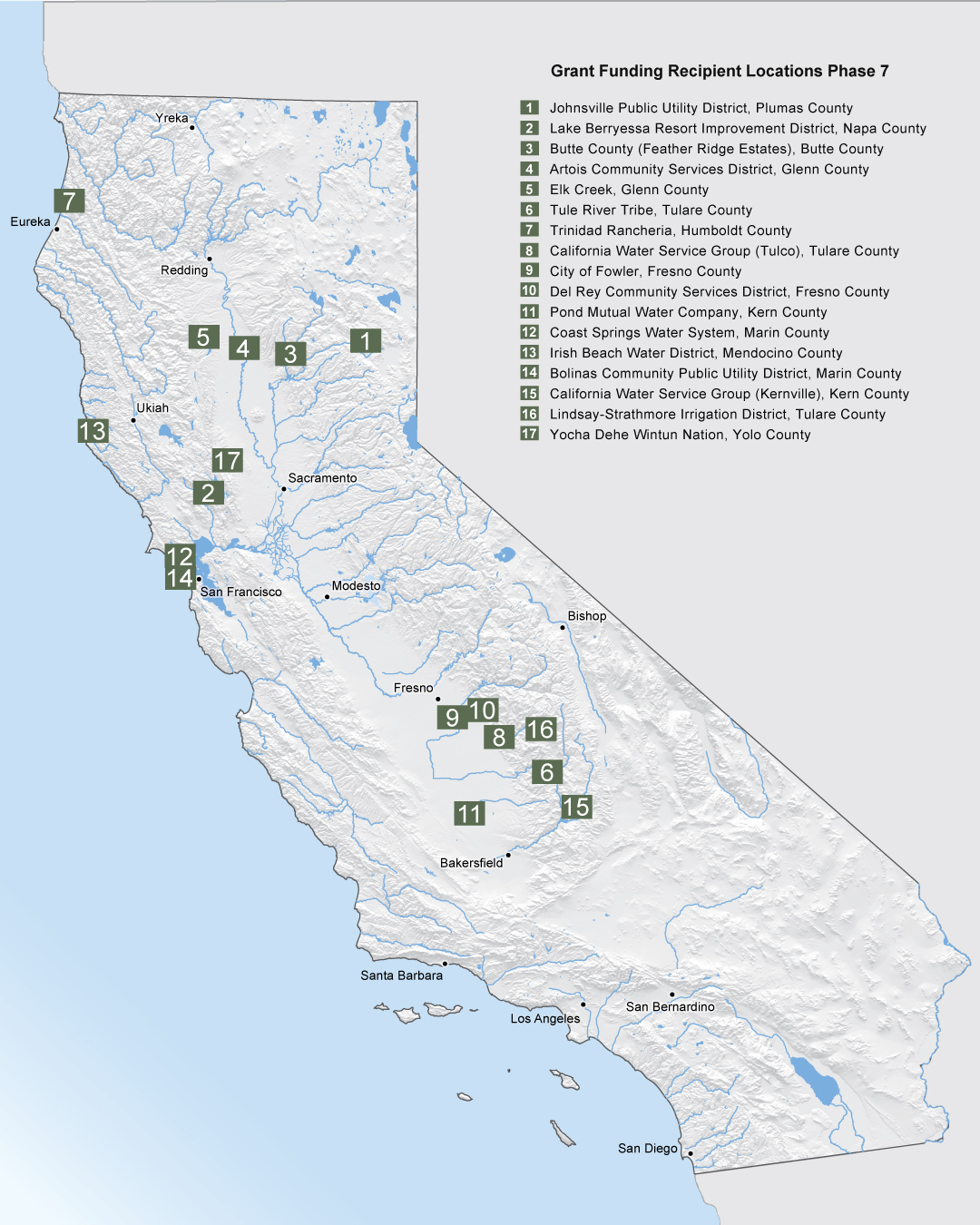 SACRAMENTO, Calif. – Following the driest three-month stretch in the state's recorded history and with warmer months ahead, the Department of Water Resources (DWR) announced its seventh round of grant awards for local assistance through the Small Community Drought Relief program. In coordination with the State Water Resources Control Board, DWR has selected 17 projects located in Plumas, Napa, Butte, Glenn, Tulare, Humboldt, Fresno, Kern, Marin, Mendocino, and Yolo counties to receive funding for projects that will help strengthen drought resiliency.
Of the 17 projects, 14 will directly support disadvantaged communities, including three Tribes, and will replace aging infrastructure, increase water storage, and improve drinking water quality and supply.
"Climate change has fundamentally altered our state's water cycle – intensifying extreme weather and leading to longer, drier periods. As the world continues to warm, we must work together to manage California's water supply. That work starts with protecting the health and safety of our communities," said Kris Tjernell, DWR Deputy Director of Integrated Watershed Management.
DWR, in coordination with the State Water Resources Control Board, determined these funding commitments, which complement the State Water Board's historical and ongoing financial assistance to small, economically disadvantaged communities for their water infrastructure needs. Recipients of the $22 million in this round of funding include:
Del Rey Community Services District:

In Fresno County, the Del Rey Community Services District will receive $1.4 million to repair aging and leaky pipelines to help the community save much needed water during the current drought.

Tule River Tribe:

In Tulare County, the Tule River Tribe will receive

$2 million to repair its existing intake system, replace the pipeline from the intake to the treatment plant, and install a storage tank.

Yocha Dehe Wintun Nation:

In Yolo County, the Yocha Dehe Wintun Nation will receive $1.6 million to construct a new well.

Trinidad Rancheria:

In Humboldt County, the Trinidad Rancheria will receive $1.5 million to construct a treatment facility for six existing groundwater wells.

Lake Berryessa Resort Improvement District:

In Napa County, the Lake Berryessa Resort Improvement District will receive $637,000 to install a floating intake structure and hauled water as permanent solutions are implemented.

Johnsville Public Utility District:

In Plumas County, the Johnsville Public Utility District will receive $1.4 million to replace its aging water storage tanks with two 100,000-gallon steel tanks.

Artois Community Services District:

In Glenn County, the Artois Community Services District will receive $675,000 to rehabilitate its existing well and extend the water system to 25 rural homes with private drying wells.

Lindsay-Strathmore Irrigation District:

In Tulare County, the Lindsay-Strathmore Irrigation District will receive $1.6 million to replace about 5,500 feet of leaking water system pipelines in the community of Tonyville.
The Small Community Drought Relief program launched in August 2021 and was funded by the Budget Act of 2021. The program was designed to help small communities address drought impacts by providing financial or technical assistance. Since its launch, the program has awarded over $160 million to 85 projects across the state. With ongoing dry conditions and temperatures expected to increase during the summer, Governor Newsom in his January 10 budget proposal included additional funding for the program.
In addition to providing financial and technical support, DWR has partnered with the California Rural Water Association to provide free leak detection surveys for small water systems, including Tribal systems, that serve less than 3,000 connections. By signing up for a free leak detection survey, water systems will receive onsite assistance from an experienced leak detection specialist -- identifying infrastructure leaks and providing guidance on corrective measures and next steps to help reduce water loss.
For information about other DWR and State drought response efforts and funding programs, visit: drought.ca.gov.
###
Contact:
Allison Armstrong, Information Officer, Public Affairs, Department of Water Resources
916-820-7652 | allison.armstrong@water.ca.gov
Blair Robertson, Information Officer, Office of Public Affairs, State Water Resources Control Board