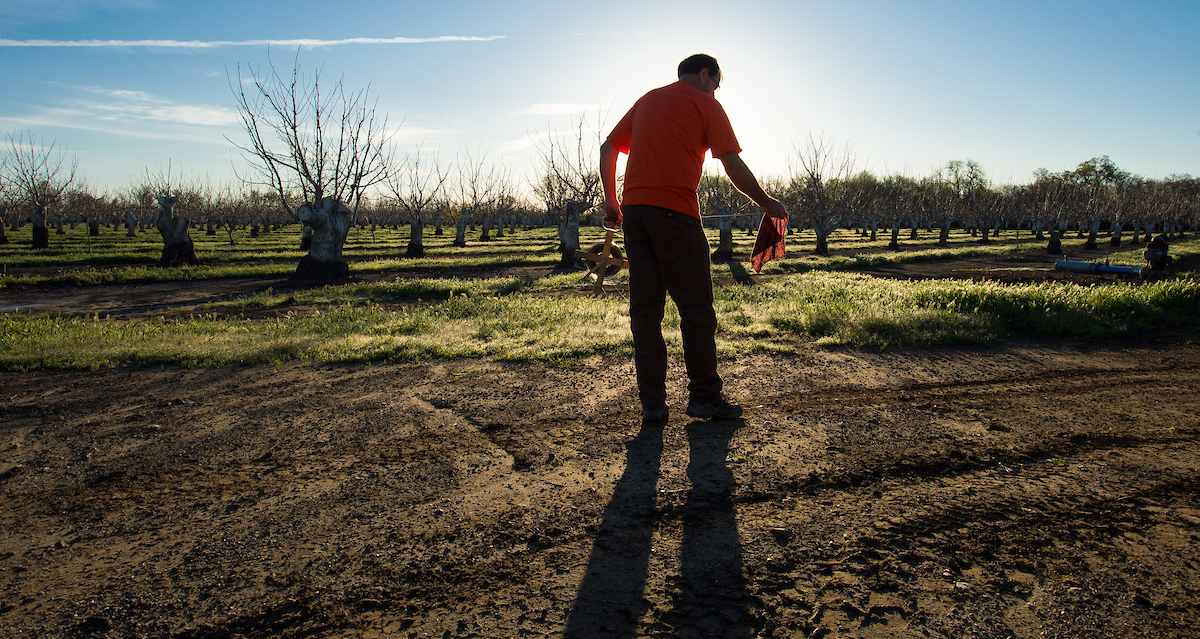 SACRAMENTO, Calif. -- State water agencies, the California Water Data Consortium (Consortium) and Environmental Defense Fund (EDF) announced a new partnership today to make an open-source groundwater accounting platform freely available to help groundwater sustainability agencies manage the transition to sustainable supplies.
Collaborative efforts are underway among the Department of Water Resources (DWR), the State Water Resources Control Board (Water Board), the Consortium and EDF to adapt and scale the groundwater accounting platform that was co-developed by EDF and Rosedale-Rio Bravo Water Storage District with technical support from Sitka Technology Group, OpenET, WestWater Research, and Olsson Engineering and funding from the Water Foundation, among other supporters. Use of the groundwater accounting platform is entirely voluntary.
"Our goal is to help groundwater managers more easily and cost-effectively track water use across their agencies and coordinate within and across basins to find the most effective approach for enabling sustainable groundwater management," said Steven Springhorn, acting deputy director at DWR for statewide groundwater management. "The accounting platform developed by EDF is a valuable tool for local decision making, and the Water Data Consortium is a natural fit for ensuring the platform meets local and state needs long term."
"An accounting system is the crucial backbone to managing groundwater and balancing supply and demand — you can't manage what you can't measure," said Christina Babbitt, senior manager of EDF's California Groundwater Program. "Bringing groundwater supplies into balance is a challenge that demands new, innovative solutions and partnerships, like the one announced today."
"This project is a great opportunity to build local capacity to support data-driven water management decisions. We look forward to this unique partnership that will help state and local agencies to continue protecting groundwater in California." said Tara Moran, president and CEO of the Water Data Consortium. "A common accounting platform could provide consistency and reduce costs for local and state agencies."
The open-source platform enables water managers and landowners to track water supplies and use, create water budgets, model scenarios, and trade allocations of water within a district or basin. EDF, an international environmental organization, has been working with Rosedale-Rio Bravo Water Storage District in Kern County since 2018 to develop and pilot use of the platform in order to facilitate innovative water management and protect disadvantaged communities and ecosystems.
DWR and the Water Board are working with EDF and the Consortium to ensure that the platform is compatible with the online electronic portals that local agencies use to submit data to the state, such as DWR's Sustainable Groundwater Management Act (SGMA) Portal and the Water Board's Groundwater Extraction Annual Reporting System (GEARS).
The partners are working to expand the platform's features to provide a cost-effective option for local agencies. State agencies do not require use of the accounting platform. Local agencies will continue to have the option to develop and use other accounting and trading platforms.
Under the historic Sustainable Groundwater Management Act (SGMA) of 2014, more than 250 local agencies have been formed to bring groundwater basins into sustainable conditions over the next two decades. The law was enacted in the midst of severe drought in which overpumping groundwater caused hundreds of drinking water wells to go dry and land to sink, damaging canals, roads, and bridges.
Since the last drought, the state has made significant investments to support local groundwater sustainability agencies as they work to bring basins into sustainable conditions through a variety of approaches, including finding additional supplies to recharge basins; reducing water use through efficiency measures, changing cropping patterns, or strategic fallowing of farmland; and efficient and equitable groundwater trading.
State agencies, the Consortium, and EDF intend to engage stakeholders as they expand the open-source platform to meet local needs and define and encourage adoption of data standards consistent with the Open and Transparent Water Data Act (AB 1755).
To enable local agencies and the broader community to share ideas on how platform features and design can best accommodate local needs, a public workshop on the open-source accounting platform will be held on June 23 from 11:00 a.m. to 12:30 p.m. Pacific Time.
Other state efforts complement this work. DWR has created a Water Budget Handbook, a reference guide to help water managers create water budgets that account for historical conditions and how future changes to supply, demand, hydrology, population, land use, and climatic conditions may affect an area. Such budgets are useful for planning and evaluating potential management actions. Use of DWR's handbook could help ensure consistency in the data that populate an online accounting platform. The Water Board's GEARS platform, which will only be used if state intervention is triggered, can also inform the need for sound accounting principles as a key groundwater management component; carrying these principles to an open-access, third-party system will help GSAs reduce costs, communicate with groundwater users and other stakeholders, and will ultimately help implement SGMA successfully. Joaquin E. Esquivel, Chair of the Water Board, is a member of the California Water Data Consortium steering committee.
The state also is weighing how to ensure that any groundwater trading that develops in response to SGMA protects disadvantaged communities, ecosystems, and other water users. Well-designed water trading programs are one of many tools that local agencies are considering for managing groundwater sustainably, and an accounting system is the first step for such programs.
The California Water Commission is expected to begin public workshops on water trading this summer and distill conclusions from the public discussions by the end of the year.
Additional resources:
Online interactive guide to accounting platform
California Water Data Consortium
California Department of Water Resources Handbook for Water Budget Development
Contact:
Carolina Roberts, Communications Manager, California Department of Water Resources, carolina.roberts@water.ca.gov, 347-961-9729
Tara Moran, President and CEO, California Water Data Consortium, tmoran@cawaterdata.org
Ronna Kelly, Environmental Defense Fund, rkelly@edf.org, 510-834-2563
###