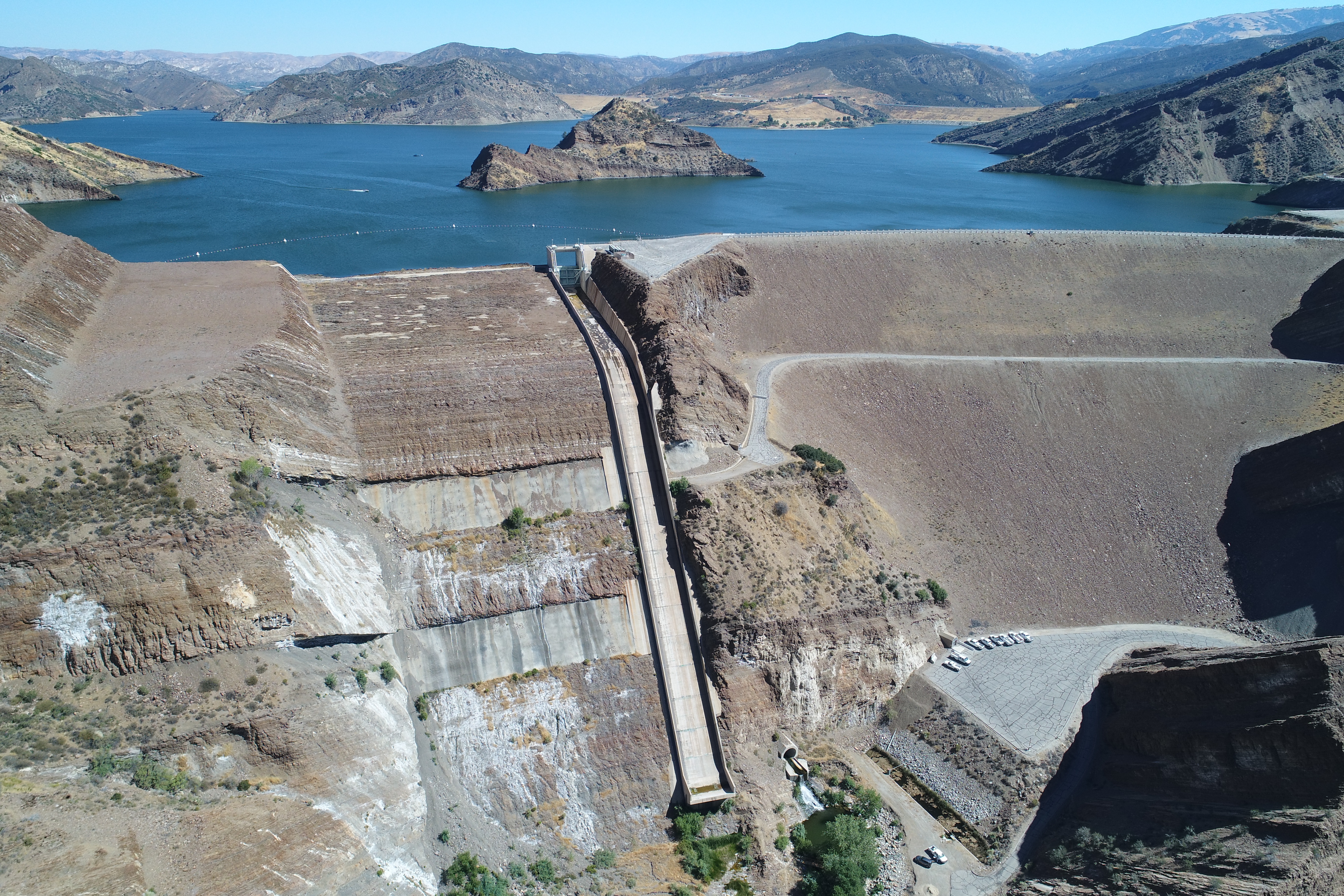 SACRAMENTO, Calif. – Today, the California Department of Water Resources (DWR) began assessment work on Pyramid Dam's spillways in Los Angeles County as part of a statewide effort to reduce seismic and hydrologic risk to State Water Project (SWP) facilities spanning 705 miles throughout California.
"DWR initiated the Pyramid Modernization Program as part of its commitment to reduce risks and provide the intended benefit of this dam and other assets in the SWP portfolio," said Karla Nemeth, DWR Director. "The work ahead will allow DWR to make informed decisions and design and implement improvements to ensure public safety and reliable operations at Pyramid Dam."
DWR is assessing possible improvements to the spillways to mitigate impacts due to an extreme weather event or earthquake.
Work includes the use of investigative tools and construction equipment, including helicopters, heavy machinery and drill rigs for geologic investigations. Localized noise and increased activity at the site are expected. The assessment of the gated and emergency spillways at Pyramid Dam is planned for completion by 2022.
DWR routinely monitors and inspects the dam and implements preventative measures to ensure continued dam safety as conditions change over time. As a precaution, DWR has adjusted winter operations to avoid the use of the spillways while the assessments and evaluations are underway.
Pyramid Dam's gated spillway is used approximately once per year to release water from the reservoir to increase reservoir capacity to absorb watershed inflows. The emergency spillway has never been used. Since it is an unlined spillway, the assessment will focus on whether work is needed to reinforce the spillway to prevent erosion if it were to ever be used.
Once the assessment is complete, DWR will develop and implement a plan to modernize the structures at Pyramid Dam. The Modernization Program is expected to take approximately 10 years to complete.
Pyramid Lake, completed in 1973 and located 60 miles northwest of downtown Los Angeles, provides regulatory storage for power generation, emergency water supply, flood protection along the Piru Creek, and a variety of recreational opportunities.
###
Contact:
Maggie Macias, Information Officer, Public Affairs, Department of Water Resources
(916) 653-8743 | maggie.macias@water.ca.gov