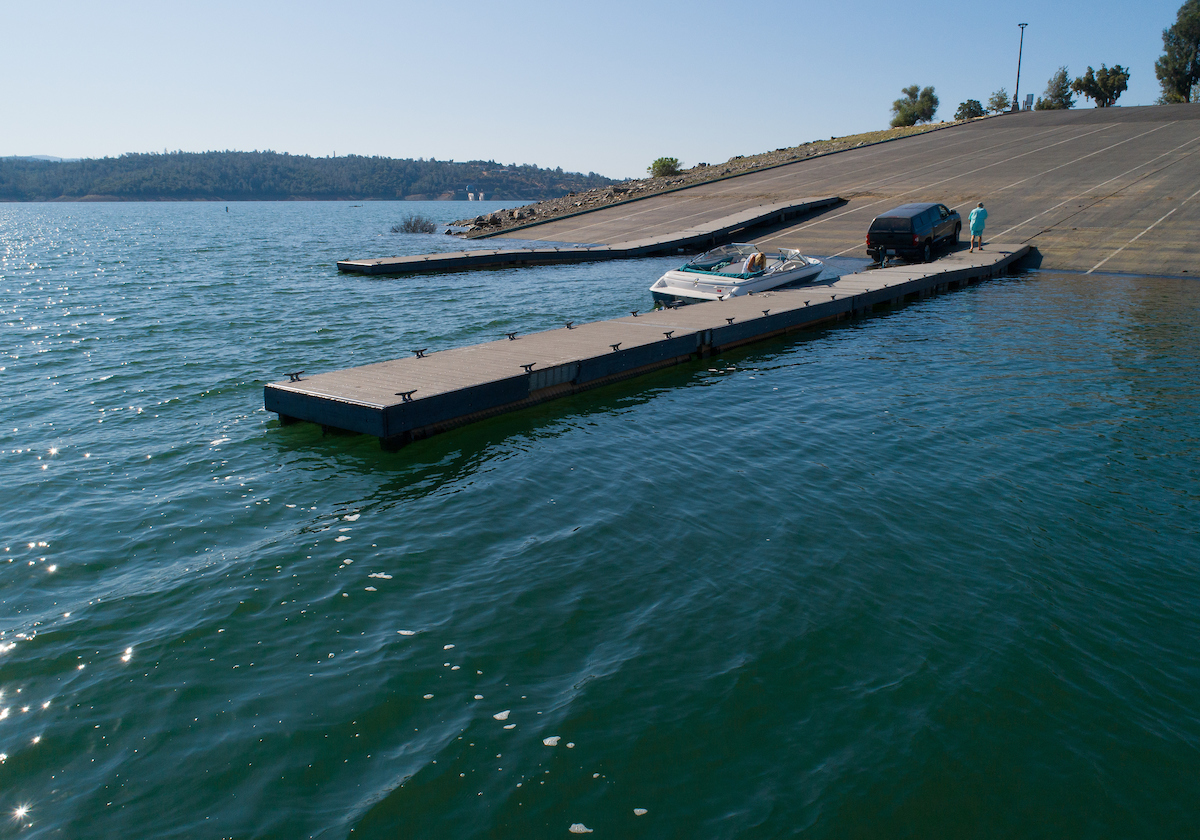 OROVILLE, Calif. – The Department of Water Resources (DWR) and California State Parks today announced Lake Oroville State Recreation Area's Spillway Boat Ramp area will remain open for the Veterans Day holiday, November 11, 2019 from 5 a.m. to 11 p.m. The Spillway Boat Ramp opened to the public on a part-time basis August 9 after two years of closure for the Oroville Dam Spillways Reconstruction Project.
Starting Tuesday, November 12, the Spillway Boat Ramp area will be open daily from 6 a.m. to 8 p.m. for its winter schedule. Minor construction activities may occur during the winter season and access hours are anticipated to be restricted again once construction restarts in the spring of 2020.
Eight boat launch lanes with two loading docks are currently available at the Spillway Boat Ramp area. Should lake levels fall below 729 feet elevation, two boat launch lanes will continue to be available. Hikers, bicyclists and equestrians will enjoy access to the multi-use Potter's Ravine, North Fork, and Dead Cow Ravine trails. The day-use area with picnic tables and restrooms will also be open to the public.
Walkers, joggers and bicyclists will continue to enjoy daily access to the pedestrian lane on the lakeside of Dam Crest Road from 5 a.m. to 11 p.m. as well as parking in the Upper Overlook. These hours will remain the same through the winter months. For safety considerations, the public can only drive across Dam Crest Road during open access hours of the Spillway Boat Ramp area as listed above. As daylight hours shorten, drivers are urged to turn on headlights and pay attention to pedestrian and bicyclist safety.
For more information on recreation areas at Lake Oroville, an interactive map listing all the recreation areas at Lake Oroville can be found at https://water.ca.gov/What-We-Do/Recreation/Lake-Oroville-Recreation. For information about Lake Oroville boating, floating campsites and other recreational amenities, please visit the California State Parks website at www.parks.ca.gov/LakeOroville.
###
Contacts:
Elizabeth Whitmore | Information Officer, Public Affairs, Department of Water Resources
530-534-2317| Elizabeth.Whitmore@water.ca.gov
Aaron Wright I Public Safety Chief, Northern Buttes District, California State Parks
(530) 532-3085 | Aaron.Wright@parks.ca.gov