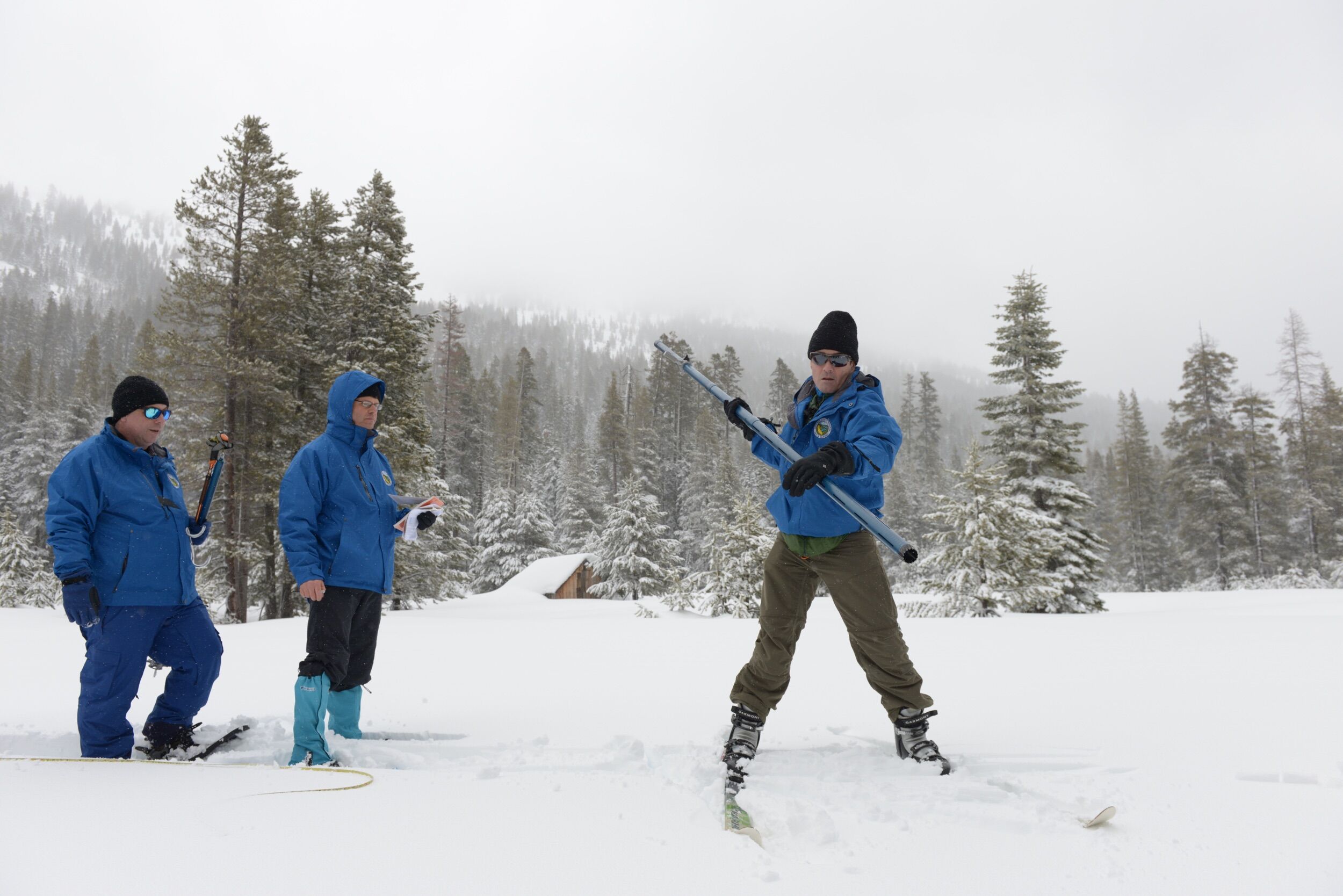 SACRAMENTO, Calif. – Today, the Department of Water Resources (DWR) conducted the third Phillips Station snow survey of 2019. The manual survey recorded 113 inches of snow depth and a snow water equivalent (SWE) of 43.5 inches, which is more than double what was recorded last month at this location. Statewide, the Sierra Nevada snowpack is 153 percent of average for this date, thanks to several atmospheric rivers during February.
Snow water equivalent is the depth of water that theoretically would result if the entire snowpack melted instantaneously. It is an important tool used by water managers across the state to estimate anticipated spring runoff.
The results show a notable improvement since the last Phillips survey on January 31, when measurements at Phillips Station revealed a SWE of 18 inches compared to today's 43.5 inches. Current conditions stand in stark contrast to this time last year when the snow depth was only 13.5 inches and the SWE was just 1.5 inches.
"This winter's snowpack gets better each month and it looks like California storms aren't done giving yet," said DWR Director Karla Nemeth. "This is shaping up to be an excellent water year."
On February 14, the National Weather Service officially confirmed that the Northern Hemisphere is experiencing weak El Niño conditions. As a result of these above-average sea surface temperatures, we are likely to experience more precipitation in the next two months.
"Along with the water supply benefits of the heavy rain and snow, there is also increased flood risk," said John Paasch, DWR Chief of Flood Operations. "We've activated the Flood Operations Center, a joint effort between DWR and the National Weather Service, to closely monitor weather, reservoir, river, and flood conditions. Our goal is to share timely and accurate information about changing conditions to help people and communities respond to flood events and stay safe."
The state's largest six reservoirs currently hold between 84 percent (Oroville) and 137 percent (Melones) of their historical averages for this date. Lake Shasta, California's largest surface reservoir, is 112 percent of its historical average.
Snowpack is an important factor in determining how DWR manages California's water resources. On average, the Sierra snowpack supplies about 30 percent of California's water needs as it melts in the spring and early summer to meet water demands in the summer and fall.
DWR conducts up to five snow surveys each winter – near the first of January, February, March, April and, if necessary, May – at Phillips Station in the Sierra Nevada just off Highway 50 near Sierra-at-Tahoe. The Phillips snow course is one of hundreds that will be surveyed manually throughout the winter. Manual measurements augment the electronic readings from about 100 snow pillows in the Sierra Nevada that provide a current snapshot of the water content in the snowpack.
Additional Resources
Video of today's Phillips survey (Will be posted later this afternoon)
Digital photos of today's Phillips survey (Will be posted later this afternoon)
Snowpack readings (View readings for current regional snowpack and historical snowpack comparison)
CDEC precipitation data (View current charts for the Northern Sierra 8-station index for updated rainfall readings in the critical northern portion of the state, as well as the San Joaquin 5-station index and Tulare Basin 6-station index.)
Contact:
Chris Orrock, Information Officer, Public Affairs, Department of Water Resources
916-651-7012 | Chris.Orrock@water.ca.gov

###
For more information, follow us on Twitter or Facebook and read our news releases and DWR updates.