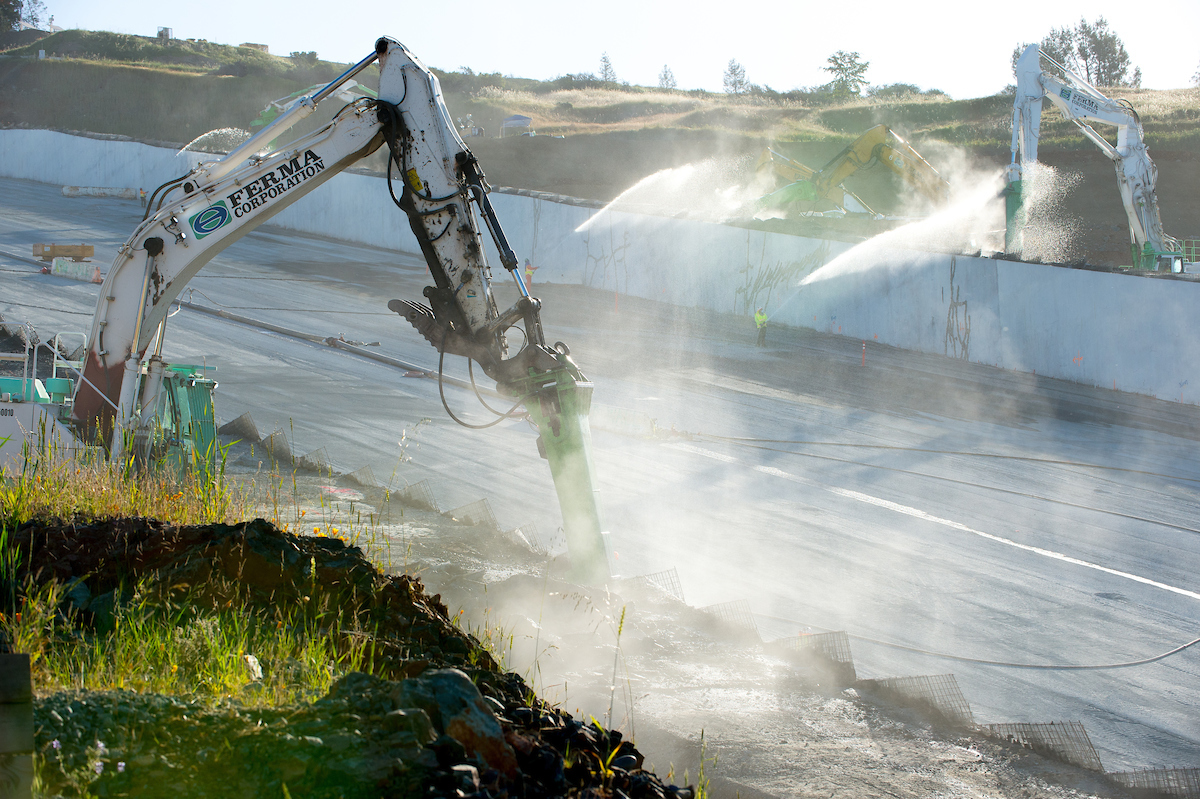 SACRAMENTO – Today the Department of Water Resources (DWR) provided an update on construction-related activities for the Lake Oroville Spillways Emergency Recovery Project.

Construction Resumes on the Main Spillway
DWR received approval from the Federal Energy Regulatory Commission (FERC) and the California Division of Safety of Dams (DSOD) to resume work on Lake Oroville's main spillway on May 8. Crews started work promptly at 12:01 a.m. on Tuesday, May 8.
Overview of 2018 Construction on the Main Spillway
DWR is again using November 1 as a milestone to complete major construction work and placement of all concrete on the main spillway. Additional work, including dry finishing and curing of concrete, sealing joints, connecting drainage systems, backfilling side walls, and site clean-up, will continue after November 1.
Upper chute

Crews are using a combination of mechanical demolition and controlled blasting to demolish the original 730 feet of the upper chute leading to the radial gates. Foundation clean-up and preparation is anticipated to start in June.

Placement of leveling concrete, under drains and slab anchors on this section of upper chute will also start in June.

Placement of structural concrete slabs and walls will begin in July and will be complete by November 1.

Middle chute

Crews have completed milling down the roller-compacted concrete (RCC) chute to create a uniform surface for the placement of three-foot-thick structural concrete slabs later this year.

Crews are currently removing the temporary RCC walls to prepare for the placement of permanent structural concrete walls.

Placement of under drains and slab anchors on the middle chute will begin in June.

Placement of steel-reinforced structural concrete slabs and permanent structural concrete walls will begin in early July and will be complete by November 1.



Energy dissipaters

Work continues at the energy dissipaters, or dentates, at the bottom of the main spillway chute and is expected to wrap up later this fall. Repair work includes hydro-blast demolition of about 16 inches of the existing concrete surface, adding reinforced-steel and epoxy-coated steel dowels and then placing new erosion resistant concrete for the finished product.
Continued Construction on the Emergency Spillway
Secant Pile Cutoff Wall

Crews continue the placement of a concrete cap, or grade beam, on the underground secant pile cutoff wall to reinforce the structural concrete piles and secure the wall to the RCC splashpad.

The secant pile wall is 1,450 feet long and located 750 feet downhill of the emergency spillway with concrete piles at depths of 35 to 65 feet.

RCC Splashpad

The RCC splashpad construction has been divided in two areas – a northern section and southern section – on the hillside below the emergency spillway.

Work has been underway since early 2018 in the northern section and is 65 percent complete.

In the southern section of the splashpad site, DWR received approval from FERC and DSOD to begin removal of the remaining surface layer of grouted rip rap, which was placed during emergency response effort in February 2017.

RCC placement in southern section of the splashpad site will begin in July.

RCC Buttress

Later this year, an RCC buttress will be constructed at the base of the emergency spillway after completion of the splashpad. Combined, the splashpad, buttress and secant pile cutoff wall will help prevent the type of uphill erosion that occurred during the 2017 incident.
Additional Updates
Next week, crews will resurface a slab that did not meet DWR's quality control standards on the main spillway last year. The slab has a poor surface finish and the top layer will be removed and replaced with structural concrete.

DWR will meet with the independent Board of Consultants for the 18th time on May 29 and 30.

The BOC's 17th memo will be posted on the Lake Oroville Spillways webpage when it is available.
To view photos and video of the Lake Oroville Spillways construction, visit DWR's Oroville Spillway photo gallery and YouTube channel.
###
For more information, follow us on Twitter or Facebook, read our news releases or visit our Oroville Spillway Incident webpage.
Contact:
Erin Mellon, Assistant Director, Public Affairs, Department of Water Resources
(916) 651-2440 | erin.mellon@water.ca.gov