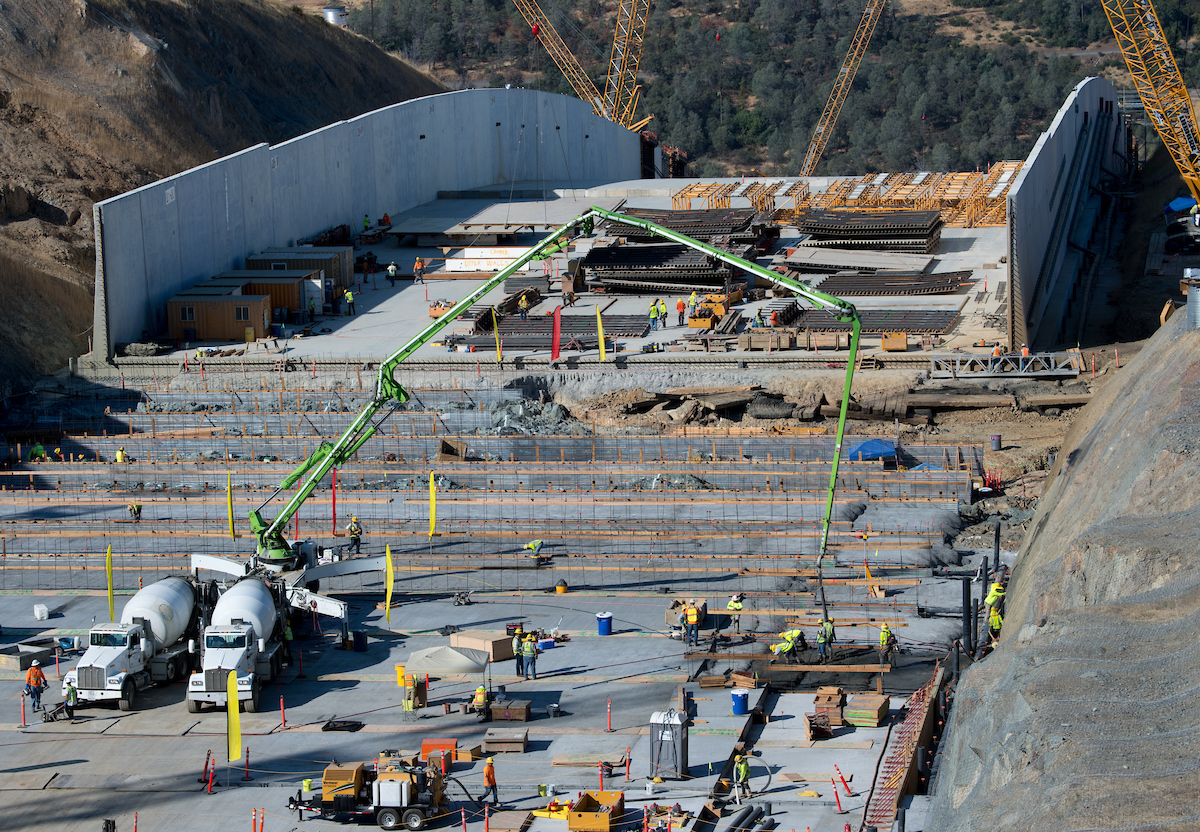 SACRAMENTO – Today the Department of Water Resources (DWR) provided an update on construction-related activities for the Lake Oroville Spillways Emergency Recovery Project.
Construction on the Main Spillway
Crews have completed foundation clean-up and placement of dental and leveling concrete on the uppermost 730 feet of the spillway chute. Slab formwork construction will begin next week, and placement of structural concrete slabs will start Monday, August 6.

Placement of structural concrete slabs and walls continues on the middle chute. Crews have placed 66 of 228 slabs and 8 of 76 walls to date.

Crews will complete the mechanical demolition of the energy dissipaters, or dentates, at the base of the main spillway by the end of the week. Crews will place reinforcing steel and concrete framework in the coming weeks. Placement of structural concrete is anticipated to start by the end of August.

November 1, 2018 is a public safety construction milestone to complete placement of all structural concrete on the main spillway. Dry finishing, concrete curing, joint sealing, completing sidewall backfill and site clean-up will continue on the main spillway after November 1.
Construction on the Emergency Spillway
Crews started placement of roller-compacted concrete on the southern half of the emergency spillway on Monday, July 16. The RCC buttress at the base of the emergency spillway weir will be built later this year.

Work at the emergency spillway site is not dependent on the public safety construction milestone and will continue past November 1, 2018.
Other Updates
To view photos and video of the Lake Oroville Spillways construction, visit DWR's Oroville Spillway photo gallery and YouTube channel.
###
For more information, follow us on Twitter or Facebook, read our news releases or visit our Oroville Spillway Incident webpage.