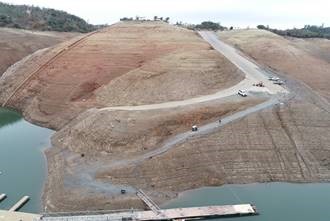 OROVILLE, Calif. – The Department of Water Resources (DWR) will begin construction Monday to improve pedestrian access to Lake Oroville Marina at Lime Saddle.
The Low Water Access Trail project will enhance public safety and provide reliable pedestrian access to the marina during low lake level conditions. Construction activities are scheduled to occur from 7 a.m. to 4 p.m., Monday through Friday, at the Lime Saddle State Recreation Area.
To ensure public safety, pedestrian public access to the marina will be unavailable on weekdays from December 10, 2018 to late-January 2019. The marina will remain open during the week to visitors by boat.
The pedestrian path will be re-opened by 5 p.m. each Friday to provide public access over the weekends. Be advised that Lime Saddle Boat Ramp remains closed because of low lake levels.
This project is within the Lake Oroville State Recreation Area and managed by the California Department of Parks and Recreation. This $800,000 project is part of the approximately $30 million in planned recreational improvements at Lake Oroville that are scheduled for construction by DWR in 2018 and 2019.
Contact:
Erin Mellon, Assistant Director, Public Affairs, Department of Water Resources
(916) 651-2440 | erin.mellon@water.ca.gov