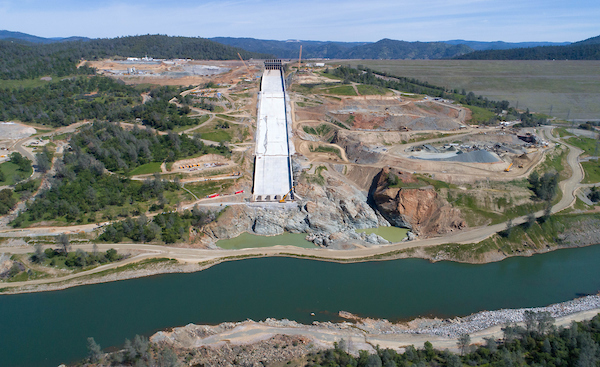 OROVILLE – The California Department of Water Resources (DWR) today determined use of Lake Oroville's flood control outlet spillway (also known as the main spillway) is now unlikely this week. The weather system experienced in the Feather River basin over the weekend, while delivering an unusually high amount of precipitation for this time of year, did not meet anticipated forecasts that would have required use of the main spillway.
Inflows into the reservoir peaked on Saturday at just over 54,000 cubic feet per second (cfs). A steady outflow of 13,000 cfs from Hyatt Powerplant kept the elevation of the reservoir below 800 feet. With inflows continuing but tapering off, releases out of Hyatt Powerplant began decreasing to 10,000 cfs beginning at noon today.
The following provides the most current approximate information:
Lake Oroville Elevation: 799.70 feet
Inflow: 23,000 cfs
Spillway Outflows: 0
Hyatt Powerplant Outflow: 11,250 cfs
Feather River Flows: 11,500 cfs
After last year's spillway incident, the Department created the

2017/18 Lake Oroville Winter Operations Plan

to ensure public safety in the event of major storm events. This plan triggers more aggressive outflow from Hyatt Powerplant and potential use of the main spillway should the reservoir's elevation reach 830 feet during the month of April.
Forecasts at the beginning of last week showed a potential for inflows to raise the reservoir near the 830-foot trigger elevation by the middle of this week. In anticipation of the incoming weather, DWR

increased outflows from the reservoir on April 3

and proactively announced the potential use of the main spillway.