Winter Storms Allow State Water Project to Move and Store Additional Water
Published: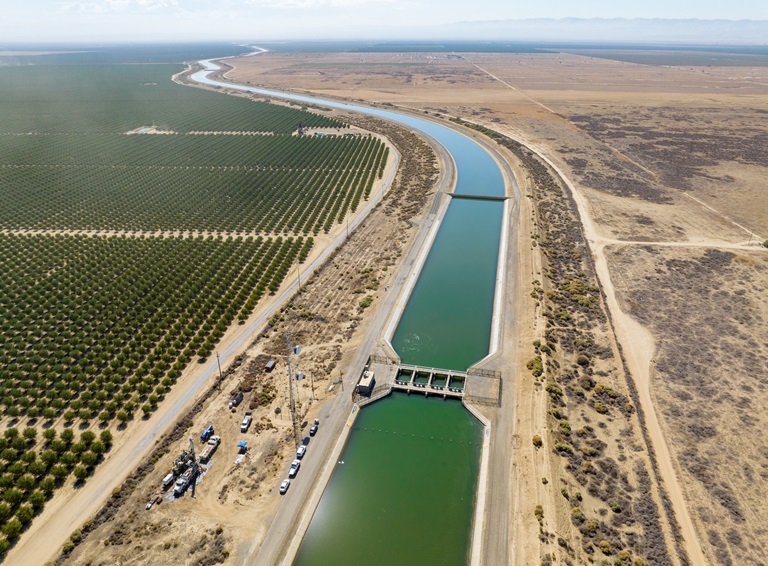 The series of storms that have hit California since the beginning of the year is translating to additional water for millions of Californians.
The State Water Project is proactively working to move and store as much of the surplus water from these storms as possible. The State Water Project (SWP) is making additional water available to its contractors (public agencies and local water districts) that have the ability to take delivery of the water in their own system, including through groundwater recharge. Known as "Article 21 water," this water does not count toward formal SWP allocation amounts.
This water is available only under certain conditions: when there is no place to store this water in the SWP reservoirs; when there is a demand for this water from the south of Delta contractors above their allocated amount; and when there is available pumping and conveyance capacity within the SWP.
In March, the SWP's largest contractor, Metropolitan Water District of Southern California, requested Article 21 water and started taking delivery in late March, part of which is being used to refill Diamond Valley Lake, the region's largest reservoir. They expect to use water from the SWP to fill up the lake and replenish their other storage facilities throughout the year for the first time since 2020.
When Can Contractors Take the Water?
Contractors must take the water when it is offered on a weekly basis. The water cannot be stored in SWP facilities, it must be stored in the contractors' own facilities. If a contractor asks DWR to store it outside of their service area, there is a different agreement required for this action.
As with all SWP diversions, regulatory requirements (including for fishery and habitat) and contractual requirements must be met before Article 21 water can be made available. This type of water can be interrupted or even stopped due to various factors, such as change in hydrologic conditions, SWP project uses (reservoir storage levels and facility outages), and contractor demand patterns such as Table A water deliveries. Table A water is the maximum amount of SWP water a contractor may request annually.
How Does the Process Work?
After DWR notifies the SWP contractors about availability of Article 21 water, contractors reply to DWR of their interest, and DWR and contractor sign an agreement, DWR assesses the volume of water to meet their requests on a daily basis for all the water moving through the SWP system.
Contractors then cover the cost of delivery of Article 21 water. They do not pay for the water itself.
How much water can be moved and stored?
The State Water Project will work to move and store as much water from these storms as possible with the current infrastructure and volume.
Last time that the SWP offered Article 21 water in 2019, a total of 242,000 acre feet of water was saved.
For more about Article 21 water deliveries, visit website for annual updates in Bulletin 132.