DWR Investments Help Strengthen Drought Resilience & Prepare Communities for Future Dry Conditions
Published: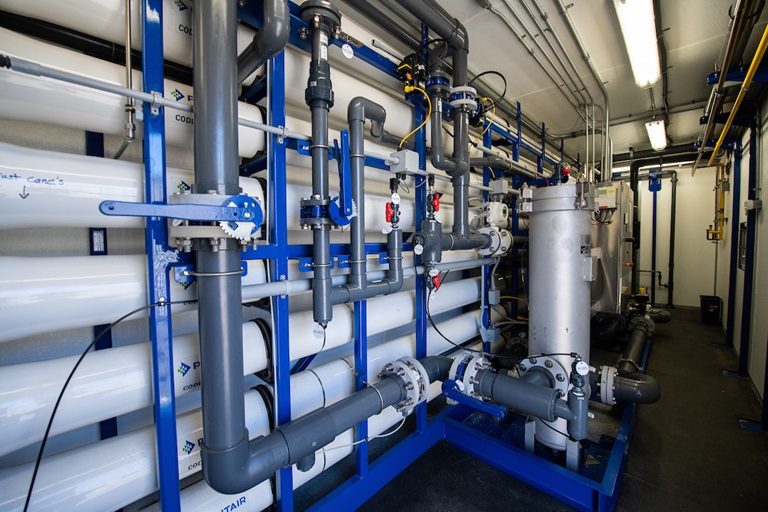 Over $217 million of state funds will be invested back into 44 local projects that will help communities adapt to a hotter and drier future thanks to grant funding provided by the Department of Water Resources' (DWR) Urban Community Drought Relief Program. The funding, including $88 million for underrepresented communities, will support efforts like groundwater recharge, improved water supply reliability, recycled water and water conservation - all tactics that are outlined in Governor Newsom's California's Water Supply Strategy.
"These investments will help our partners implement immediate and long-term water supply projects and water conservation programs to prepare our communities for the eventual return to dry conditions," said DWR Director Karla Nemeth. "Our new climate reality means we all need to accelerate our ability to withstand extreme weather patterns like flood and drought."
As extreme shifts in California's climate pose local water supply challenges, this funding will help advance the following strategies and projects:
Expand Groundwater Recharge & Floodwater Management:
To help support groundwater recharge and floodwater management across the state, Stockton East Water District will receive $12.2 million to divert water from the New Hogan Reservoir for groundwater recharge and drinking water purposes. The City of Fresno will also receive $5.2 million to make improvements to the existing Leaky Acres Basin to maximize the capture of surface water during flood events. In Southern California, the Los Angeles County Department of Public Works will receive $10.5 million to reinforce the Santa Anita dam and remove sediment, to increase storage capacity for downstream groundwater recharge. The project will add over 2,000 acre-feet of new storm water resources to the groundwater basin annually.
Improve Local Water Supply Reliability:
With California facing the real-time impacts of a changing climate, improving our water supply reliability is one of the key actions to support the urban and suburban water systems that serve most Californians. In Ventura County, the Casitas Municipal Water District will receive $3.6 million to develop a deep extraction well to provide an estimated additional 8,000 acre-feet per year of new water supply. In Santa Clara County, the City of Morgan Hill will receive $4 million to construct a new 850,000-gallon aboveground steel water supply reservoir. In Santa Cruz County, the San Lorenzo Valley Water District will receive $4.5 million to replace nine leaking water storage tanks with six fire-resistant steel tanks. This funding is critical to the community to help rebuild the district's infrastructure, much of which was destroyed during the 2020 CZU Lightning Complex Fire. As a result, the project will significantly increase the district's current storage capacity from 160,000 to 720,000 gallons.
Increase Recycled Water:
To help increase the use of recycled water statewide, the Fresno Unified School District will receive $540,000 to support two projects benefiting a local elementary and middle school to irrigate with recycled water. In Alameda County, the Zone 7 Water Agency will receive $300,000 to construct an automated self-service recycled water fill station to provide a permanent, year-round source of water for irrigation and other uses for many residents with expanded operating hours. In Los Angeles County, Los Angeles Department of Water and Power will receive $4.5 million to upgrade the Dominguez Gap Seawater Intrusion Barrier to use 100 percent recycled water.
Support Water Conservation & Yard Transformation:
Building upon conservation achievements from the last drought, DWR will continue to fund water conservation and yard projects statewide. In San Bernadino County, the San Bernardino Valley Municipal Water District will receive $2.6 million to install water efficient fixtures in single-family and multifamily homes in targeted disadvantaged community areas to improve indoor water efficiency. The district will also replace turf with drought tolerant landscaping in homeowner association areas and mobile home parks to reduce outdoor water use.
In Stanislaus County, the City of Modesto will receive $2.3 million to replace 17.79 acres of non-functional turf grass with drought tolerant landscaping at 21 parks for an estimated water savings of over 54 acre-feet annually.
The Metropolitan Water District of Southern California will receive $30 million to implement a turf replacement program available to all of its member agencies serving a combined 19 million Californians, and will save up to 4,050-acre feet of water per year by converting an estimated 30 million square-feet of non-functional turf to water-efficient landscaping
These featured projects are just a portion of the investments made through DWR's 2022 Urban Community Drought Relief Program to address drought impacts in California's communities while furthering water conservation. Since launching the solicitation, DWR received an overwhelming $1.8 billion in requests and has awarded over $65 million in awards through the program since November 2022. A list of all projects funded through DWR's drought relief programs can be viewed here.
The program is one of several financial assistance programs under the emerging "Go Golden" initiative. The initiative strives to help communities and water agencies implement projects that address water infrastructure repairs, water conservation, well rehabilitation and fish and wildlife protection as California prepares for a future driven by climate change. Interested parties can stay up to date with the latest Go Golden announcements, updates and news through DWR's email subscription list.
For more information about upcoming grant opportunities, visit DWR's Grants and Loans webpage.