When the River Rises, Weirs Get to Work
Published: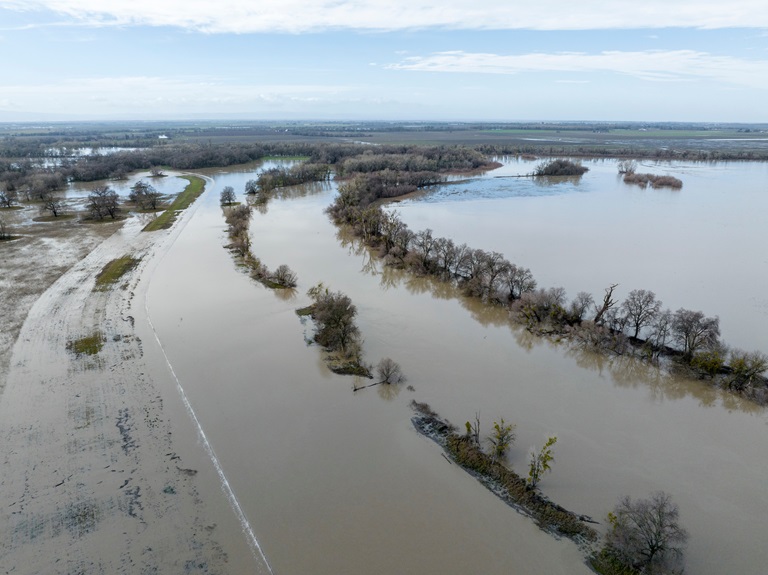 Much of California enjoyed a brief break from the succession of atmospheric river storms that have drenched and pummeled the state for the past two weeks. With six storms behind us and three more lined up between now and January 19, many people are asking whether and when the decision will be made to open the Sacramento Weir.
The weir, which draws water off of the Sacramento River and into the Yolo Bypass, is the only manually operated weir on the river and is operated by the California Department of Water Resources (DWR) based on specific criteria set by the US Army Corps of Engineers. If the height of the Sacramento River reaches 29.87 feet at the I Street Bridge, and if the forecast is for it to continue to rise, DWR will start opening some of the weir's 48 gates.
The opening of the Sacramento Weir is a rare event that draws local water enthusiasts and members of the media eager to witness huge quantities of water flooding into the Sacramento Bypass Wildlife Area. The last time the gates were opened along the weir was in January 2017, when significant rainfall swelled the Sacramento River and threatened to cause levee breaches.
As part of the Sacramento River Flood Control System, the Sacramento Weir is one of six weirs along the Sacramento River. The other five (Colusa, Tisdale, Moulton, Cache Creek, and Fremont Weirs) are "passive" weirs which are lower sections of levees that allow flood flows in excess of the downstream channel capacity to escape into a bypass channel or basin. When overtopped, the Moulton and Colusa weirs release overflow waters into the Butte Basin, west of Yuba City, whereas the Tisdale Weir flows into the Sutter Bypass, south of the Sutter National Wildlife Refuge. The Cache Creek and Fremont weirs empty into the Yolo bypass north of Sacramento.
The Yolo Bypass, which can accommodate five times the flow of the Sacramento River, diverts floodwaters from the Sacramento River away from Sacramento and other nearby riverside communities. From 15 miles north of Sacramento, the bypass runs south, parallel to the Sacramento River, and drains into the Sacramento-San Joaquin Delta a few miles north of Rio Vista.
The height of the Sacramento River at the I Street Bridge, as of Wednesday, January 11, was 27.15 feet, still more than two feet shy of the trigger point.
"With current conditions, there's no plan to open the Sacramento Weir," said Jeremy Arrich, Manager of DWR's Division of Flood Management. "Currently, there is a significant amount of capacity in the Central Valley flood system to handle this week's forecasted storms."