Lakeside Access Road to Close at Oroville Dam
Published: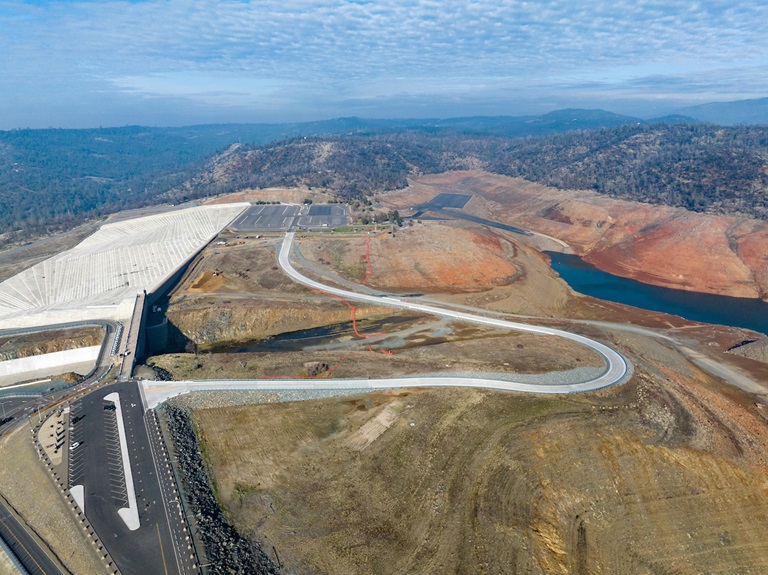 Rising reservoir levels at Lake Oroville will require the closure of the newly constructed Lakeside Access Road and it will not reopen until water levels drop back down later this year. Beginning Thursday, Jan. 12 at 6 a.m. the Lakeside Access Road will close and vehicle access to the Spillway Boat Ramp and Day Use Area will be via Oroville Dam Crest Road.
While Lakeside Access Road is closed, vehicle access to the Spillway Boat Ramp and Day Use Area will be available between 6 a.m. and 8 p.m., and all vehicles and trailers will be subject to inspection by the California Highway Patrol (CHP) for security purposes. There are three other boat ramps at Lake Oroville that are open 24 hours/day and do not entail CHP inspections: Bidwell Canyon, Loafer Point, and Lime Saddle.
Since Dec. 1, 2022, Lake Oroville has seen an 85-foot rise in elevation with storage levels at 1.62 million acre-feet thanks to a series of atmospheric rivers that delivered significant rain and snow to the Feather River watershed. However, due to historic drought throughout California, most major reservoirs, including Lake Oroville, remain low.
At just 46 percent of its total capacity, Lake Oroville still has ample storage to capture storm runoff while providing flood control protection for the Feather River and downstream communities. Water inflows to the reservoir during recent storms have been as high as 50,000 cubic feet per second (cfs) while outflows in the Feather River through Oroville remain at a minimum of 650 cfs.
As lake levels continue to rise with inflows, outflows from Oroville Dam may increase under flood control guidelines from the U.S. Army Corps of Engineers. As a dam operator, the Department of Water Resources (DWR) is required to maintain storage for continued rainfall and snowmelt as the wet season progresses. This coordinated release of water helps prevent catastrophic flooding in downstream communities.
In addition, DWR Oroville Field Division Civil Maintenance crews are patrolling Lake Oroville daily to collect woody debris as part of normal operations during this time of year. Boaters are advised to be alert for floating debris, which is expected during high reservoir inflows.