January 2023 Winter Storm Update: DWR Officials Warn There's More to Come
Published: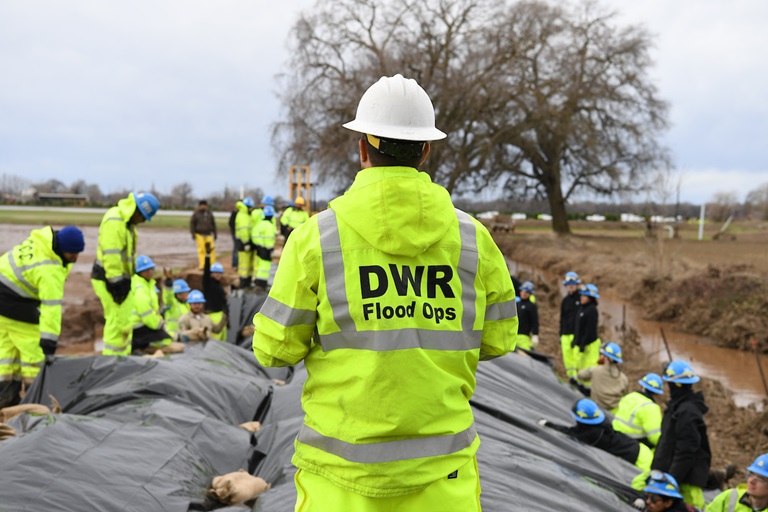 SACRAMENTO, Calif. – The California Department of Water Resources (DWR) continues to respond to the statewide impacts from a series of severe storms that have inundated the state since late December.
The latest atmospheric river produced heavy precipitation in Central and Southern California leading to extremely high flows on many rivers and streams. More precipitation is forecasted to continue over Northern California through the weekend resulting in renewed elevated levels in rivers on the North Coast. Central and Southern California are getting a break from precipitation for a couple of days, with yet another round of storms forecasted to return by Friday through the weekend.
The timing between storms is important for river levels to come down between rises, but DWR officials warn that more areas will become susceptible to flooding with each successive storm.
Flood management systems across the State are being constantly monitored by the State-Federal Flood Operations Center and are operating pursuant to flood management needs and requirements based on forecast conditions as they develop.
Flood-fight materials and equipment have been positioned at 49 locations statewide to support state and local response. Flood-fight specialists are being deployed as needed to help local agencies assess critical locations along leveed segments of the flood control system.
"We'll keep working with our local partners that have requested materials and crews to support their flood fights as these response efforts continue," said Jeremy Arrich, Manager of DWR's Division of Flood Management. "The Cosumnes River in Sacramento County has been an area we've been highlighting. The flood fight measures that we put in place, working with the local partners, have held through the storms this week. We'll continue looking at that system and monitoring how those flood fight measures are performing."
DWR is managing the State Water Project (SWP) this week to capture as much water from these storm systems as possible while meeting environmental requirements. The State Water Project's largest reservoir, Lake Oroville, is now at 1.3 million acre-feet and climbing, but over 2 million more acre-feet of water is still needed to fill the lake due to the extreme drought conditions over the last few years.
"These storms have not ended the drought," said Molly White, Water Operations Manager for the State Water Project. "Major reservoir storage remains below average, and conditions could turn dry again this winter, offsetting recent rain and snow."
Follow DWR's Twitter account for current updates and flood safety tips. For latest reservoir conditions, visit CDEC.