Challenges of Forecasting Water Supply During Extreme Weather Events
Published: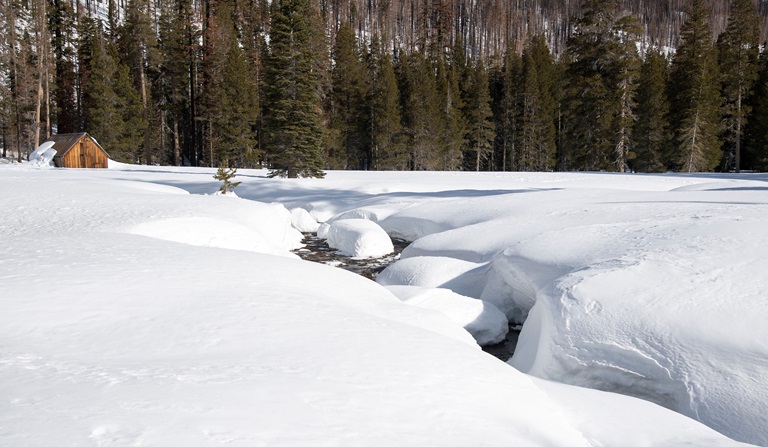 The series of atmospheric rivers in early 2023 demonstrated how quickly California can move from one extreme to another as severe drought conditions gave way to flooding and one of the largest snowpacks in 70 years. Today, California's Department of Water Resources released its third Bulletin 120 of water year 2023. The Bulletin 120 is a forecast of snowmelt runoff and is a key tool for water managers across the state to understand how the melting snow in the Sierra Nevada will reach streams, rivers and eventually California reservoirs.
California doesn't have a complete picture of its water supply until at least April 1, when the state snowpack is typically at its peak and California's traditional wet season comes to an end. Because of this, the Bulletin 120 is updated regularly as the winter progresses. Today's Bulletin 120 provides a range of possibilities for how much runoff may reach California's reservoirs. It uses three points to characterize this range of possible outcomes: the highest 10 percent of outcomes, the lowest 10 percent of outcomes, and the median, or middle. This range represents 80 percent of the expected outcomes and provides a guide for water managers as to what may happen with the spring runoff.
California has the largest year-to-year variability in hydrologic outcomes of anywhere in the United States, and this year has clearly demonstrated how swings between extreme conditions are becoming more intense, as the driest three-year period on record ended with one of the wettest winters on record. That is why DWR is investing in new technologies, like Airborne Snow Observatory (ASO) survey flights, that increase the data and information water supply forecasts are based on. Over the past few months, ASO flights equipped with LiDAR and spectrometer technology have been gathering precise measurements of snowpack left by this year's storms and its water content in key watersheds and provides large amounts of new data that informs the Bulletin 120's forecast.
DWR is also working with federal and local water agencies to develop a Forecast-Informed Reservoir Operations (FIRO) program to take advantage of scientific improvements in forecasting atmospheric rivers to better anticipate and manage large storm events while maximizing opportunities to increase water supply in California reservoirs. These developments are all key components of Governor Newsom's "California's Water Supply Strategy: Adapting to a Hotter, Drier Future", to support water management and climate resiliency through improved forecasting and data collection.
Bulletin 120 is released four times a season between February and May.