DWR Working With 4 Counties in the Tulare Lake Basin To Support Snowmelt Flood Planning
Published: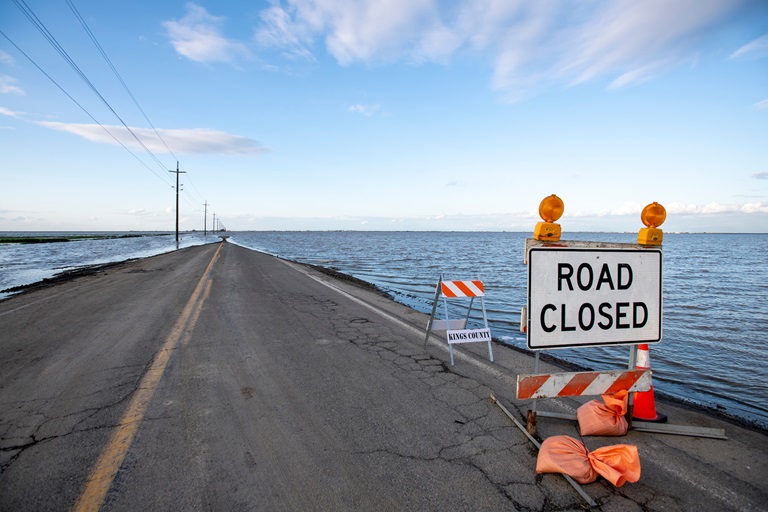 This year's series of winter storms has provided California with much needed rain and snow, even setting an all-time record this year for the Southern Sierra snowpack. While this precipitation has helped ease impacts from the state's record-breaking drought, it has also resulted in flooding in certain regions throughout the state including the Tulare Lake Basin. DWR and multiple state, federal, and local agencies are working together to prepare for the snowmelt and protect communities from flooding.
The Tulare Lake Basin, spanning multiple counties including Tulare, Kings, Kern, and Fresno, is currently home to approximately four million Californians, with most residing in rural communities. However, as the name suggests, the basin was once home to the seasonal Tulare Lake, which would appear every winter and could disappear in the heat of the San Joaquin Valley summer. The lake was fed by the Southern Sierra snowmelt/snowpack runoff and, if the snowpack was particularly heavy, the water would rise so much it spilled into the San Joaquin River and through the Delta.
In the early 1900s, the land was converted to support agriculture, which included the construction of levees and dams that are presently owned and operated either by private landowners, agricultural businesses, or federal agencies such as the US Army Corps of Engineers (USACE). The levees and dams cut off the source of water for Tulare Lake, but in extremely wet years, snowmelt waters would flow back to the lake site. Historically, this led to significant flooding in 1969 and 1983 when the Southern Sierra saw especially high levels of snow.
This year, the Southern Sierra snowpack levels are similar to those in 1969 and have exceeded levels seen in 1983. This means flood impacts in the Tulare Lake Basin are expected to continue now through the summer and as the Southern Sierra snowpack melts, is expected to result in sustained high-water flows until July. Advance planning to prevent flooding, and protect people and property requires a coordinated effort between the local county officials, private levee owners, dam operators, and water agencies and managers.
While local flood control districts and water storage districts are responsible for managing flood response and diverting water, the California Department of Water Resources (DWR) is providing technical assistance through its State-Federal Flood Operations Center (FOC). The FOC deployed an 11-person incident command team to support county emergency response officials in the Tulare Basin. This team included flood fight specialists and hydrologists providing technical assistance on flood fighting efforts as well as planning for the coming snowmelt. The FOC also coordinated with these counties to supply requested flood fighting materials, including 217,000 sandbags and 17,700 supersacks.
"Beyond the current response efforts, DWR is looking ahead to help prepare the area for the coming snowmelt flood risk," said Jeremy Arrich, Manager of DWR's Division of Flood Management. "As the 2023 snowmelt season begins, DWR will continue to work closely with local county officials and USACE to determine what actions are necessary to protect public safety."
The FOC is coordinating strategy with the State Operation Center's advance planning group for flooding concerns in the Tulare Lake Basin to conduct advance planning activities and evaluate support capabilities for the region. The FOC is also sharing a framework for a regional flood emergency response plan and will continue to provide resources and assistance for local flood managers to identify, assess and respond to possible flood risks over the next several months. DWR is also helping ensure as much water as possible is captured for groundwater recharge opportunities so water can be both redirected away from areas likely to flood and make it available when needed during future droughts.
A Tulare Lake Atlas was provided to local flood agencies and emergency responders in the Tulare Basin on April 21. The eventual size of the Tulare Lake will depend on many factors that remain uncertain including the amount of snowmelt runoff that is diverted before it reaches the lakebed for agricultural use and groundwater recharge, the timing of snowmelt, reservoir operations and other conditions. Considering these uncertainties, DWR produced a set of maps to approximate the potential range of inundation areas for various volumes of water in the lakebed so that local agencies and emergency response personnel can better understand the relationship between volumes of water, acreage of the water surface, estimated water surface elevations and associated extent of the inundation area. These maps are intended for use by local agencies and emergency personnel with technical expertise to support emergency response advanced planning and to protect communities impacted by flooding. These maps are not intended to inform the public of any specific flood risk in any specific community or location and will not and should not be the sole basis for decision making.
Visit Flood Preparedness for more information on DWR's flood work.
For the most recent DWR modeling results of the lake bed from June, click here